It's a new day and that brings a second Madden 20 player ratings reveal for the exclusive 99 Club. On Tuesday, fans learned that Defensive Player of the Year Aaron Donald is officially in the club, after being part of it in Madden 19. The second member of Madden's 99 Club for the upcoming game has now been revealed. It's a Seattle Seahawks star who was part of the "Legion of Boom" defense and remains on the roster despite other members departing.
Madden 20 Player ratings: Second defensive star in 99 Club
Fans may have been a bit faked out by the look of the curious mural that @TheCheckDown revealed a few days ago. It featured four Madden 20 players' outlines and asked gamers to guess which players are on that mural as part of the exclusive 99 Club. Many correctly guessed Aaron Donald would be there and he was revealed. Many others correctly guessed that Seattle Seahawks star Bobby Wagner will also be in the 99 Club.
The Checkdown revealed the image of Wagner standing next to Donald on their Twitter page on July 10. In addition, they included another new Madden 20 gameplay video clip (below). It shows off Bobby Wagner in action on the field as he goes after opponents. That's right Kyler Murray, he may be coming for you!
As mentioned, Bobby Wagner was part of that impressive Seattle Seahawks defensive unit, the Legion of Boom along with other stars including Kam Chancellor and Richard Sherman. Fans saw Sherman shift to the San Francisco 49ers, but Wagner has remained faithful to Seattle.
His 2018-19 NFL season included 138 combined tackles and 84 solo tackles. The 6-foot middle linebacker also had an interception which he brought back 98 yards for a touchdown, the first of his career.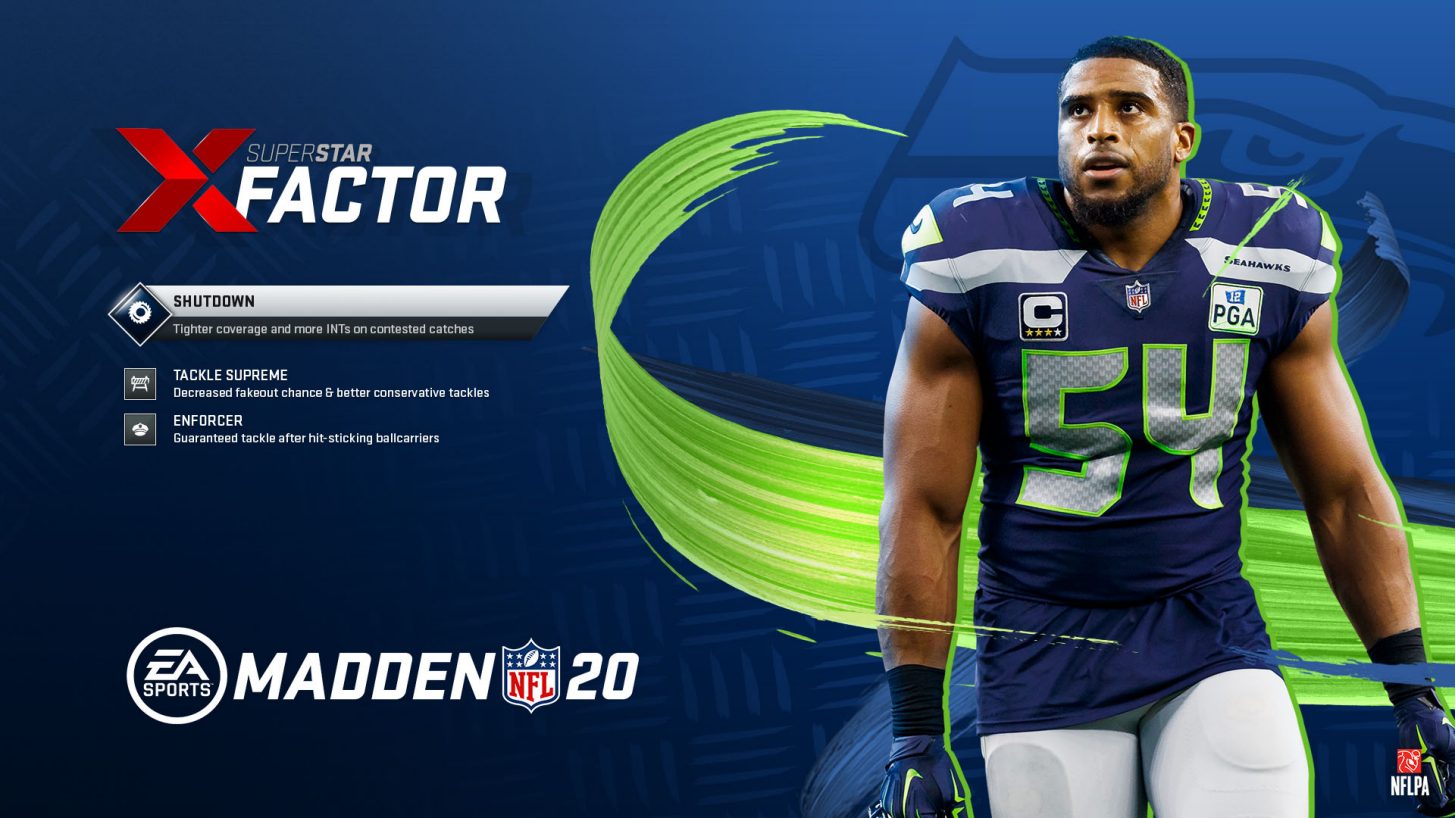 Wagner officially moved into Madden's 99 Club last season during the Madden 19 game. His Madden 20 rating comes as no surprise to many of the game's fans. Wagner also ranks best in the Madden 20 game for Tackle (99), Pursuit (99), and Hit Power (98) attributes. He'll be amongst the Superstar X-Factor players in the new football sim game with his specialty known as "Shutdown."
Who else will join the Madden 99 Club?
So now we've got Bobby Wagner and Aaron Donald in the 99 Club, but who's next? With just two spots remaining, if they are offensive players, we think we have our guesses narrowed down now.
Many fans have suggested that the man considered G.O.A.T., Tom Brady of the New England Patriots will once again be a 99 in Madden. Some fans have speculated it will be cover athlete Patrick Mahomes. Next to that player, it's believed is an outline of one of the league's best receivers.
Who are the next two?! 🤐

👇 pic.twitter.com/LRm8rLtytN

— Madden NFL 20 (@EAMaddenNFL) July 10, 2019
Many gamers are guessing it will be either the Houston Texans' DeAndre Hopkins or Atlanta Falcons' Julio Jones. Both have been at or near the top of NFL receiving categories for at least the past season.
The reveals have been arriving daily, so it's possible the week will close out with The CheckDown revealing the final two 99-overall Madden 20 player ratings.
Meanwhile, check out more of our Madden news here to stay updated on the latest!