When Madden 20 arrives, not only will gameplay dynamics and animation feel different, but also the way stars play compared to players who aren't really stars. That's because the Madden 20 player ratings system has been overhauled to make the superstars truly stand out. The folks behind that overhaul recently spoke about what to expect. In addition, gamers are getting an early preview of the upcoming Madden 19 Rookie Premier program that will carry over to Madden 20.
Madden 20 Player Ratings System Changes
To make the superstar players of the game really stand out, the Madden 20 player ratings system separated those players from the rest. The highest tier of players in the game is Elite/Near-Elite which is most likely where the Superstar X-Factor players will reside. Below them is a tier called quality starters followed by low-level starters. The backups and low-level backups are the lowest tiers of players in the game.
In Madden 20 they have just 41 percent of players with 70 OVR or better compared to 54 percent holding a 70 OVR or better in the Madden 19 game. So the low-level starters and "depth players" will be rated in the 60s and even 50s for Madden 20.
Madden 20 not only changed up ratings overall but also for specific attributes. The place where this had the biggest impact was QB Throw Power. They paired this up wot the gameplay animation changes for the pass trajectory.
Basically, this means there are a lot fewer quarterbacks in Madden 20 with a 90 or higher throw power. They note that just 18 quarterbacks have 90 or better Throw Power compared to 53 having that in Madden 19. 
When Madden 20 kicks off, there will be just 22 players rated at 95+ OVR. That's three less than Madden 19 had. The biggest drop-offs come in terms of the players rated in the 80s and 70s. That means expect a lot more players rated even lower than that in this year's game.
MUT Rookie Premier Preview
The exciting Madden Ultimate Team Rookie Premier program is right around the corner. This special program starts with Madden 19 and will carry over into Madden 20's Ultimate Team. Basically, gamers can earn a Rookie Premier player in MUT 19 and then in MUT 20.
Gamers will be able to complete Rookie Premier sets in Madden 19 Ultimate Team. These sets are exchanged for a 99 OVR NAT player card. Gamers will also get a special version of the player's Rookie Premier card in Madden 20. Here's a look at one of the 99 OVR NAT cards for Darnell Savage Jr., free safety for the Green Bay Packers.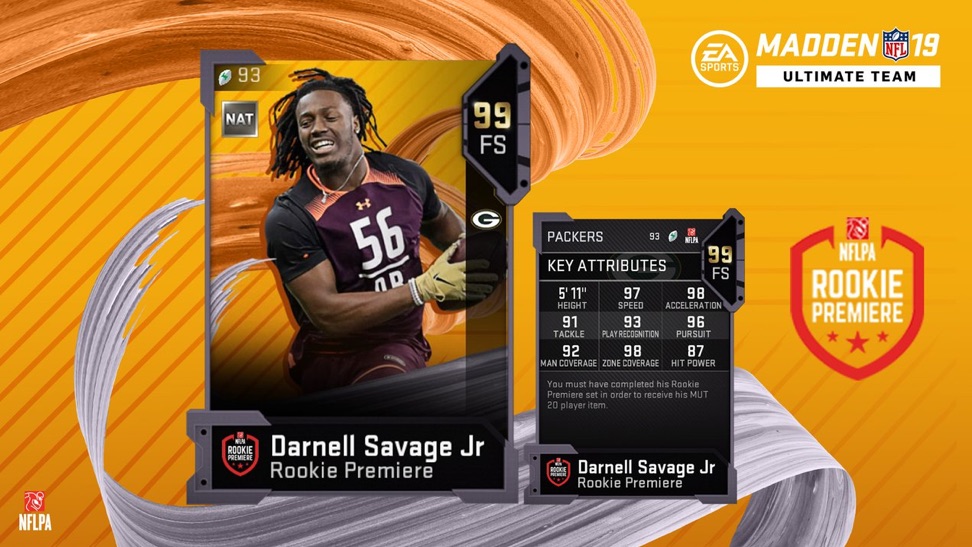 There will be a total 10 Rookie Premier players in Madden Ultimate Team with five for offense and five for defense. The Rookie Premier player cards in Madden 20 will have a ratings increase any time there's a new player edition released in the game. That will be in effect all the way through February 2020.
The new Madden Rookie Premier program starts Monday (July 1) with more details coming on the EA Madden Twitch channel. Get more of our Madden game news here.