It's hard to believe, but the NFL schedule has moved into Week 6 already, as the season is flying by. Just two teams remain undefeated, but others are continuing to look like contenders. That said, EA has unveiled another edition of their weekly team full of top achievers for Ultimate Team upgrades. The new Madden 20 Team of the Week 5 brings top items for the Texans' Deshaun Watson and Packers' Aaron Jones.
LTD DeShaun Watson leads new Madden 20 Team of the Week 5
Coming in hot for Madden 20 Team of the Week 5 is quarterback Deshaun Watson. The former TOTW preseason selection had a brilliant performance in his team's 53-32 victory over the Atlanta Falcons. Watson threw 28-of-33 passes for a whopping 426 yards and five touchdowns. He wasn't picked off or intercepted either.
For his performance, he lands the top card in this week's TOTW 5, a limited item with a 91 OVR. It's now available in the TOTW packs at the Madden 20 Store, for a limited time, or for a high price in the Auction Browser.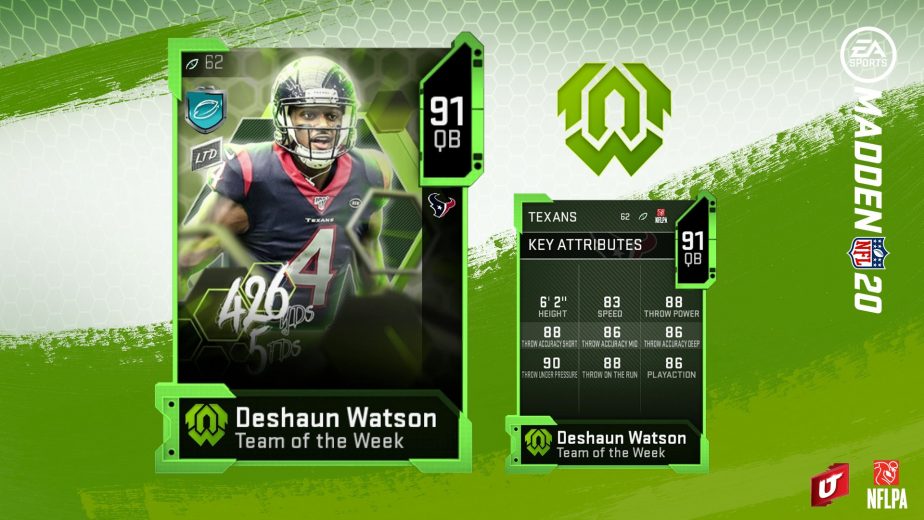 Joining Watson with high-rated new player items are Green Bay Packers' halfback Aaron Jones and Philadelphia Eagles' right end Brandon Graham. Jones came up big in the Packers' 34-24 win over the Cowboys, rushing for 107 yards and four touchdowns on 19 carries.
Graham led the defensive performance for Philly that helped them win 31-6 over the Jets. He finished with three sacks, four solo tackles, and six total tackles. Both he and Jones get a new 90 OVR Heroes card for their Week 5 performances. These shouldn't be confused with MUT Heroes.
Don't forget about your TOTW Heroes! pic.twitter.com/CdqUTe4M1A

— Madden Ultimate Team (@EASPORTS_MUT) October 8, 2019
Who else landed on Madden's TOTW 5?
The new Madden 20 Team of the Week 5 players are like similar editions with players rated as low as 76 overall up to 91 as shown above. Here's a look at players in the 76 to 83 OVR ratings category. They include several New Orleans Saints players including backup quarterback Teddy Bridgewater. Jacksonville Jaguars rookie backup QB Gardner Minshew also made the TOTW 5 with a new 77 OVR item.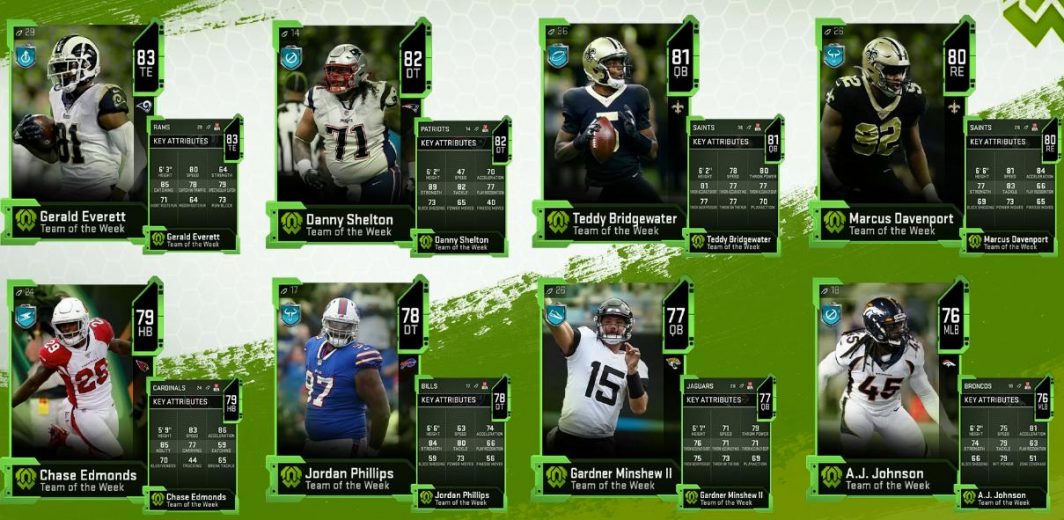 A tweet from MUT Heroes shows off several of the other new players on TOTW 5 including Texans' wide receiver Will Fuller, a recipient of a few Watson passes this past Sunday. The Oakland Raiders edged the Chicago Bears in London on Sunday. Halfback Josh Jacobs had 26 carries for 123 yards and two TDs, earning him an upgraded item.
TEAM OF THE WEEK (week 5) Will Fuller V (WR), Eric Reid (SS), Josh Jacobs (HB), Orlando Scandrick (CB)….#TOTW5 pic.twitter.com/83XScMtoEh

— MUT news (@mut_news1) October 8, 2019
Gamers can now acquire many of the above players through the Madden 20 Store's TOTW packs. In addition, there are new Challenges to play in the Ultimate Team. Achieving a certain number of stars will earn a free TOTW player item and TOTY token needed for an end of the season exchange set.
See more of our Madden news to stay updated on new developments in Ultimate Team mode and other parts of the game.