On Monday (July 22), the EAMaddenNFL crew hosted a live stream to reveal the new Madden 20 Ultimate Team details. A lot of material was unveiled, but we've highlighted a few major reveals. Among the topics they touched upon were the various levels and rewards gamers will earn through their progress. In addition, they revealed the four MUT team captains for Madden 20, the two NFL Epics players, and announced the return of Pat Tillman to Ultimate Team.
Madden 20 Ultimate Team Levels and Rewards, Theme Builders
Madden Ultimate Team is always one of the more fun and popular aspects of the football sim. Just as with past editions of the game, the completion of each level in Madden 20 Ultimate Team will bring different rewards. During the Twitch stream, they covered examples of the rewards at each level.
During the earliest levels, gamers achieve coins, a player cards, and at Level 5, the first Theme Selector Token. Gamers will choose a specific NFL team for the Theme Selector Token. From there, they'll work to unlock their special items such as Coach, Uniforms, Stadium, and Playbooks. The Seattle Seahawks Team Items Pack is an example shown below.
The good news is you won't be locked into just that team as you can get up to 10 of these Team Themes in MUT. Also, you earn the Theme Selector Token every five levels in MUT. So at Level 10, 15, 20, and so forth that will be an additional item as part of your rewards.
At Level 6, the MUT reward is 10 Series Trophies. These are an in-game currency. They mentioned that they removed event tickets for Ultimate Team this year but have the Series trophies instead. Here are more of the rewards previewed during the stream:
Level 7 – New Level Solos (include stars)
Level 8 – Gold Plus Player
Level 9 – 50 Training Quicksell
Level 10 – Theme Selector Token + Power Up Pass (pass shown for a 62-81 OVR player)
Level 11 – Team Captains Fantasy Pack
Level 50 brings a 90 OVR MUT Level Master player card for your team. Here's a look at the Los Angeles Rams' Torry Holt for his Master Level card. One is the early 70 OVR and then the later 90 OVR.
MUT Captains include Herman Moore, Ryan Shazier
During Monday's stream, they also announced the four different MUT Captains for Madden 20. Gamers choose one of the players as their MUT Captain early on. The choices will be Herman Moore, Ryan Shazier, Ty Law, and Dallas Clark. EA Madden Twitch crew also showed off the Herman Moore Team Captain card during the stream (below).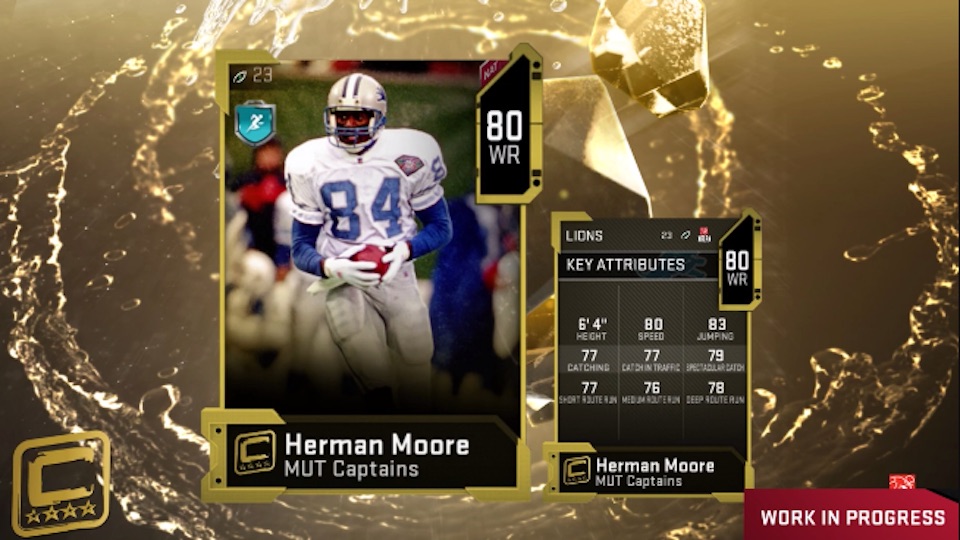 In a sidenote, they mentioned that there will different upgraded cards for three of the players: Moore, Brooks, and Law. However, there will not be these cards for Ryan Shazier, so that may influence a lot of Ultimate Team gamers' picks for their MUT Captain from the get-go.
Pat Tillman returns, NFL Epics Players revealed
A major announcement during the EA Madden stream is that they are finally bringing former NFL player Pat Tillman back to Ultimate Team. He will be available through the MUT Masters program. They brought the late Pat Tillman back for this year's edition at the request of many fans who were asking about him and it already has garnered a lot of praise from the community.
Tillman spent three years in the NFL as a member of the Arizona Cardinals before enlisting in the United States Army. He served in Iraq and Afghanistan and lost his life during a friendly fire incident. He was later awarded the Purple Heart, Silver Star, and Meritorious Service Medal.
Earlier in the day, the MUTLeaks Twitter revealed Tillman as part of the program. The @EASports_MUT Twitter will have more details on Tillman's ratings.
Additionally, they revealed the two NFL Epics players that gamers can achieve through the NFL Epics Ultimate Challenge aspect of MUT. One of those will be the Cleveland Browns' Baker Mayfield as shown below.
The other NFL Epics player will be defensive great Deacon Jones who they mentioned was around before "sack" was even the term for that in the game. Gamers will have to go through NFL Epics Ultimate Challenge missions for each of these players to earn 60 stars. Upon completion of each guy's missions, they'll earn the Baker Mayfield or Deacon Jones 86 OVR card.
EA Access, Origin Premier brings player-first trials bonus
Another important note arrived for MUT with regards to EA Access. That early access for Madden 20 arrives for EA Access or Origin Premier members as of July 25. Gamers who get the early access will receive 10 hours of player-first trials on EA Access.
With these early trials, gamers can get their feet wet with 10 challenges, try out the different stars and different difficulty levels. During these challenges, gamers earn coins, gold players, and a rewards pack. Check out more details for how to get EA Access for Xbox One or PS4 through the tweet below.
More details are likely to come but with EA Access and Origin Premier Access coming in just a few days, it also means that the Madden 20 game will soon be out. The newest football game officially arrives on August 2, 2019, with pre-order copies arriving to gamers three days early.