On Tuesday, EA Sports officially unveiled the trailer for their new Madden 21 football game. With that also came details for the high-end version of the game known as Madden 21 MVP Edition. It features the NFL Most Valuable Player on the cover and also gives fans early access to play the new game before the widespread release date. Here are all of the latest details for pre-order and more.
Lamar Jackson to appear as cover star
Weeks ago, Baltimore Ravens quarterback Lamar Jackson let it slip that he was the new face of the Madden video game. Jackson dropped that info during a Zoom call with the media and even confirmed it when a journalist asked him to. That revved up anticipation for the new Madden game.
It's unknown if that was a stunt on the part of EA for attention, but it wasn't exactly a secret, as he makes for the second-straight cover star to have won MVP. Tuesday's new gameplay trailer reveal also brought the first reveal of the new Madden 21 MVP Edition cover, confirming Jackson's leaked info.
☑️ Heisman Winner
☑️ @NFL MVP
☑️ #Madden21 Cover Athlete

💪 @Lj_era8 pic.twitter.com/HQYTIUUom5

— Madden NFL 21 (@EAMaddenNFL) June 16, 2020
In conjunction with the new Lamar Jackson cover reveal, also came a "Cover Story" video featuring hip-hop star Lil Wayne. It gives an overview of LJ8's rise to fame, which includes winning the Heisman, joining the NFL, winning MVP, and now starring on the cover of the Madden video game.
What does the Madden 21 pre-order include?
Each of the three versions of the video game has extra content. However, Madden 21 MVP Edition brings the most extras of any version. By pre-ordering it, gamers will receive several pieces of bonus content including a Lamar Jackson Elite Item with Power Up, a large Quicksell Training Pack, and an MCS Ultimate Champion Pack.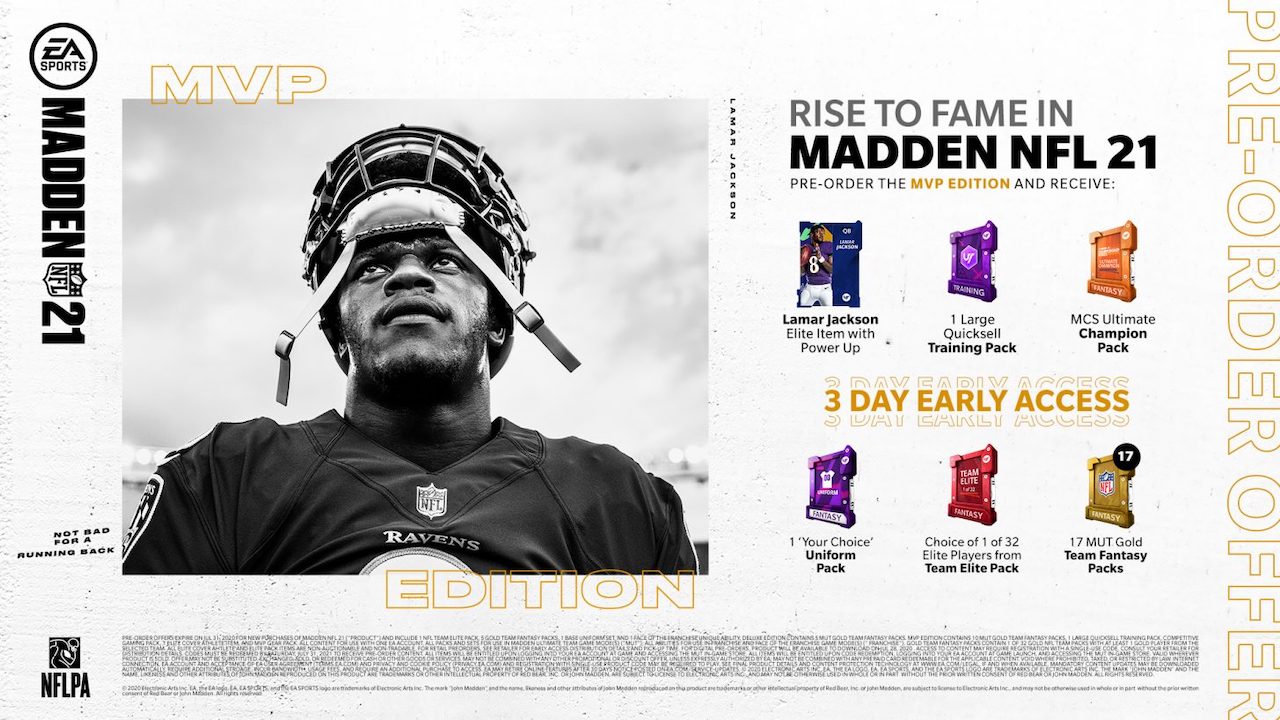 Of course, one of the best parts of pre-ordering the MVP Edition is you'll get to start playing the game three days before it arrives. Here are all the items you get:
Three Day Early Access on Aug. 25
Lamar Jackson Elite Item with Power Up
Large Quicksell Training Pack
MCS Ultimate Champion Pack
"Your Choice" Uniform Pack
Choice of 1 of 32 Elite Players from Team Elite Pack
17 MUT Gold Team Fantasy Packs
MVP Edition cost and pre-order link
All three editions of the new game are now available for pre-order, including Madden 21 MVP Edition. The Standard Edition costs $59.99, while the Deluxe Edition costs $79.99. The MVP Edition carries a price of tag of $99.99.
As mentioned, pre-ordering the MVP Edition (or Deluxe Edition) will allow for playing the game three days earlier on August 25. Those who pre-order the Standard Edition will have to wait until August 28 to start playing. Those gamers with the extra three days have more time to start preparing for their opponents and improving those Ultimate Team rosters.
All three editions of Madden 21 can be pre-ordered at EA's website for PlayStation 4, Xbox One, and Windows PC. Details on the versions of the game for Google Stadia and next-gen consoles (PS5 and Xbox Series X) are forthcoming.
See Madden 21 game pre-order details here at the EA website.
Visit our Madden news page for more of the latest details.