Madden football fans rejoice as the newest version of EA's sports simulation game is officially on the way! As of Thursday, June 16, the Madden 22 cover reveal arrived online, along with the first gameplay trailer. The game's official release date and pre-order details are here ahead of the launch, happening in just a few months.
Madden 22 cover reveal: G.O.A.T. players
Most of our predictions for Madden's cover focused on it being one star player, not two. However, that's what it will be for EA's Madden 22 dual-athlete cover, fresh off the Kansas City Chiefs vs. Tampa Bay Buccaneers Super Bowl.
While many fans guessed a variety of different stars might land on the dual-athlete Madden 22 cover, it was, in fact, the greatest of all time, Tom Brady. He's not alone, though, as he's joined by a fellow QB who could become a G.O.A.T., Madden 20 cover star Patrick Mahomes. They'll share this year's game cover teased just days ago with a fun video clip featuring Peyton Hillis and goats.
Below is a look at the game's MVP Edition cover featuring the two stars.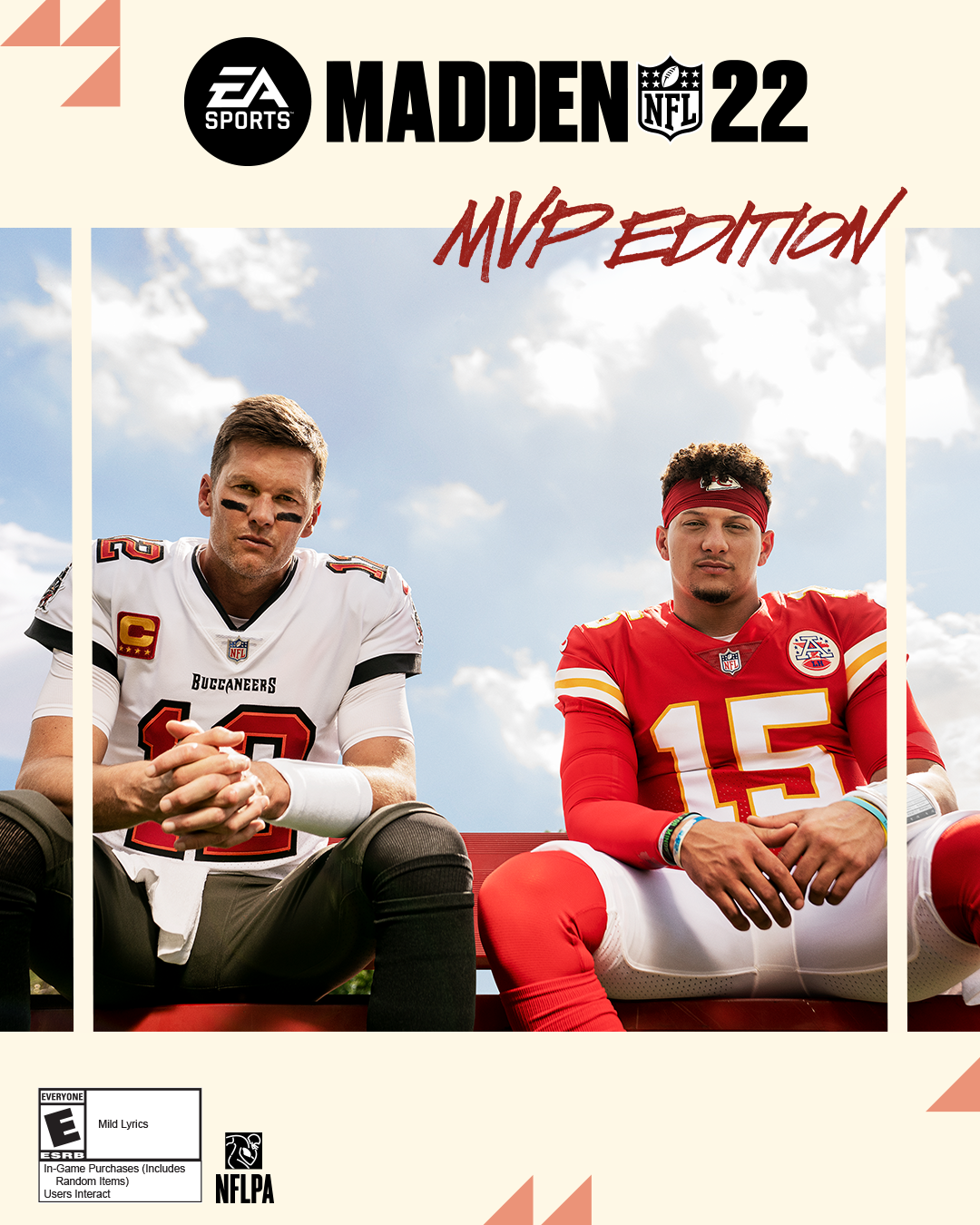 This marks each star's second time featured on the game cover. Brady was on the front of the Madden 18 game while Mahomes appeared several seasons ago on Madden 20. The Madden 19 cover went to Antonio Brown, then of the Pittsburgh Steelers, while Madden 21 was Lamar Jackson.
"I, like most players in the League, have been a big fan of Madden NFL for as long as I can remember, and to be on the cover – not only for a second time, but also with Tom Brady, an all-time great – is surreal," Patrick Mahomes said in a press release.
"This is only the second time two athletes have been on the cover together and we're both eager for fans to dig into Dynamic Gameday which makes the game more immersive, authentic and keeps it fresh year-round," Mahomes said.
First official game trailer released online
Along with the Madden 22 cover reveal, the first official gameplay trailer has arrived, showing some of the visuals fans can expect from the new game. That includes a look at new stadium animations, first-time players including Trevor Lawrence, and more.
Unique gameday experience swill be part of this year's improved features. Amongst the footage is a look at how crowds, stadiums, and weather will impact play, to motivate or put extra pressure on the players. There's some great shots of realistic fans, including Broncos fans wearing facepaint as it pours rain in the stands.
Brady and Mahomes are featured in high-pressure situations, where both QBs have shown their abilities to deliver touchdowns. There are also teases of rookies Trevor Lawrence and Justin Fields, plus potential future stars Justin Herbert and Tua Tagovailoa. Derrick Henry and Stefon Diggs pop up as well as other stars of the gridiron.
Check out the two-minute reveal trailer below showing off a first look at the Madden 22 game featuring the sounds of BRS Kash's track "Oh No."
Features include Dynamic Gameday, Mode updates or upgrades
Each game will get a unique feel thanks to the unpredictability of the new Dynamic Gameday feature. In every mode, Gameday Atmosphere, Gameday Momentum, and Next-Gen Stats Star Driven AI will help determine different strategy and storytelling for the game.
Madden's Ultimate Team, Face of the Franchise, The Yard, and Superstar KO are all back with new stories, locations, and content. In addition, Franchise mode gets major updates with more details coming on that in the next weeks and months.
More details about the updated modes and new features are available at EA's Madden 22 page.
Madden 22 release date & pre-order details
The official Madden 22 release date is August 20, 2021. For gamers who pre-order the Madden 22 MVP Edition, they'll get early access to play the game, beginning on August 17, 2021.
Pre-orders are now available for the game. Madden NFL 22 will be available on Xbox® Series X|S and PlayStation®5 for $69.99 and is available on Xbox One, PlayStation 4, Google Stadia, and PC via Origin and Steam for $59.99. See full pre-order details here.
Gamers can also participate in EA's Dual Entitlement program for this year's game. Like Madden 21, this allows for a free upgrade from the current-gen to the next-gen game on the same brand console (PlayStation or Xbox).
Visit VGR's Madden page to stay updated on EA's football game.