The votes have been tallied from the Madden community and now the Team of the Year is official! On Monday evening, a special EA live stream arrived to present the Madden 22 TOTY players. That included all of the offense, defense, and specialists, with a Player of the Year card for 49ers wide receiver Deebo Samuel. Other players in the TOTY include Justin Herbert, Myles Garrett, and Darren Waller.
POTY Deebo Samuel leads Madden 22 TOTY Players
In the Madden 22 video game, players who use Ultimate Team mode will soon be able to add cards from the latest Team of the Year. The TOTY nominees were revealed earlier this month, with Madden community members voting online. Now, TOTY has been revealed and features 28 players. That includes six specialists, 11 defensive players, and 11 offensive players. Those player items received 96 overall ratings.
One of the offensive items is a Player of the Year (POTY) card awarded for San Francisco 49ers' WR Deebo Samuel. His card carries a 97 overall rating and includes top attributes such as 97 Catching/Spectacular Catch, 96 Jumping/Speed, 95 Catch In Traffic, and 94 Short Route Running.
Offensive players include Herbert, Waller
Los Angeles Rams QB Justin Herbert missed the playoffs, but fans gave him more votes than Madden 21 cover star Lamar Jackson, making him this year's TOTY QB. Other Madden 22 TOTY players for the offensive side of things include halfback Cordarelle Patterson, TE Darren Waller, and Cowboys RG Zack Martin.
Check out all of their cards and the full list of offensive players on Team of the Year below: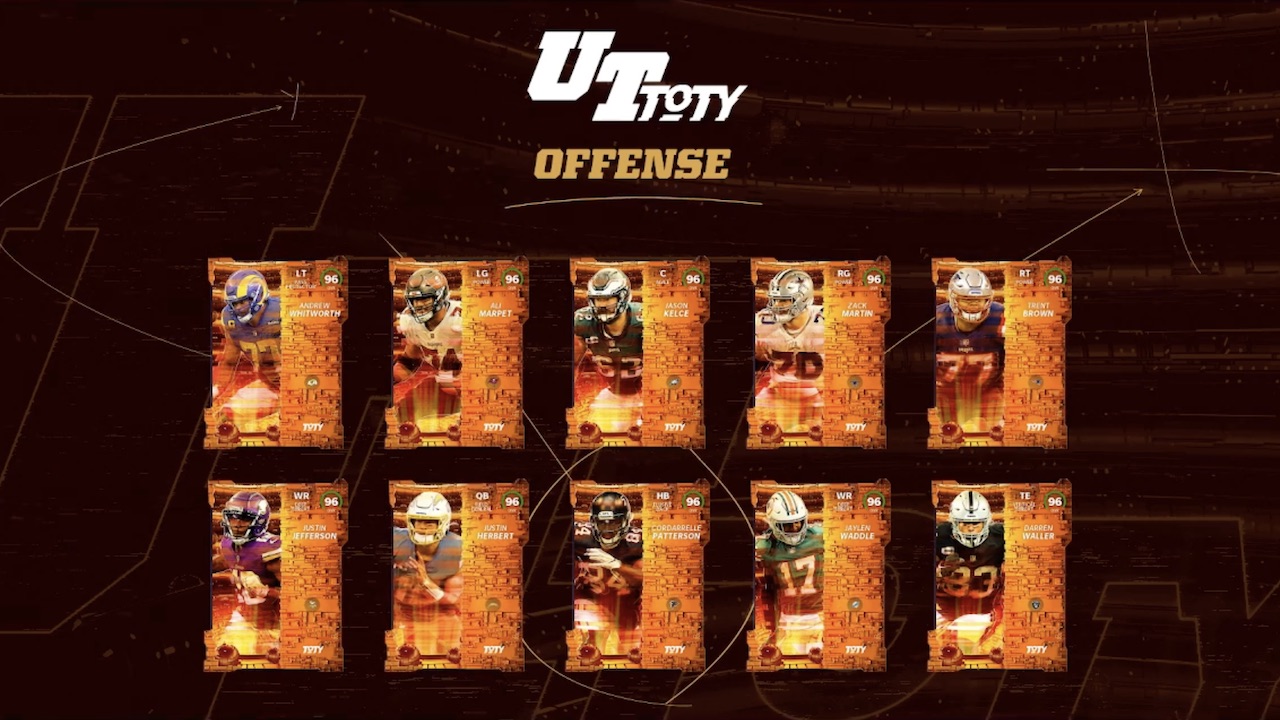 LT Andrew Whitworth (Rams) 96 OVR
LG Ali Marpet (49ers) 96 OVR
C Jason Kelce (Eagles) 96 OVR
RG Zack Martin (Cowboys) 96 OVR
RT Trent Brown (Patriots) 96 OVR
WR Justin Jefferson (Vikings) 96 OVR
QB Justin Herbert (Chargers) 96 OVR
HB Cordarrelle Patterson (Falcons) 96 OVR
WR Jaylen Waddle (Dolphins) 96 OVR
TE Darren Waller (Raiders) 96 OVR
Defensive players include Myles Garrett, Joey Bosa
Leading the way for the defensive Madden 22 TOTY players is the Cleveland Browns' Myles Garrett, who had another stellar season. He's joined by several other players who were among favorites to win the NFL's DPOY including Chicago's Robert Quinn and Dallas' Trevon Diggs. Check out the card art and full list of players below.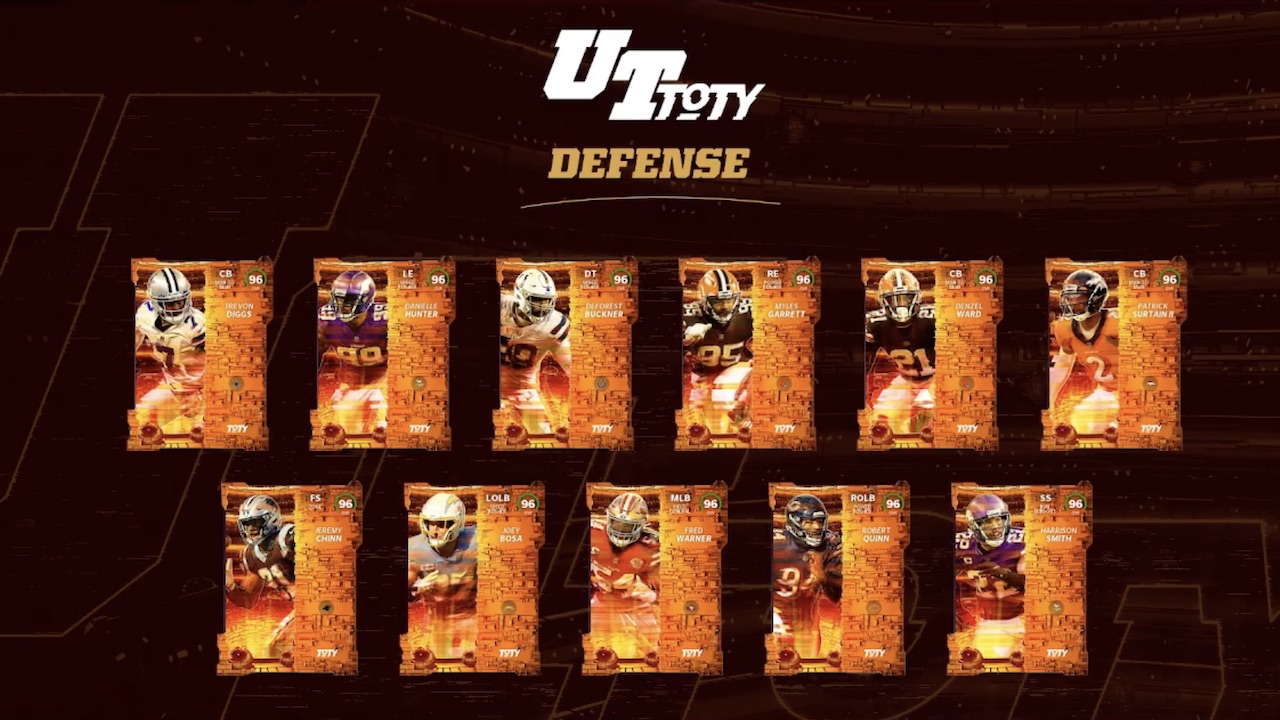 CB Trevon Diggs (Cowboys) 96 OVR
LE Danielle Hunter (Vikings) 96 OVR
DT Deforest Buckner (Colts) 96 OVR
RE Myles Garrett (Browns) 96 OVR
CB Denzel Ward (Browns) 96 OVR
CB Patrick Surtain II (Broncos) 96 OVR
FS Jeremy China (Panthers) 96 OVR
LOLB Joey Bosa (Chargers) 96 OVR
MLB Fred Warner (49ers) 96 OVR
ROLB Robert Quinn (Bears) 96 OVR
SS Harrison Smith (Vikings) 96 OVR
Specialists for the Madden 22 TOTY revealed
There are also six specialists for Madden's Team of the Year including Raiders halfback Kenyan Drake, 49ers fullback Kyle Jusczyk, and Patriots kicker Nick Folk. Just like most of the other cards above, everyone below gets a 96 OVR TOTY card in MUT.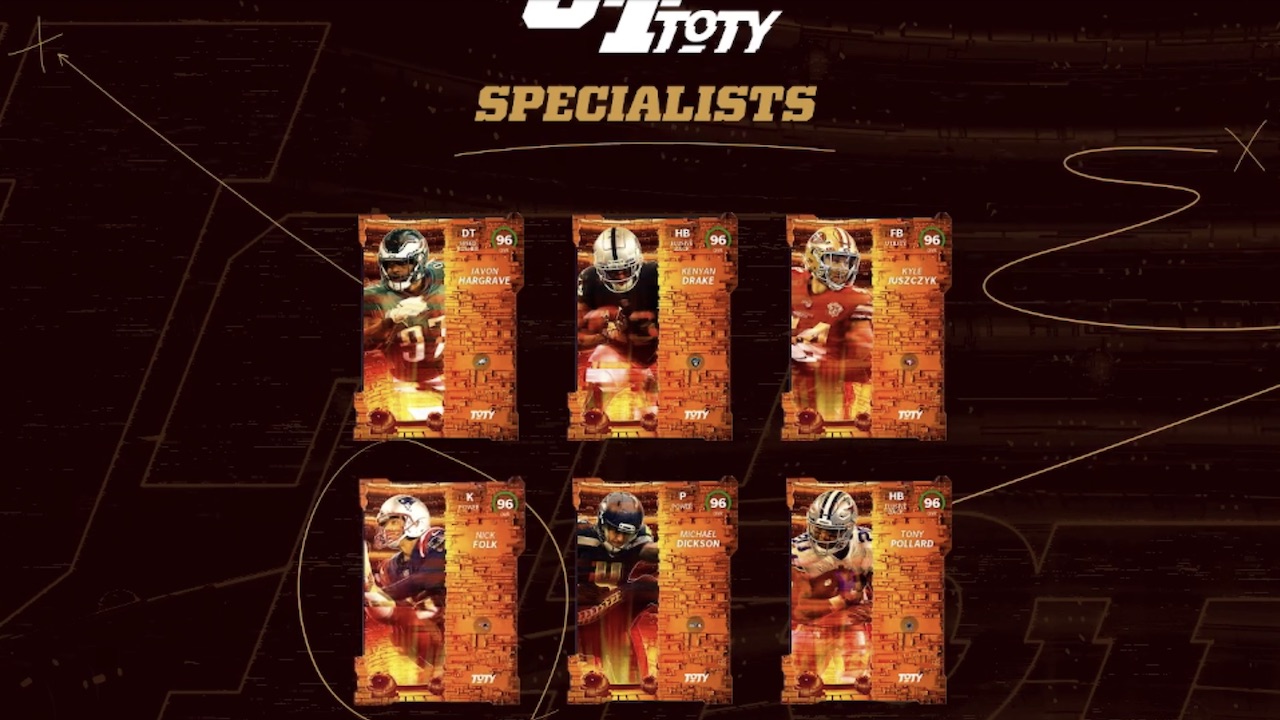 DT Javon Hargrave (Eagles) 96 OVR
HB Kenyan Drake (Raiders) 96 OVR
FB Kyle Juszczyk (49ers) 96 OVR
K Nick Folk (Patriots) 96 OVR
P Michael Dickson (Seahawks) 96 OVR
HB Tony Pollard (Cowboys) 96 OVR
Ultimate Team fans will be able to find Madden 22 TOTY players in packs and the Auction House starting on Tuesday, January 25!
Visit our Madden news page for more of the latest updates about the game.