For the first time in the history of Madden Ultimate Team, the community members will get to make their voices heard with Team of the Year votes. On Friday, January 14, EA opened Madden 22 TOTY voting for the community with a full squad ready to assemble. It'll require choosing from specific candidates to make the best possible team. Here are more details about how to vote for the Madden 22 Team of the Year in Ultimate Team.
What is the Team of the Year in Madden?
Each year, EA's Madden video game has presented a Team of the Year (TOTY) as part of Ultimate Team mode. These are players that they deem as deserving of upgraded items in MUT mode following standout seasons. It may not necessarily be the award winners, but there are plenty of star players amongst nominees.
With Madden 22 TOTY voting, they're turning it over to the fans, rather than letting the EA Madden team make the decisions. EA has set up a dedicated section of their website where community members can cast votes for offense, defense, and special teams.
How does Madden 22 TOTY voting work?
All that's required is heading over to EA's Madden website here. Once there, you'll be presented with each part of the Team of the Year: Offense, Defense, and Specialists. There are a total of 84 nominees amongst the various groups.
For example, Lamar Jackson, Justin Herbert, Mac Jones, and Derek Carr are the choices for quarterback. Wide receivers include Justin Jefferson, Jaylon Waddle, and Tyler Lockett. On defense, cornerbacks include Trevon Diggs, Denzel Ward, and Xavier Rhodes, among others. Check out all of the nominees here.
To make selections, simply press on the player at the bottom in the nominees' pool, then drag and drop them onto the roster above in the appropriate spot. If you change your mind about a player, you can drag them off the board back to the nominees' pool.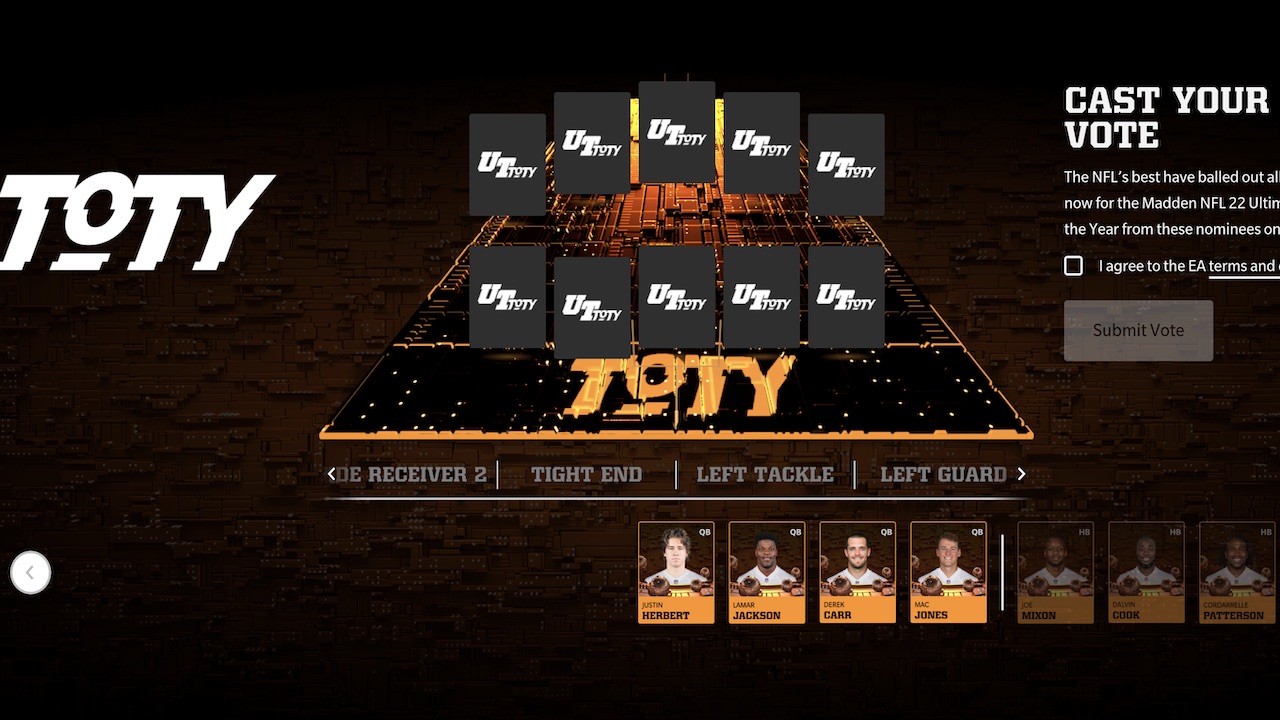 Continue making selections until all of the Offense, Defense, and Specialist spots have been filled. Once it's completed, check off the checkbox to agree to EA's Terms and Conditions, then press the "Submit Vote" button. That's all there is to it!
When is Team of the Year announced for Madden?
According to EA's TOTY details, voting opened on Friday, January 14, and will officially close on Monday, January 17. That gives the next few days to make those votes count.
As far as the release date, that will arrive on Tuesday, January 25, 2022. A special Madden 22 TOTY program will launch in Ultimate Team. This will likely include upgraded cards for all of the winners with challenges, exchange sets, limited items, and/or other options.
In addition to launching TOTY voting on Friday, EA introduced several other new items including an NFL Playoffs program in MUT, and new Campus Legends rosters in Superstar KO.
Visit our Madden news page for more updates about EA's football game.