In the latest MLB The Show 19 weekly challenge, Toronto's Aaron Sanchez and Baltimore's Chris Davis will go head-to-head in a battle for bragging rights and some awesome prizes. This week's contest also has a new prize for the first-place winner. Let's get to it!
Aaron Sanchez, Chris Davis 2019 struggles
Aaron Sanchez has not been himself so far in 2019. While he has pitched much better than his 3-7 record indicates, so far this season has been a struggle. Amidst all the frustration and trade rumors, Sanchez still hopes to right the ship.
Sanchez has a very respectable career ERA of 3.55 and his fastball still cranks up to 96-plus. However, the Blue Jays may have to make a decision very soon if they want to try and deal the hard-throwing right-hander or not.
While Sanchez knows what it is like to get off to a slow start, no one knows better than Chris Davis. Hopes were high for Davis and the Orioles on Opening Day 2019, but what followed was record-breaking – and not in a good way.
Davis started the season a dismal 0-54. It is hard to believe his hitless streak went for so long, but since then Davis has been doing much better. His batting average is still under .200, however starting out in such a slump can do that to a player.
A lot of games are still left to be played, and these two All-Stars know how to rebound.
New prize for top spot
Gamers know that the on the field struggles of Aaron Sanchez and Chris Davis can be changed in a blink of an eye on MLB The Show! This week players will try to get Chris Davis going in a big way as they battle for some top-notch prizes.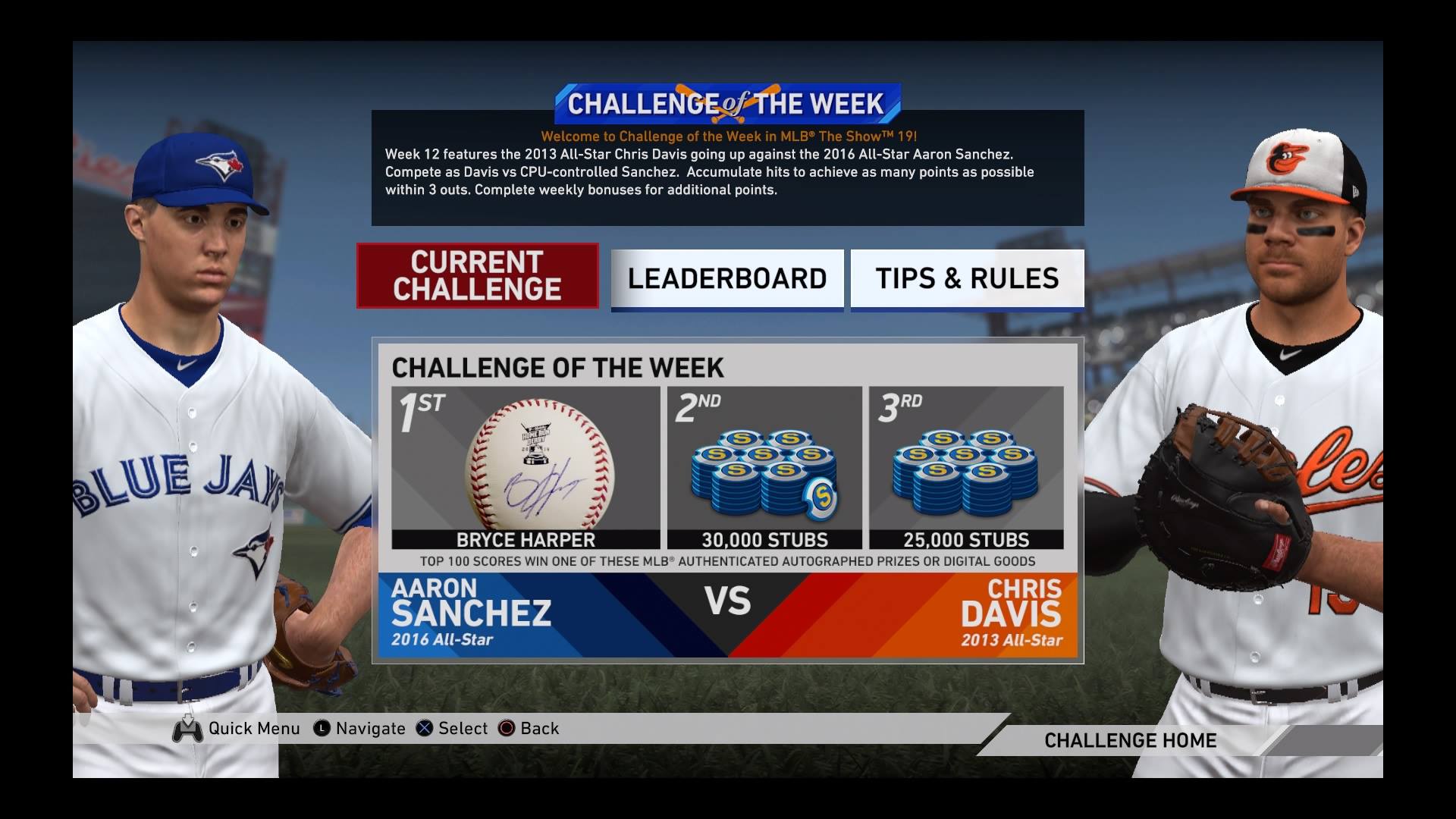 The first-place winner overall this week will receive an autographed baseball from MLB The Show cover athlete Bryce Harper.
The player that finishes second will receive 30,000 stubs while 3rd place will get 25,000 stubs. If you don't finish in the top three, don't worry. Gamers who finish in the top 100 will receive an authenticated prize from Major League Baseball.
Good luck to all players!