The MLB All-Star game is now history! In case you missed it, the American League defeated the National League by the final score of 4-3. The win was the American League's seventh straight in All-Star play. While many stars shined on this night, it was Cleveland's Shane Bieber who took home the game's top prize.
Shane Bieber wins MVP
Five days before the All-Star game, Shane Bieber wasn't even an All-Star. Not only was Bieber a late minute addition, he was named the MVP of the game!
Now Shane Bieber, along with several other All-Star studs have been added to a special Diamond Dynasty collection honoring the All-Star Game.
Base & Rare Tier cards
Get 'em while they're hot! The MLB The Show 19 All-Star choice pack has arrived! Three new Diamond Dynasty cards are available in the rare-tier category. They feature Texas' Joey Gallo, Cleveland's Shane Bieber, and New York Yankees closer Aroldis Champman.
The base-tie pack includes Los Angeles' Max Muncy, Cincinnati's Luis Castillo and Houston's Michael Brantley.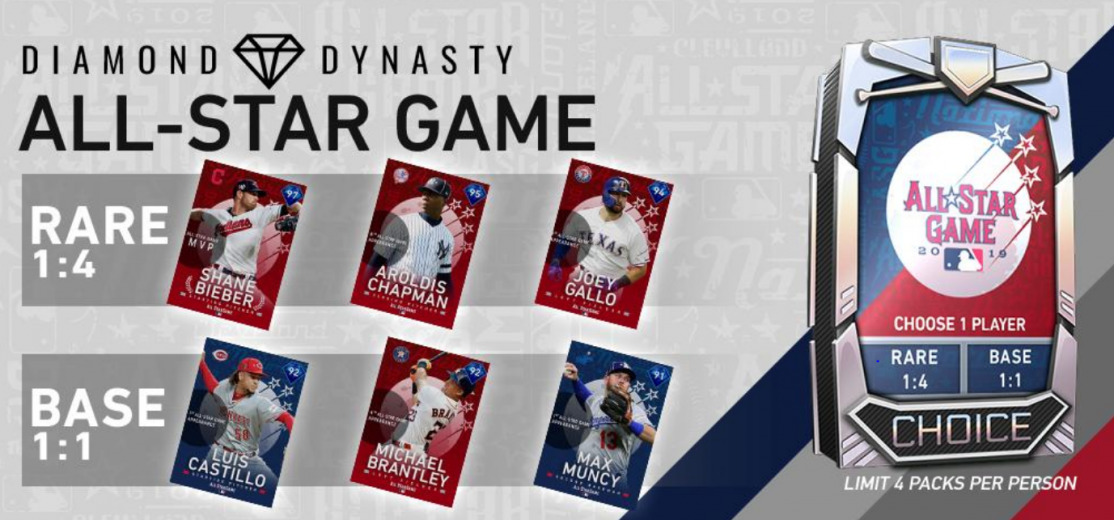 The odds of getting the rare-tie cards are 1 in 4, while the base set is 1 in 1.
Now with the Home Run Derby and All-Star game behind us, baseball fans face the most boring day of the summer, No baseball games scheduled! That's okay though because we can go earn those new choice packs and relive some great MLB Moments on The Show!
The second half of the season will begin on Thursday, July 11 with just one game on the schedule. The Houston Astros will take on the Texas Rangers. On Friday July 12, every team will be once again back on the field!