Last night the gang at Sony Studios were working overtime once again. From revealing the MLB The Show 19 player ratings to breaking down Diamond Dynasty, it was a jam-packed show. One of the biggest moments of the night was the special edition diamond reveals.
MLB The Show 19 Diamonds reach 20
Eight new names were added to the list of MLB The Show 19 Diamonds for 2019. Gamers now know 20 of the 30 featured special diamond cards. Let's take a look at the eight newest players to be named to the special edition diamonds.
Did you guess any of these Special Edition Diamonds before their big reveal?

These are just a few of the thirty different options you can choose with the Diamond Choice Pack in the MVP, Digital Deluxe, and Gone Yard Editions of #MLBTheShow: https://t.co/Mu5uVHDrKl pic.twitter.com/mgxMTV51DB

— MLB The Show (@MLBTheShow) March 15, 2019
The list covers a wide variety of players spanning nearly 100 years of baseball.  From Mike Schmidt in his heyday with the Phillies to Bob Feller throwing the heater in 1939, the latest MLB The Show 19 Diamonds reveal has gamers ready for the season.
Kinsler credit long overdue
A personal favorite for me is the 2008 Ian Kinsler. Kinsler was and still is a solid player. In fact, he doesn't get the credit he fully deserves. An above average hitter and always solid in the field, Kinsler is a great addition to this list.
Kinsler's 2008 season put him on the map in Texas. He hit 18 home runs, drove in 71 runs and hit a solid .319.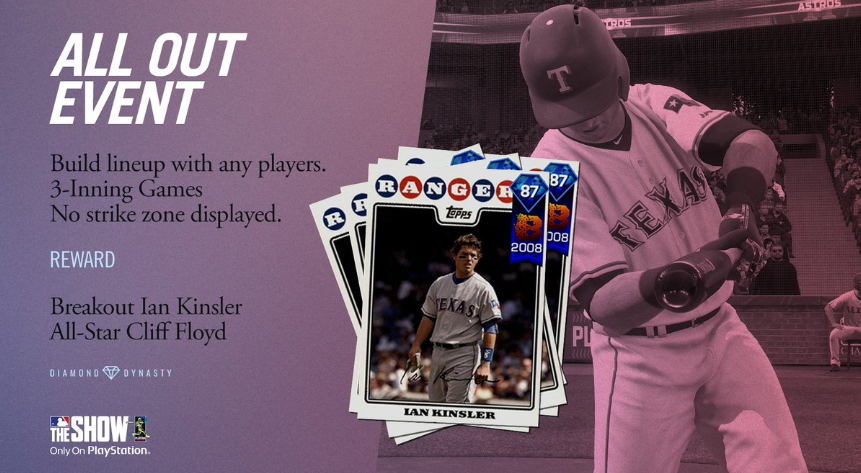 In previous streams, the creators revealed 12 other diamonds. Lou Gehrig  Jackie Robinson, Jason Kendall and Chipper Jones were added in last week's stream. These great players joined Frank Thomas, Tom Seaver, Stan Musial, Roy Oswalt, Curtis Granderson, Tony Gwynn,  Ted Williams, and Kerry Wood.
Whew! Could you even imagine what a team made up of those players would be like? Unstoppable is the first word that comes to mind.
Here is the complete list of players revealed in yesterday's Twitch live stream along with their player ratings.  For more up to date MLB The Show information, news and rumors, be sure to check out our home page.
Steve Finley – 87
Barry Larkin – 87
Cliff Floyd  – 87
Bob Feller – 89
Buster Posey – 87
Joe Carter – 87
Ian Kinsler – 87
Mike Schmidt – 87