Making the MLB Hall of Fame is every player's dream. After all, if you are a Hall of Famer, you are among the best of the best in all of baseball. In honor of this year's inductees, MLB The Show 19 is having a Hall of Fame Event. This year, The Show is honoring Edgar Martinez and Lee Smith, as they enter the Hall of Fame this weekend!
Edgar Martinez, Lee Smith Signature Series HOF
Edgar Martinez and Lee Smith were two of the best in the game. Martinez was an incredible hitter with the Seattle Mariners until the age of 41! At 40 years of age, Martinez was elected to the AL All-Star team and finished the 2003 season with 24 home runs, 98 RBI and a .294 batting average. Edgar Martinez was living proof that age is just a number!
When you needed a game closed out, you called on Lee Smith. Smith finished his HOF career with 478 saves. Best known for his years with the Cubs, Smith was a 7-time All-Star and 3-time Rolaids Relief Award winner.
How to earn Martinez, Smith Signature Series
There will be three different Hall of Fame Events for gamers to try an earn an Edgar Martinez or Lee Smith Signature Series card. The first event ends on July 30 at Noon PT. The second ends on August 5 and the third concludes on August 12.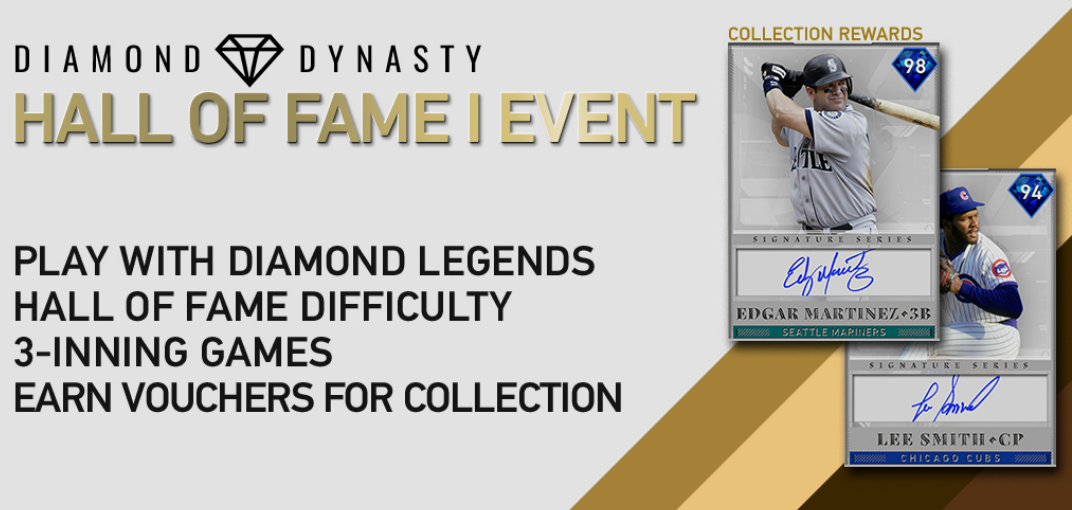 Each event is a bit different than the next. The event will last just three innings while giving players a chance to collect vouchers to purchase these Signature Series cards.
When players collect six vouchers, they are qualified to win a Lee Smith Signature Series. To earn Edgar Martinez, you need to earn nine vouchers. The rules are pretty self-explanatory. Listed below is the short version provided by The Show Nation's official website. Good luck players!
HALL OF FAME I EVENT
Ends on July 30 at Noon PT.
Rules: Diamond Legends or
Silver or below Live Series
Difficulty: Hall of Fame
Min Player: 60 OVR
Max Team: 85 OVR
3-Inning Games
20 Wins = 4 Vouchers
HALL OF FAME II EVENT
Ends on August 5 at Noon PT.
Rules:
Pitchers: Signature Series or Common
Hitters: Lee Smith's Former Teams and Common players
CHC
STL
LAA
BAL
BOS
NYY
CIN
WSH
Min Player: 60 OVR
Max Team: 90 OVR
3-Inning Games
12 Wins = 4 Vouchers
HALL OF FAME III EVENT
Ends on August 12 at Noon PT.
RULES:
Monthly Awards Series, Topps Now Series, Bronze or Common players
Min Player: 60 OVR
Max Team: 85 OVR
3-Inning Games
15 Wins = 4 Vouchers