The latest MLB The Show 19 roster update has arrived. With over 200 players either trending up or down, there is plenty to cover. The biggest news is the reveal of two new Diamonds. Congratulations to Xander Bogaerts and Charlie Morton who have both made the jump to Diamond status this week!
Charlie Morton, Xander Bogaerts Newest Diamonds
Tampa Bay's Charlie Morton and Boston's Xander Bogaerts have both made the leap from Gold to Diamond. Both players were at an 84 OVR in the last MLB The Show roster update. However, after continuing their hot play, they have been boosted to an 85 rating which puts them at Diamond status.
Charlie Morton has been one of the biggest surprises this season. With an 11-3 record and an ERA of 2.61, Morton is being mentioned as a Cy Young candidate.
Xander Bogaerts has been a hitting machine. Wanna talk about video game-like numbers? Bogaerts is hitting .403 in his last 15 games. During that time, he has hit six home runs and drove in 21. In his last seven games, Bogaerts is on a 16-29 clip – hitting .552. That is good. Real good!
New Gold players
There is gold in them hills! Four players made the leap to Gold status in this week's roster update, and none of them show signs of slowing down. Fernando Tatis Jr., (80 OVR), Hunter Renfroe (80 OVR), Shane Bieber (82 OVR) and Liam Hendricks (80 OVR) are all Gold club members.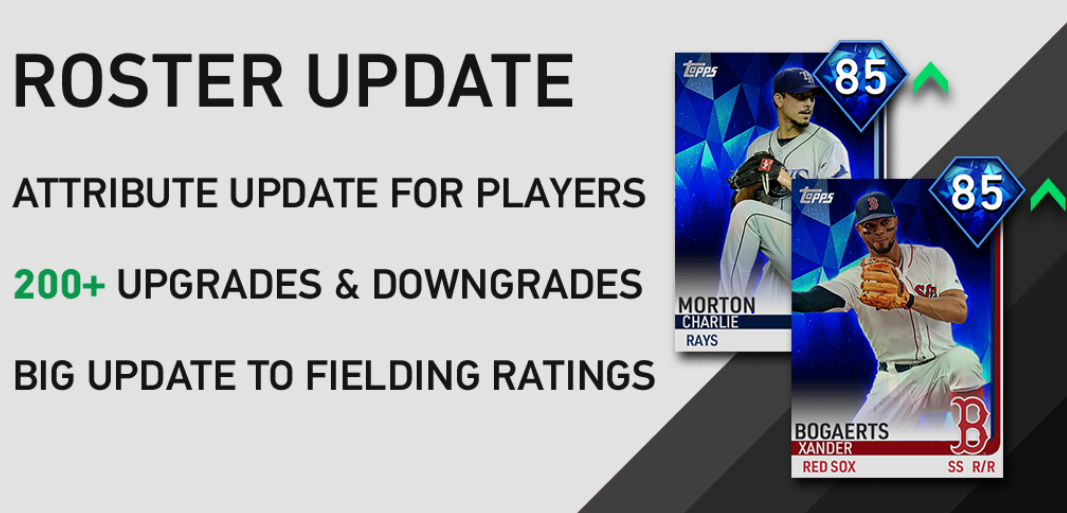 It wasn't just the pitchers and sluggers getting a boost in the ratings. A major overhaul to fielding ratings took place as well. More than 100 players had a change in their fielding, arm strength, arm accuracy or reaction attributes. You can check out the entire roster update by clicking here.
Be sure to follow all of the latest MLB The Show 19 news, info, and rumors on our VGR MLB home page.