With no baseball going on today, Thursday, July 11, what better way to get your fill of America's pastime than to tackle the latest MLB The Show 19 weekly challenge! This week features an All-Star matchup as Dodgers pitcher Hyun-Jin Ryu takes on Houston Astros slugger Alex Bregman.
Alex Bregman remains hot
Alex Bregman has developed into one of the Houston Astros best players. And that is saying a lot with the number of stars on the Stros!
Once again Bregman has had a first half to remember. Now in his fourth season, Alex Bregman is really coming into his own. Bregman has already smashed 23 home runs and drove in 56 in 2019. Some players can only hope for those kinds of stats in a single season.
Alex Bregman will have his hands full this week during the MLB The Show challenge as he will face off against Dodgers star Hyun-Jin Ryu. Like Bregman, Ryu has a first half to be proud of.
With a 10-2 record and an ERA of 1.73, Hyun-Jin Ryu is once again on pace for Cy Young consideration.
Weekly prizes best yet
This week, Alex Bregman will be a gamer's best friend as players will be competing for some of the best top prizes offered yet by MLB The Show.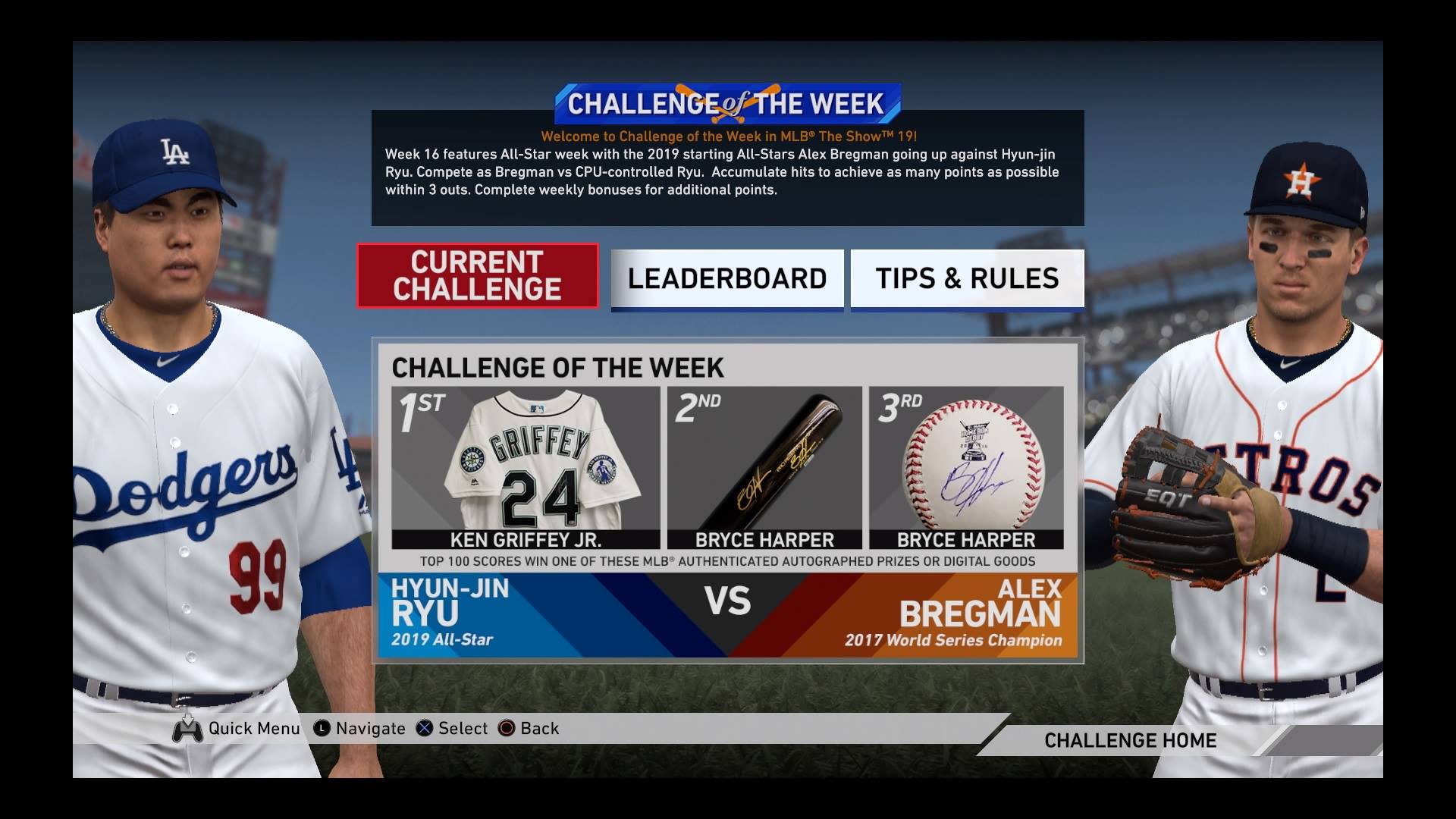 While the top 100 leaders will once again take home some great prizes, this week's top three look spectacular!
The first place winner will claim a Ken Griffey Jr. autographed jersey! That is something any collector would love to have.
Second place will earn you an autographed bat from MLB The Show cover athlete Bryce Harper. The third place winner will score an autographed official MLB baseball from the Phillies star as well. It is a great week to play the challenge!