Week 2 of the MLB The Show 19 weekly challenge is a good one. Red hot Detroit Tigers pitcher Jordan Zimmermann takes on New York Yankees slugger Aaron Judge. So far, the Tigers are off to a great start in 2019 and Zimmermann is a big reason why.
MLB The Show 19 Weekly Challenge Zimmermann regaining form
The Detroit Tigers spent a lot of money when they signed Jordan Zimmermann back in 2015. While he hasn't been as dominate as they had hoped, he has started the 2019 season with a vengeance. With an ERA and WHIP well under 1.00, Zimmermann looks like his old self.
In 13.2 innings pitched so far in 2019, Zimmermann has recorded 10 strikeouts and has an ERA of 0.66. He will be a crucial piece of the puzzle if the Tigers are to compete for the AL Central this season.
Now the question is can Aaron Judge rough him up in the latest MLB The Show 19 weekly challenge?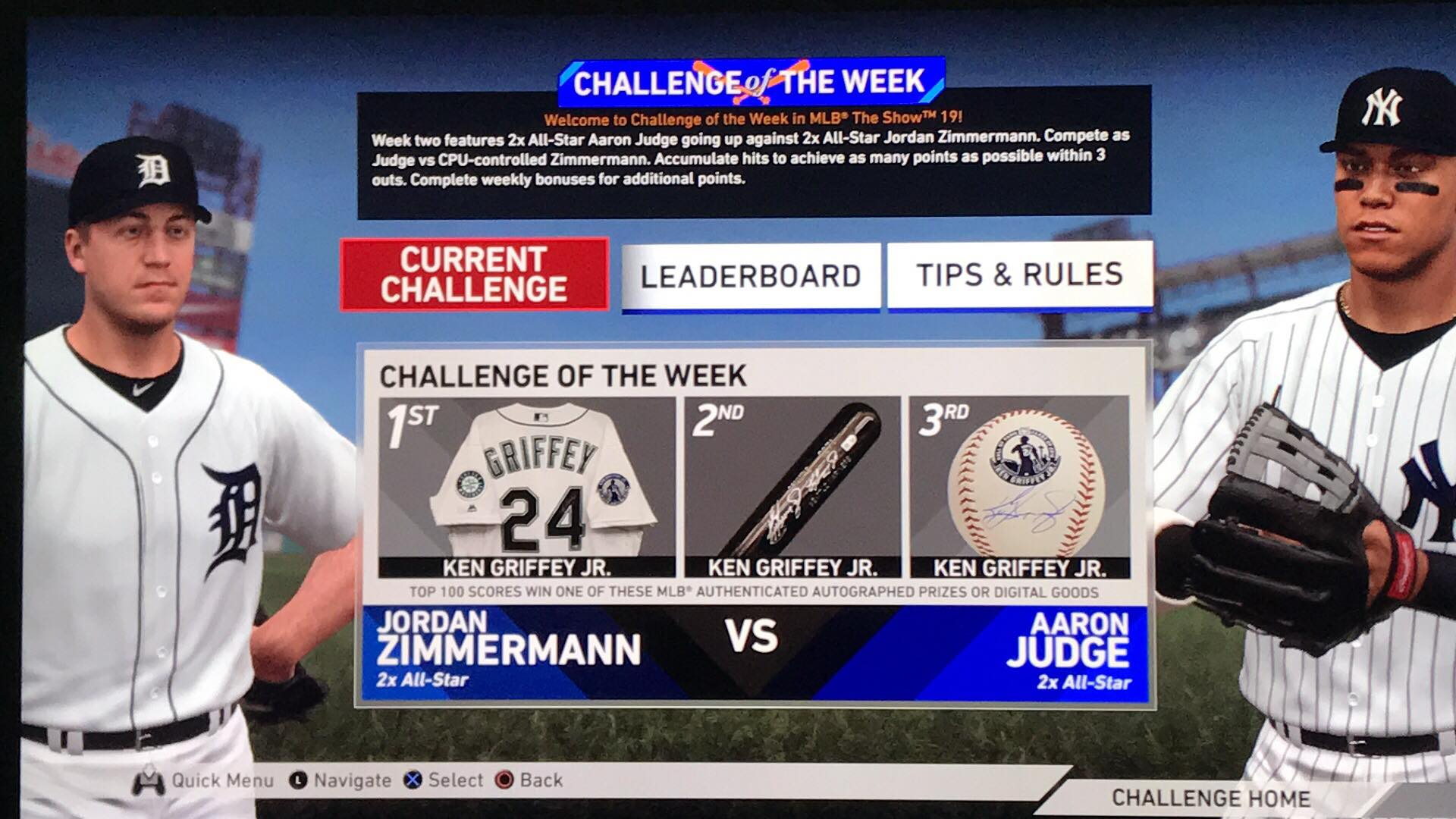 Judge and the Yankees don't look very "New York like" so far in 2019, but we have only scratched the surface of the new season. Any MLB lineup that has Aaron Judge in it is bound to bust out sooner or later.
Weekly Challenge rules, prizes
The great thing about the MLB The Show 19 weekly challenge is that it is never the same. This week, gamers will take on the role of Aaron Judge as they try to beat the CPU version of Jordan Zimmermann.
It sounds easier said than done, but the rules are very simplistic. To win this week's MLB The Show 19 weekly challenge you want to collect as many hits as you can off of Zimmermann before collecting three outs. That's it! The more hits you get, the higher you move up the rankings.
The top 100 scores will win some cool MLB authenticated prizes or digital goods from MLB The Show. First prize is a Ken Griffey, Jr. signed jersey. Griffey will also sign an authentic model bat for the second prize winner, while the third-place prize winner will receive an autographed baseball.
You can't go wrong with swag signed by a legend like Ken Griffey, Jr!