Several new pieces of content arrived in MLB The Show 20 on April 14. Earlier today, we got a look at the brand new Headliners Set 10 Diamond Miguel Cabrera card. In addition to Miggy, there's also the brand new MLB The Show 20 April Monthly Awards. Among the rewards is a new Flashback Diamond card, for hitter Ryan Zimmerman. Here are the details on the new item and how to get it it in the game.
MLB The Show 20 April Monthly Rewards Ryan Zimmerman card
Along with a new Diamond Miguel Cabrera, we now have a new Diamond Flashback. Ryan Zimmerman has spent his entire 15 years in the majors as a part of the Washington Nationals roster. He's earned two All-Star appearances, with the most recent in the 2017 season. During that season, Zimmerman had a .303 average with 159 hits, 36 home runs, and 108 RBI. In the month of April he had a .420 average, 11 homers, and 29 RBI.
Here's a look at the 85 OVR Ryan Zimmerman card with major attributes. They include 99 Connect vs. Lefties, 94 Power vs. Lefties, and 77 CLT. His defensive attributes include a 73 Fielding, 70 Arm, and 68 Reaction. He's also got 44 Speed, which isn't great, but not terrible either.
Zimmerman plays first base but can also go to third or left field. His two quirks are Hitting Machine and Bomber.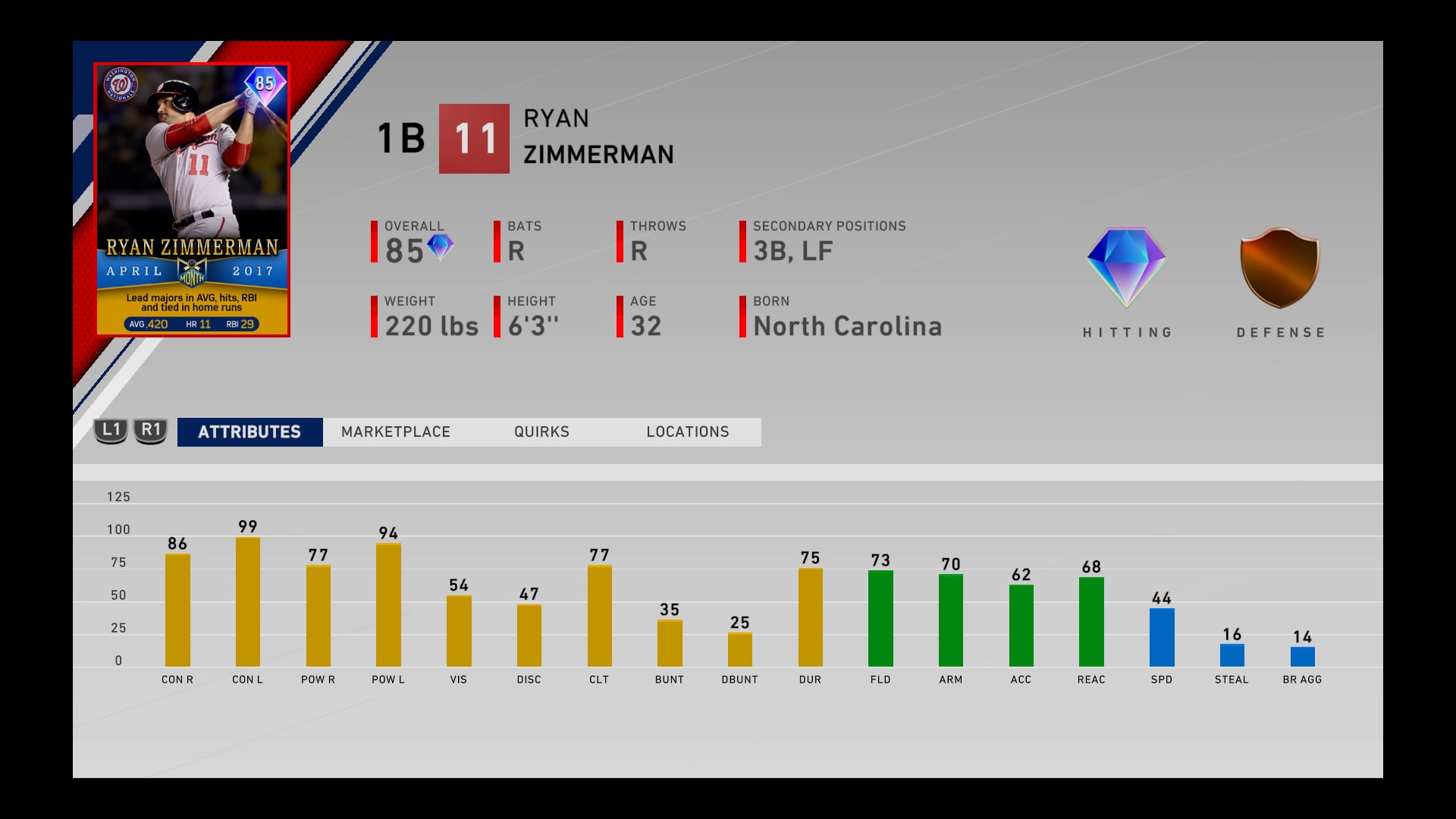 How to get the new Ryan Zimmerman Diamond card
In order to get the new Ryan Zimmerman Diamond card, you'll need to complete a number of missions. On the MLB The Show 20 main screen, head over to "Programs" and choose "Monthly Awards." From there, choose "April."
This will bring you to a screen featuring "Missions" and "Moments" for Ryan Zimmerman. The objective is to earn points through completing these. As you earn 10 points, you'll get 500 MLB The Show Stubs. At 15 points, you'll get a pack. 20 points will bring you another 1,000 Stubs. Once you get 25 Stubs, you'll earn the Diamond Ryan Zimmerman card.
Here's a look at all of the Missions and Moments along with point values.
Missions:
Online: Tally Hits With Nationals (0/15) +10 points
Online: Tally Extra Base Hits With 1B (0/5) +10 points
Tally 10 RBI With Nationals (0/10) +5 points
Play vs. CPU: Defeat the Nationals on All-Star or Higher (0/1) +5 points
Exchange Nationals And 1B (0/35000) +10 points
Moments:
Opening Day – Tally 2 Hits as Zimmerman vs. Marlins (+3 points)
First Homer of 2017 – Hit HR as Zimmerman in game (+3 points)
Rollin' Ryan – Get 3 hits and one extra-base hit (+3 points)
Zim's Grand Game – Tally 3 Hits and 1 Home Run (+3 points)
Insane April Ending – Tally 11 Hits and 4 Extra Base Hits across 4 games (+3 points)
You can do any combination of the above Moments and Missions for 25 points to get the "No Sell" Ryan Zimmerman Diamond for MLB The Show 20 April Monthly Awards. Good luck!
Visit our MLB news page to get more updates about The Show.