We've officially arrived at Week 2 of MLB The Show 20 season. Last week we saw an MLB The Show 20 Challenge of the Week featuring cover star Javier Baez of the Chicago Cubs. For the second week's challenge, the 2019 National League MVP and a 2015 World Series Champion are under the spotlight. Here are more details on the Week 2 Challenge, how to participate, and the potential prizes.
MLB The Show 20 Challenge of the Week 2: Cody Bellinger vs. Johnny Cueto
The new MLB The Show 20 Challenge pits the Dodgers' Cody Bellinger against ace Johnny Cueto of the San Francisco Giants. We recently wrote of the fact Cody Bellinger has never been featured on MLB The Show's cover. Maybe he'll be the MLB The Show 21 cover star?
Either way, he's featured for this week's Show challenge. In each week's challenge, gamers are in control of the batter, in this case, Bellinger, and try to compile as many big hits as possible against the pitcher. This week, it's 2015 World Series champ Cueto controlled by the CPU.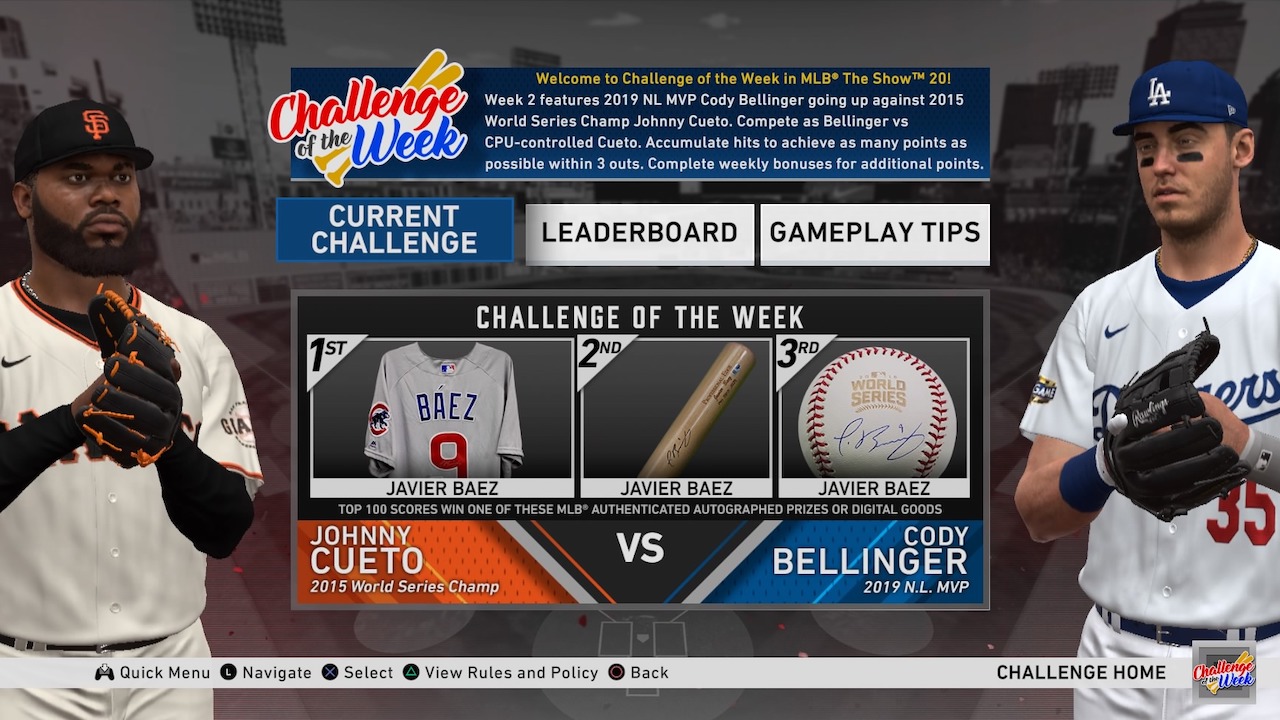 A new Weekly Challenge arrives each Monday at 3 p.m. Pacific Standard Time and runs up until the following Monday at 2:55 p.m. PST. Gamers get about a week to try to achieve the highest possible score before three outs. Three strikes are one out. Fouls balls count as strikes but only up to two strikes.
Basically, the object is to get big hits and keep doing so. The distance the ball travels in feet is multiplied by one point each. There's also a momentum boost that can multiply your score. As you keep recording consecutive hits without an out, that multiplier increases. So it pays to not strike out and keep getting hits!
Weekly Challenge prizes feature Javier Baez
Gamers who get into the top 100 scores for the MLB The Show 20 Challenge of the Week 2 can win an autographed item from cover star Javier Baez. These include a Cubs jersey, baseball bat, or baseball signed by the cover athlete.
Gamers can only win one of these autographed items once throughout the Weekly Challenges. Otherwise, there are digital rewards that gamers win, and those can be won multiple times throughout MLB The Show 20's challenges.
To play the MLB The Show 20 Challenge of the Week, simply scroll on the main game menu to the right to choose "Challenge of the Week." Right now, there's a first-place score of over 447,000 points with 165 hits tallied, so the bar has been set high.
Visit our MLB news page to get more updates about the game.