With the return of Major League Baseball over the past several weeks, MLB The Show 20 Diamond Dynasty has received a lot of new content. In particular, fans have been able to score free packs with Diamond level player cards inside. On Friday, The Show unveiled yet another free pack is up for grabs. Gamers can now get a Topps Now Players Choice pack with a choice of two players inside. Here's how to unlock the free pack in Diamond Dynasty.
Play MLB The Show 20 Diamond Dynasty Topps Now Moments
MLB The Show 20 Diamond Dynasty has a new series of Topps Now Moments. These specific moments correspond to real game events that happened from July 23 through July 26 in the MLB season. There's a total of seven of them. You can earn XP and MLB The Show Stubs for each.
Here are each of the new Topps Now Moments:
7/23 Kike Does It All – Get On Base 3 Times (Giants vs. Dodgers, Rookie) – 400 Stubs, 755 XP
7/24 Opening Day Gem – Pitch 6 Innings, Do Not Give Up 1 Run (Brewers vs. Cubs, Rookie) – 575 Stubs, 925 XP
7/24 New Extra Innings – Win 1 Game (Angels vs. Athletics, All-Star) – 350 Stubs, 700 XP
7/24 Bieber Fever – Strike Out 14 Batters, Do Not Give Up 5 Hits (Royals vs. Cubs, Rookie) – 825 Stubs, 1100 XP
7/25 Don't Count Papa Bear Out – Hit 1 Home Run (Braves vs. Mets, Rookie) – 400 Stubs, 900 XP
7/25 Marlins vs. Phillies – Pitch 7 Innings, Strike Out 4 Batters, Do Not Give Up 2 Runs (Marlins vs. Phillies, Veteran) – 600 Stubs, 950 XP
7/26 Switch it Up Ji – Hit 1 Home Run (Blue Jays vs. Rays, Rookie) – 400 Stubs, 900 XP
For the most part these should be quick to complete for experienced players. Even for less experienced players, you'll be able to keep trying until you can complete a particular moment. Realistically, it could take an hour or two, or a day of playing MLB The Show 20, depending on your experience level.
What players are available in the pack?
For completing all of the Topps Now Moments, you'll get another 1,000 XP and 500 Stubs. You'll also receive a Topps Now Opening Weekend Choice Pack. Inside there are five Diamond level players. You'll get to select two of the players to add to your MLB The Show 20 Diamond Dynasty team.
The pack brings three players we showed off before in our free Topps Now pack post. They are Ji-Man Choi, Marcell Ozuna, and Kyle Hendricks. In addition, there are two other players.
First up, we have Kike Hernandez, who is part of the featured Topps Now Moments we outlined above. The Dodgers second baseman brings Diamond Hitting and Defense on a 95 overall card. He can also play third, shortstop, and outfield, giving him plenty of versatility. Hernandez gets key attributes such as 99 Contact Left and 100 Power Left, as well as 95 Vision, 87 Fielding, and 80 Arm Strength.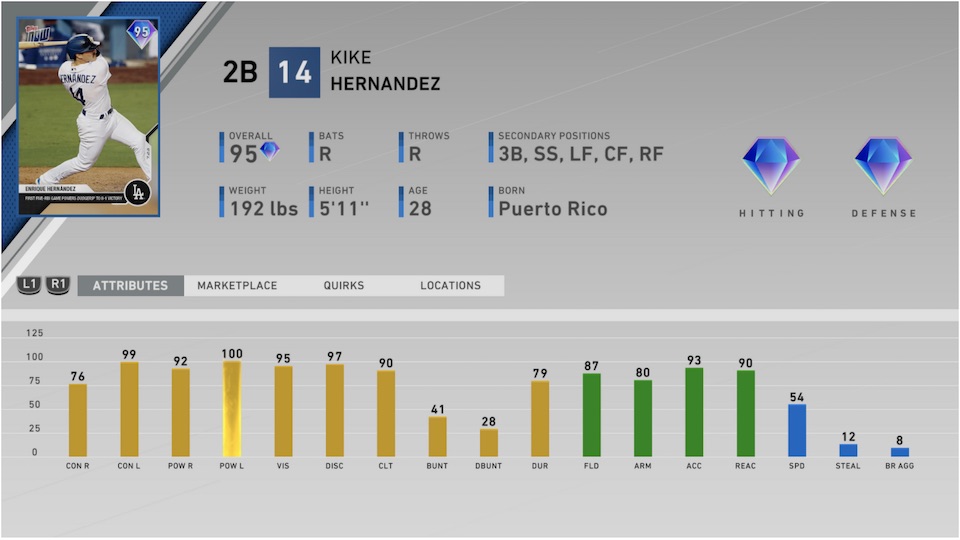 Another pitching option is also available in the form of Philadelphia Phillies ace Zack Wheeler. His pitch repertoire includes a 97 mile per hour 4-Seam Fastball and 2-Seam Fastball along with 91 mph Slider. Wheeler also has 90 Stamina, 87 Control, and 97 Velocity on a pretty solid Diamond card.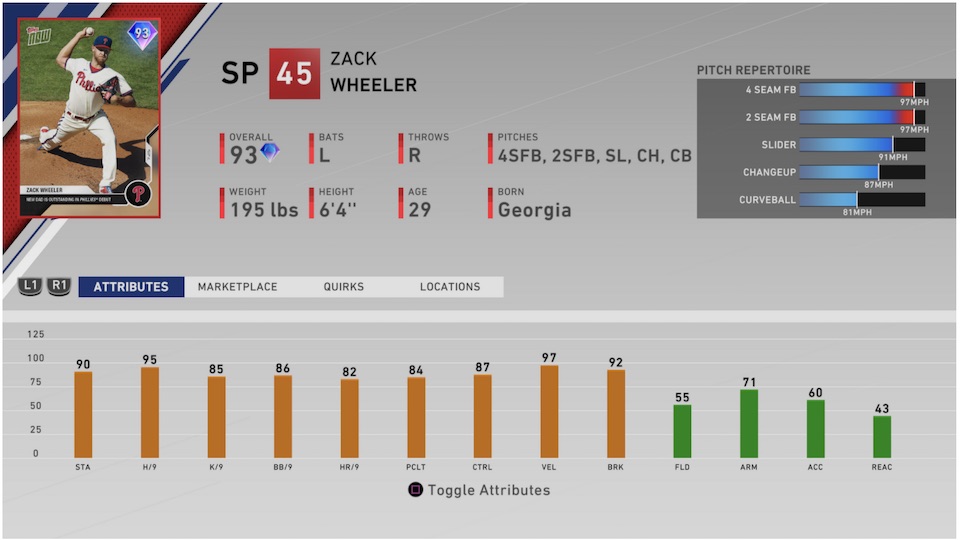 You can choose the two above players, or any of the others that you may have missed in that first pack. Remember, these can also go towards the Topps Now Collection. With that you can get even more Stubs, XP, and eventually a Voucher towards the 99 OVR Mike Trout Master Collection Reward.
Which two Topps Now players are you choosing to add to your MLB The Show 20 Diamond Dynasty team?
Visit our MLB page to get more updates on this game and other baseball-related games.