The MLB The Show 20 Master Collection officially arrived in Diamond Dynasty and brings one impressive reward. For gamers able to collect all of the necessary pieces, there's a new 99 overall Mike Trout Diamond card. It's considered amongst the best player items in the game, making it highly sought after. We have the full details here on how to acquire this card for your Diamond Dynasty lineup.
New Mike Trout 99 OVR Awards MVP card
The Los Angeles Angeles' Mike Trout is a force within Major League Baseball. Across his decade in the league, he's racked up three MVP Award wins and eight All-Star appearances along with an impressive collection of stats. Now, his best card yet is available to gamers in The Show.
With the MLB The Show 20 Master Collection reward, you're getting a powerful Mike Trout card with Diamond Hitting and Defense. The Angels centerfielder gets 116 Contact Right, 97 Contact Left, 125 Power Right, and 112 Power Left for plenty of hitting ability. He's also got 94 Fielding, 90 Accuracy, 89 Arm Strength, 90 Speed, and 66 Stealing.
Trout's Quirks on the Diamond card include Hitting Machine, Bomber, 20/20 Vision, Walker, Soft Hands, and Quick Reflexes.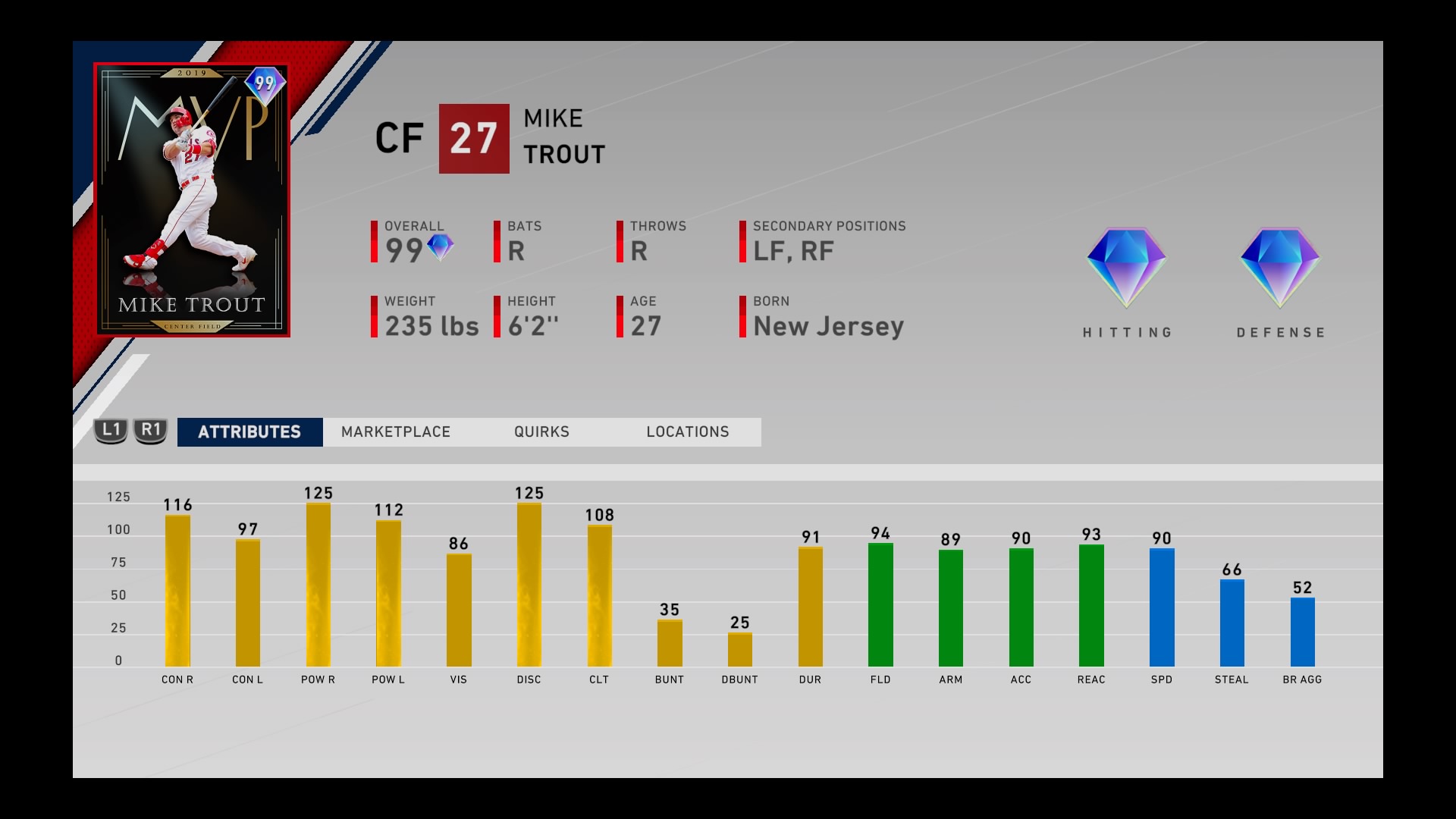 Even better with this Mike Trout, is that once you have it, you can make it even better through Prestige. To do that, you'll go into the Mike Trout Prestige Program where you can play specific Missions to ultimately unlock Trout's Prestige 99 OVR with the higher-rated attributes.
How to complete the MLB The Show 20 Master Collection
Within the "Legends & Flashbacks" area for Collections, you'll find "Trout." Once you're in there, you'll see all of the required items in order to complete the MLB The Show 20 Master Collection. Basically, you are going to need Token Vouchers, which you'll get by collecting a specific number of cards in a series.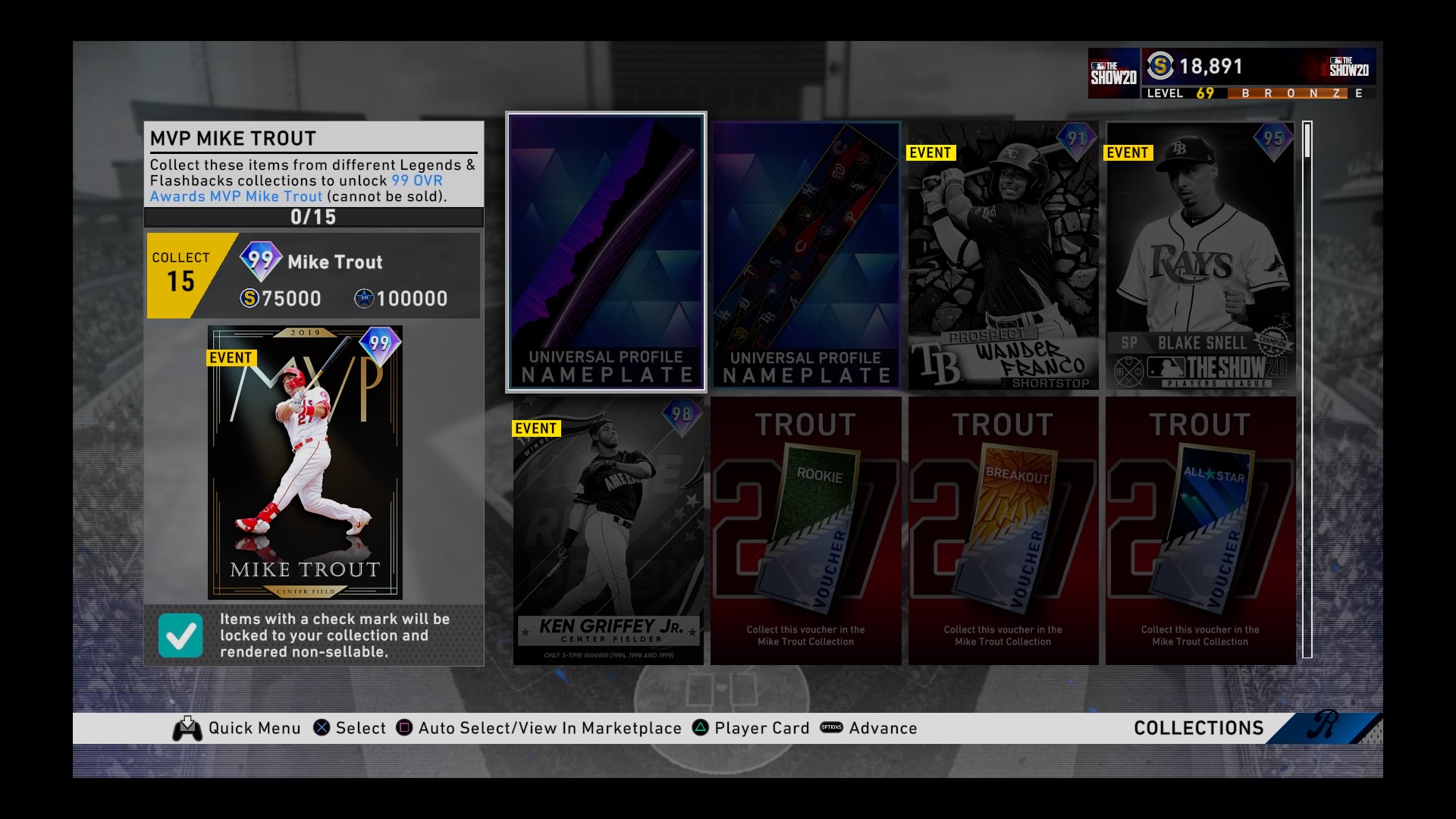 It's going to take quite a bit of collected items, so here's the breakdown of how may cards you need per collection series:
Topps Now – 15 cards
Prestige – 5 cards
Monthly Awards – 15 cards
Cover Series – 3 cards
Prospects – 16 cards
Home Run Derby – 10 cards (98 overall Ken Griffey Jr.)
Breakout – 20 cards
Rookie – 20 cards
Awards – 15 cards
Prime – 15 cards
Signature – 8 cards
All-Star – 20 cards
Veteran – 20 cards
Postseason – 15 cards
Players League – all cards (95 overall Blake Snell)
Prospects – 91 overall Wander Franco
Universal Profile Nameplate
Universal Profile Nameplate
Once you have 15 of the 18, you'll be able to lock them in and unlock the 99 overall Mike Diamond card. As mentioned above, you can then get a bigger boost on the card by running through the Prestige Missions.
By the way, unlocking the 99 Diamond Trout also brings 75,000 MLB The Show Stubs and 100,000 XP, so it's quite a Master Collection reward package!
Visit our MLB The Show news page to get more how-to help and updates.