A brand new MLB The Show 20 Weekly Challenge arrived in the game, giving players an opportunity to collect a streak of hits off another ace. This time around, gamers have a battle featuring Cleveland Indians batter Francisco Lindor and Chicago White Sox ace Dallas Kuechel. Here are the details on the new challenge, how to play, and what you can win.
Francisco Lindor takes on Dallas Kuechel in MLB The Show 20 Weekly Challenge
There are no sports going on right now anywhere and many people are practicing social distancing and isolation. With the baseball season suspended for now, gamers are turning to MLB The Show 20 Weekly Challenge among other modes.
In this week's showdown it's four-time MLB All-Star Francisco Lindor from the Cleveland Indians facing two-time All-Star Dallas Kuechel from the Chicago White Sox. The objective is to get as many hits as possible using Lindor against Kuechel before tallying three outs.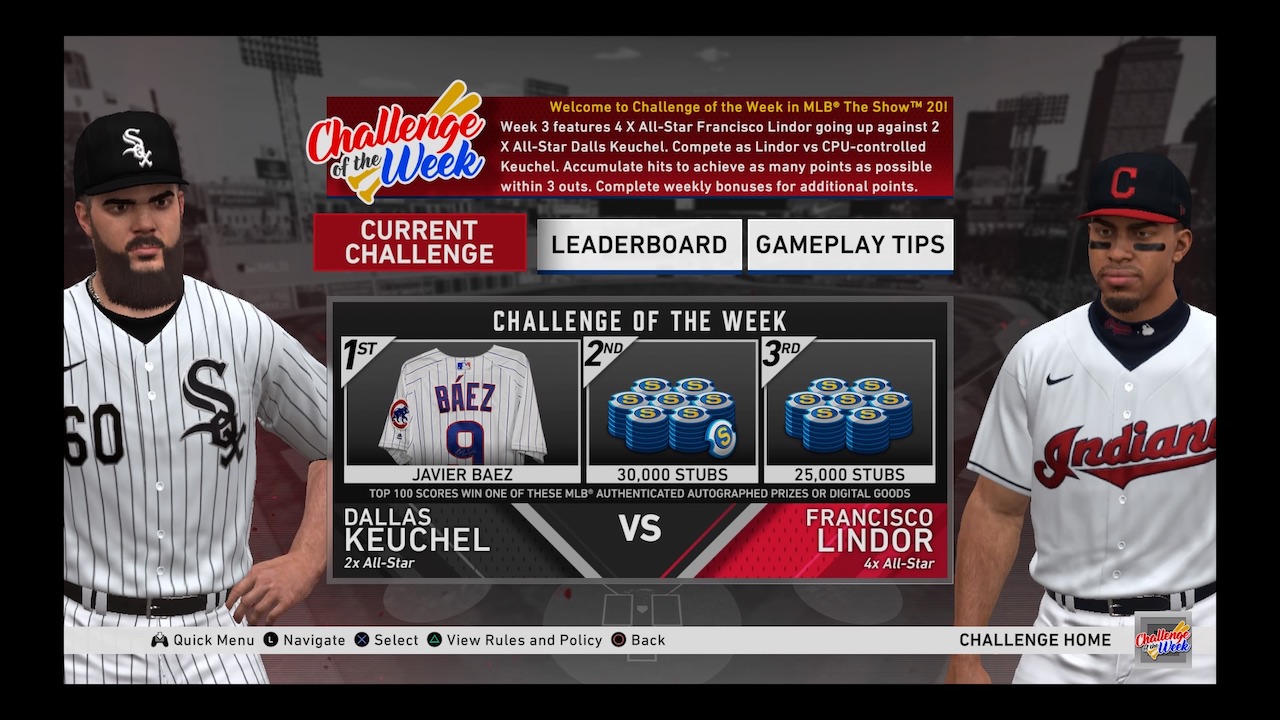 The objective is to keep getting hits on a streak, because that builds up your multiplier which really can improve your overall score. Of course, the difficulty level moves up as your multiplier does. So you'll start on Rookie and move up from there.
Also, the longer the hit, the better. Those can really generate some good points. Rack up a ton of consecutive hits and then a deep home run and you'll have really upped your score.
The latest Weekly Challenge includes bonuses for certain achievements. These include achieving three hits to the center of the field with no outs and achieving five line drives during your session. Here are all of the bonuses available in MLB The Show 20 Weekly Challenge this week.
Any multiplier total you've racked up goes away when you record an out, so it'll reset and you'll have to start a new streak of hits to build the multiplier. Outs are when you strike out at the plate. Keep in mind, fouls will go toward your strikeout total in the challenge.
As far as prizes ago, there are typically autographed items or digital items. For this week, there's an autographed jersey from MLB The Show cover star Javier Baez. There are also prizes of 30,000 MLB Stubs and 25,000 Stubs. The top 100 scores qualify to win one of the prizes.
Visit our MLB news page for more of the latest game updates.