Hall of Famer Ken Griffey Jr. is back in MLB The Show 21 with a brand new 99 overall Diamond card. The Kid, as he was nicknamed in baseball, landed in Diamond Dynasty mode, and is available through MLB THe Show 21 Collections. We've got your guide for how to get the new 99 OVR Milestone Ken Griffey Jr. so you can add the slugging sensation to your roster.
MLB The Show 21 Collections features The Kid
The legendary centerfielder Ken Griffey Jr. has 630 home runs for his career, ranking him seventh overall on the all-time list. Griffey Jr. played over 20 years in MLB and was a 13-time All-Star and former MVP. He split his career between the Seattle Mariners and Cincinnati Reds, tallying 2,781 hits, 1,836 RBI, 184 stolen bases, and a .284 batting average.
His new card for MLB The Show 21 Collections is a 99 overall with Diamond hitting. This item features 119 Contact Right, 108 Contact Left, 125 Power Right, and 121 Power Left. There's also 112 Discipline and 110 Plate Control on this powerful card.
The Kid also has Diamond Defense. That includes 99 Fielding, 95 Arm Strength, 92 Accuracy, and 99 Reaction. There's also 85 Speed and 82 Steal for one impressive new card for the Diamond Dynasty rosters. Check out the details below: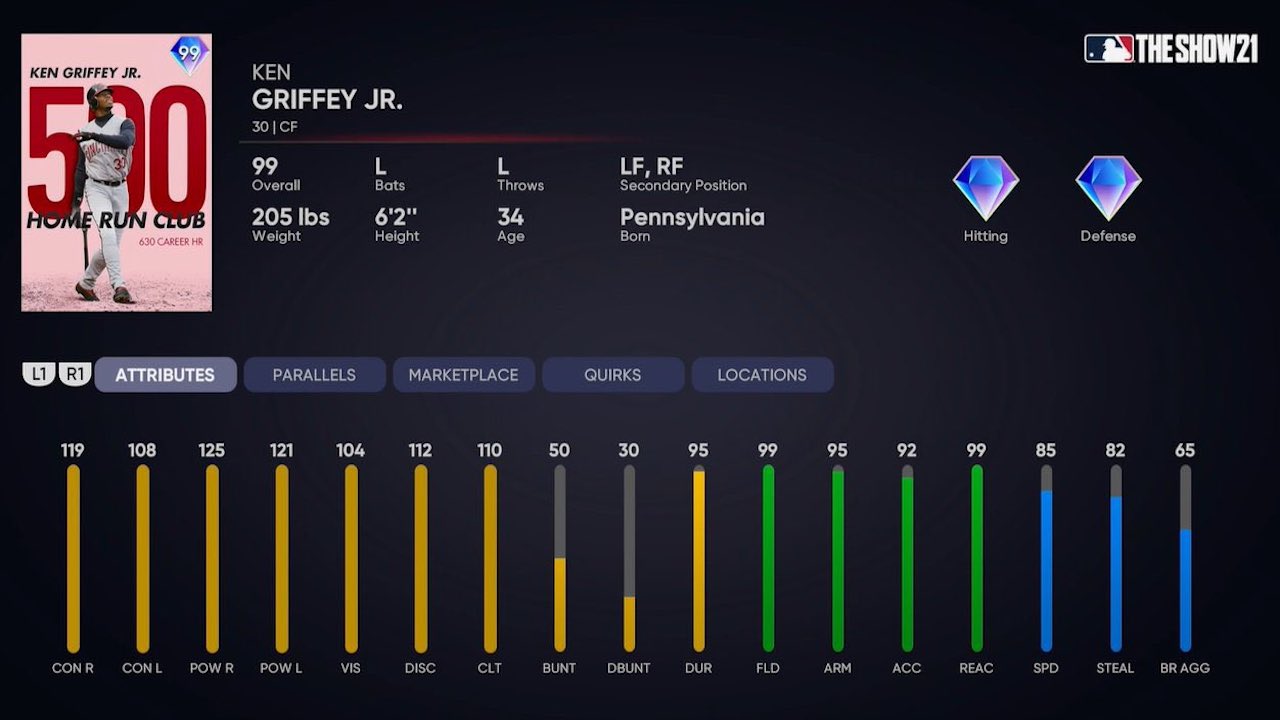 This is the best possible card for Ken Griffey Jr. card in the game, so getting it will require quite a few items for the collection. Read on for more details about how to unlock the 99 OVR Milestone Griffey Jr. card.
How to Unlock 99 OVR Milestone Ken Griffey Jr. card
The new Ken Griffey Jr. card is part of MLB The Show 21 Collections for "Legends & Flashbacks." Much like Clayton Kershaw and Mookie Betts, you'll need to collect vouchers. However, Ken Griffey Jr. Milestone card requires 16 vouchers in order to get it.
Two of the vouchers are available with player items. One is the 99 OVR Jackie Robinson which requires all 42 cards from the Series 42 Collection. The other is the 99 OVR Shohei Ohtani which requires all 46 cards in the '21 All-Star & Home Run Derby Collection.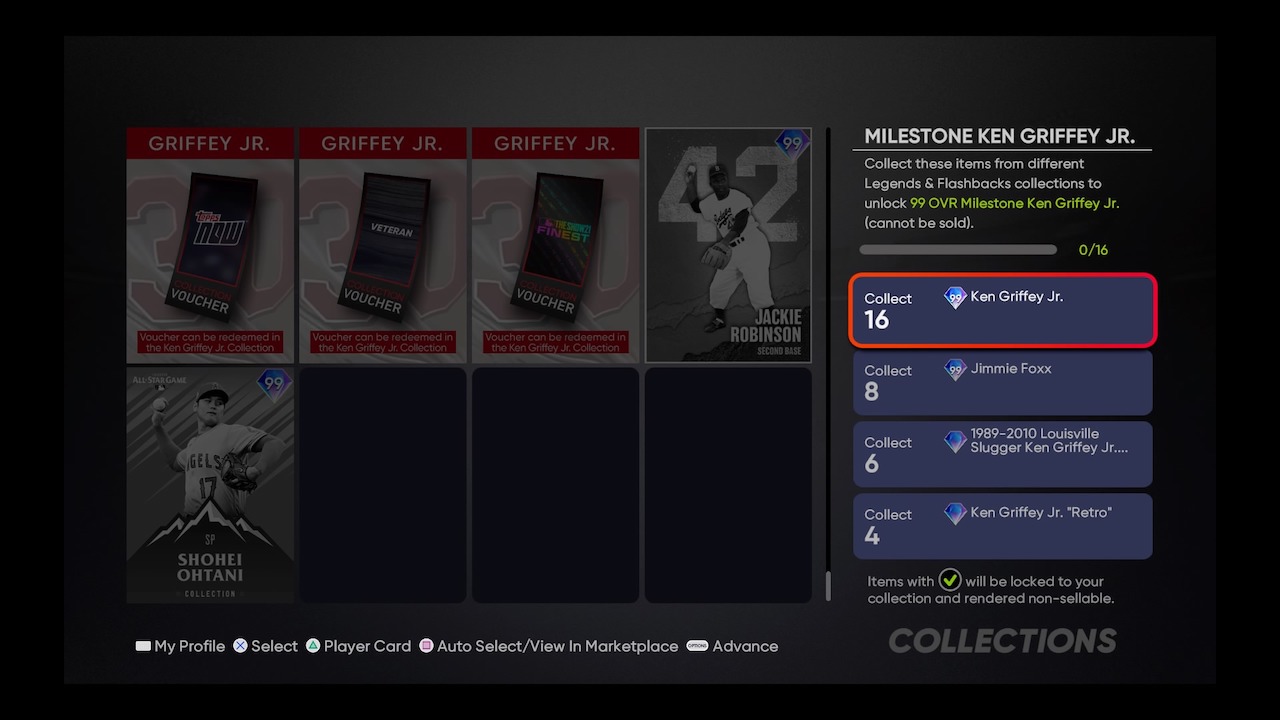 Those are two of the vouchers, and you'll need 14 more. Get vouchers by completing 14 of the Collections below:
60 Postseason series cards
50 Veteran series cards
60 All-Star series cards
35 Breakout series cards
50 Rookie series cards
30 Future Stars series cards
60 Monthly Awards series cards
125 Topps Now series cards
40 Signature series cards
40 Awards series cards
22 Prime series cards
40 Prospect series cards
30 2nd Half series cards
60 Milestone series cards
45 Finest series cards
To get the Series cards above, gamers can find them through various MLB The Show 21 packs and programs. Additionally, Series cards are available in Battle Royale, Events, or Ranked Seasons features of Diamond Dynasty mode.
With many MLB The Show 21 Collections, you'll get rewards along the way. In this one, collecting four vouchers gets a Diamond Socks item. Six vouchers get a Ken Griffey Jr. bat reward. Eight vouchers will get a sweet 99 overall Milestone Jimmie Foxx card.
Visit VGR's MLB The Show page to get more guides and news about the game.