Two all-time basketball legends from two teams with a historic rivalry have joined NBA 2K19 MyTeam as high-rated cards. The legendary Dave Cowens and NBA logo man himself Jerry West both join the MyTeam Throwback Playoffs Moments cards available in the game. In fact, they have high-rated NBA 2K19 Pink Diamond cards. They're not the only new players to join the mix, as three other players from postseason history have new cards in the packs.
NBA 2K19 Pink Diamond Cards for West, Cowens join other Throwback stars
Los Angeles Lakers and basketball history, in general, isn't complete without mentioning Jerry West. The former Lakers great averaged 25.4 points per game as a point guard in the playoffs as well as 5.5 assists and about five boards a game. He also tallied some impressive stat highs in the points and assists categories over his postseason history.
That included a 52-point performance in the 1964-65 playoffs and an 18 assists game in the 1969-70 postseason. All of the above is just a part of why West now owns an NBA 2K19 MyTeam Pink Diamond card in the game with a 97 OVR.
Meanwhile, Boston Celtics big man Dave Cowens is a name often overlooked when discussing some of the all-time greats these days. However, Cowens was no slouch in the regular or postseason. "Big Red" averaged a double-double in the playoffs with 18.9 points and 14.4 rebounds per contest. He also had 3.7 assists, 1.2 steals, and nearly one block per game on average.
For an all-time best, one needs to look no further than the 76ers vs. Celtics game back on April 24, 1977. Cowens tallied a mighty stat line which included 37 points, 21 rebounds, and four assists in his team's 124-119 victory. Cowens now has one of the top-rated Playoffs Moments cards as his Pink Diamond comes with a 98 OVR.
Here's the full list of available NBA 2K19 Throwback Playoffs Moments player cards:
Dave Cowens – Pink Diamond (98)
Jerry West – Pink Diamond (97)
Penny Hardaway – Pink Diamond (97)*
Reggie Lewis – Diamond (95)*
Chris Kaman – Diamond (95)
Josh Smith – Amethyst (92)
Serge Ibaka – Amethyst (92)*
Gerald Green – Ruby (89)
Tiago Splitter – Ruby (89)*
Cards marked with an "*" denote those that are available for less than 24 hours. All of the other cards are in packs for the next week. So that means gamers can now add Gerald Green, Josh Smith, and Chris Kaman to their squads. In fact, if putting together a Celtics team, that Gerald Green could work well with the Cowens.
These packs are going for 7,500 Virtual Currency each or 10,500 MT at the MyTeam Market. To purchase 10 packs requires 67,500 VC while 20 packs will set gamers back 135,000 VC. Purchasing packs merely bring a chance of landing one of these top-rated cards shown above.
Gamers can also purchase individual player cards they want over at the MyTeam Auction House. However, these carry some high prices. For example, the Jerry West NBA 2K19 Pink Diamond has current bids of 100,000 MT due to being a smaller point guard.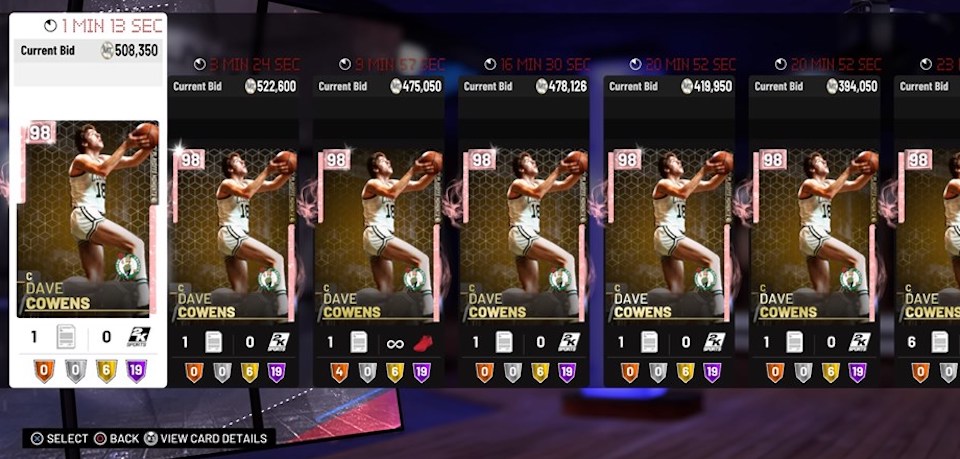 However, big man Dave Cowens has current bids over 500,000 MT (as seen above). So make sure you've got your account loaded up and be ready to spend if you really want one of those Cowens PD cards!
Get more of the latest NBA 2K19 news here.