When the NBA season begins in October of this year, plenty of people will be waiting to see what rookie Zion Williamson has in store. He's amongst the most-hyped rookies heading into the league, probably since LeBron James. He takes over the New Orleans Pelicans as the face of their franchise. While he's not the NBA 2K20 cover star, he's certainly a prominent figure in the upcoming game. Their newest trailer arrived on Tuesday (July 30) starring Zion and showing new NBA 2K20 gameplay footage.
Zion pops up in new NBA 2K20 gameplay footage
Just a day ago, we got to see a quick video clip showing Zion Williamson checking out the 2K motion capture studio. The NBA 2K20 rookie was in awe of the number of cameras used to capture player likenesses or movements. On Tuesday, a new video called "Welcome to the Next" arrived from NBA 2K. It features the No. 1 draft pick discussing how it feels to be included in a video game. It also gives us our first glimpses of Zion Williamson in NBA 2K20 gameplay footage.
Watch the new Zion 2K20 video below which checks in at 1 minute 45 seconds in length.
Prior to this new video's release, the most gamers saw of Zion was simply the back of his New Orleans Pelicans' jersey. There were a few glimpses of other stars in action, but not a whole lot of NBA 2K20 gameplay footage. If anything will get fans hyped for the newest edition of the game, it's seeing a hyped rookie dunking against former Pelicans star Anthony Davis and the Los Angeles Lakers.
That video showed off other action involving the league's newest star. Sorry, Celtics and Enes Kanter fans. NBA 2K20 shows off a potential posterization ahead of the rookie's first season. Imagine that frame coming at you for a soaring dunk? It's likely to happen to someone, but will Kanter be the first?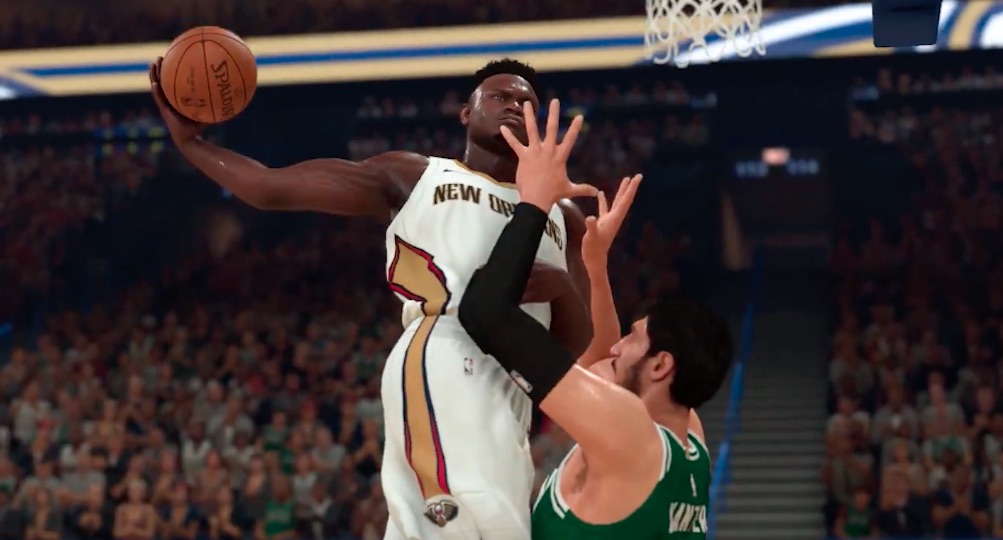 He's the "Next," but he's got to show what he can do for real for the sake of ratings and hype. Zion Williamson has an 81 overall as previously revealed during the NBA 2K20 player ratings. Not much else is known about his other skill ratings or attributes yet, but he's the highest-rated rookie, so far. He also debuted with a number several points higher than LeBron James did.
Soon Zion will have to start proving he deserves that number and an even better rating as the expectations appear quite high heading into his debut season. Until then, gamers will enjoy the possibilities.
Get more of the latest NBA 2K20 news ahead of the September release date.