NBA 2K20 MyTeam returned with another edition of Moments of the Week players on Monday, January 6. With the season bursting into 2020 with a bang, there were already some impressive performances in need of new player cards. That included a stretch of games scoring 30 or more points for the Phoenix Suns' Devin Booker and a 40-point performance from Russell Westbrook a few weeks ago.
Booker, Westbrook among new NBA 2K20 Moments of the Week 10 players
On Sunday, Devin Booker officially broke a Suns record for most 30-point games in a row after he scored 40 in a loss to the Memphis Grizzlies. With that output, it was his sixth straight game with at least 30 points. He was tied with Charles Barkley and Charlie Scott at five games until last night's performance pushed him ahead in the record books. That's good for a new NBA 2K20 Moments of the Week 10 Pink Diamond card with a 96 overall rating.
Joining him is former NBA MVP Russell Westbrook. He hasn't had a triple-double in a while for the Houston Rockets but scored 40 points on December 19 in a win over the Clippers. Russ' stat line also included 10 rebounds, five assists, and a steal. On Dec. 21, he recorded 30 points, 10 assists, and four boards in a win over Phoenix so he's continued to give his team the necessary boost to compete. Westbrook gets a 94 OVR Diamond card as revealed in the promotional tweet below.
Full list of NBA 2K20 Moments of the Week 10 players:
Devin Booker (Pink Diamond) 96 OVR
Shai Gilgeous-Alexander (Diamond) 95 OVR
Russell Westbrook (Diamond) 94 OVR
Lonzo Ball (Amethyst) 92 OVR
Marcus Morris Sr. (Amethyst) 92 OVR
Kelly Oubre Jr. (Amethyst) 92 OVR
Dante Exum (Ruby) 89 OVR
Michael Porter Jr. (Ruby) 88 OVR
Jordan McRae (Ruby) 88 OVR
Shabazz Napier (Ruby) 88 OVR
Where to get the new MOTW 10 player cards
The new NBA 2K20 Moments of the Week 10 players are available in the Heat Check and League Moments packs at MyTeam Market. A Standard League Moments pack starts at 3,750 VC or 4,500 MT. There's also a Deluxe pack, and then 10-pack and 20-pack boxes available. A Standard Heat Check pack goes for 5,625 VC or 6,000 MT with a Deluxe Pack and box options also available. Also still available for a bit over three days are the New Year's Resolutions packs.
Gamers can also head to the Auctions area to try to bid on the player cards they want. As of this report, we've seen bids on the PS4 for Booker's new MOTW 10 Pink Diamond card around 130,000 MT.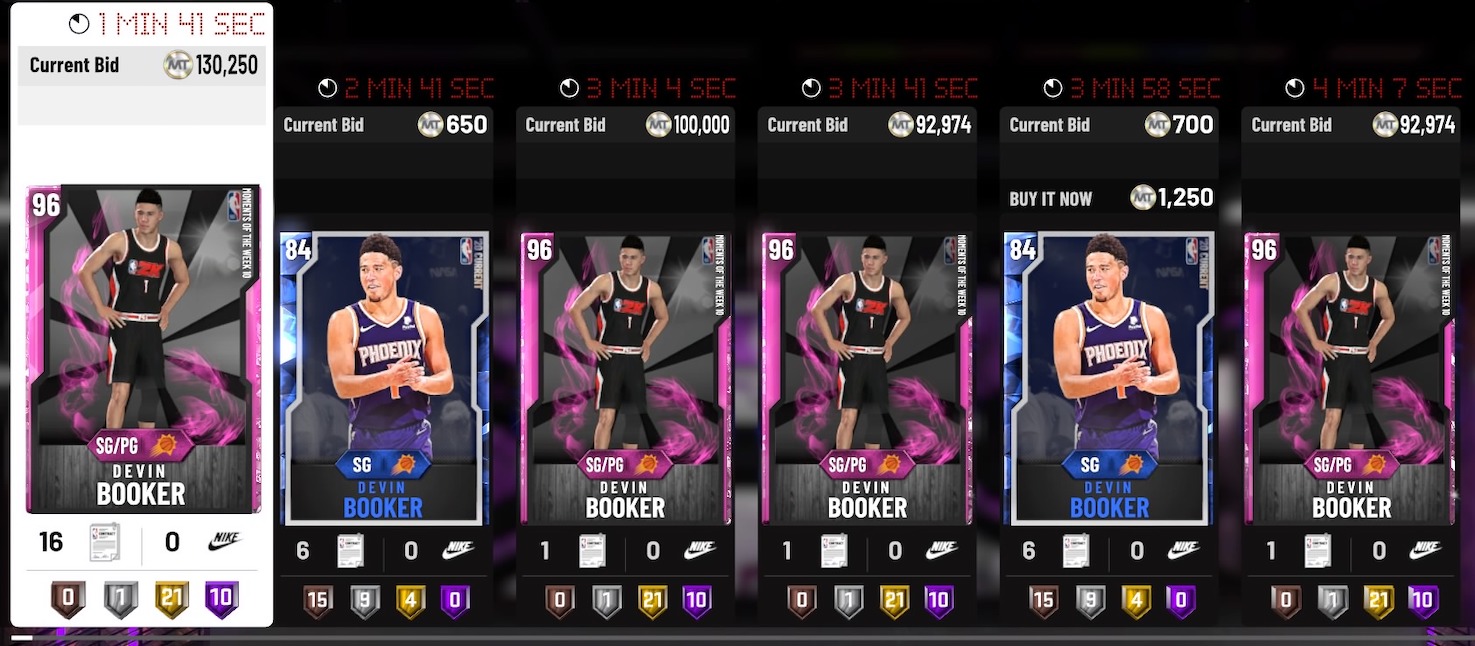 As mentioned in NBA 2K's tweet, the reward for collecting all of the new Moments of the Week 10 players is 100 Tokens added to your account.
Check out the previous NBA 2K20 MOTW 9 players including Jayson Tatum.
See more of our NBA 2K news including other MyTeam updates.