The new NBA 2K20 Moments of the Week 2 players have been revealed as of Monday, November 4. A selection of special players from the past week of the NBA season arrives with high-rated cards inside specific packs. In addition to those players, there's also a Collection Reward for getting 10 MOTW cards. Gamers can land a sweet Diamond card for the Dallas Mavericks' Luka Doncic. Here's a look at who all is now available for MOTW.
NBA 2K20 Moments of the Week 2 Players include Tatum, Brogdon
On Nov. 4, we received the follow-up series for 2K's MOTW part 1. Among them, this past week's NBA 2KTV episode player Jayson Tatum gets an Amethyst card in the NBA 2K20 Moments of the Week 2 series. In addition to the Boston Celtics star, there's also Malcolm Brogdon of the Indiana Pacers with an Amethyst card to get. Tatum's card is a 92 overall item while Brogdon's item is rated at 91 OVR.
Of course the crown jewel, so to speak, of the new NBA 2K20 Moments of the Week players is a Luka Doncic Diamond card rated at 95 overall. It's a collection reward for getting other cards. To get the Doncic item, gamers need all 10 Moments of the Week players to exchange. Here they are:
Jayson Tatum (Amethyst) 92 OVR
Malcolm Brogdon (Amethyst) 91 OVR
Tobias Harris (Ruby) 89 OVR
Al Horford (Ruby) 88 OVR
Aron Baynes (Sapphire) 86 OVR
Wendell Carter Jr. (Sapphire) 85 OVR
Tyler Herro (Sapphire) 84 OVR
Richaun Holmes (Emerald) 83
Duncan Robinson (Emerald) 82
To get the cards means heading into the MyTeam Market to buy packs or boxes. A single pack of five cards costs 2,812 Virtual Currency (VC) or 3,750 MyTeam Tokens (MT) and gives a chance of pulling a limited time Moments player. A Standard League Moments pack is 3,750 VC or 4,500 MT, while a Deluxe Pack is 5,625 VC or 6,000 MT. There are also 10 and 20-pack boxes available for 33,750 and 101,250 VC, respectively.
In addition to packs, the Auction House is another place to get NBA 2K20 Moments of the Week players. However, the prices will vary for bid or buy now depending on how good the particular card is. The higher the rating, the more expensive the card may be. We've seen auctions for the Jayson Tatum Amethyst card going for anywhere from 65,000 to 100,000 VC at auction, as of this report.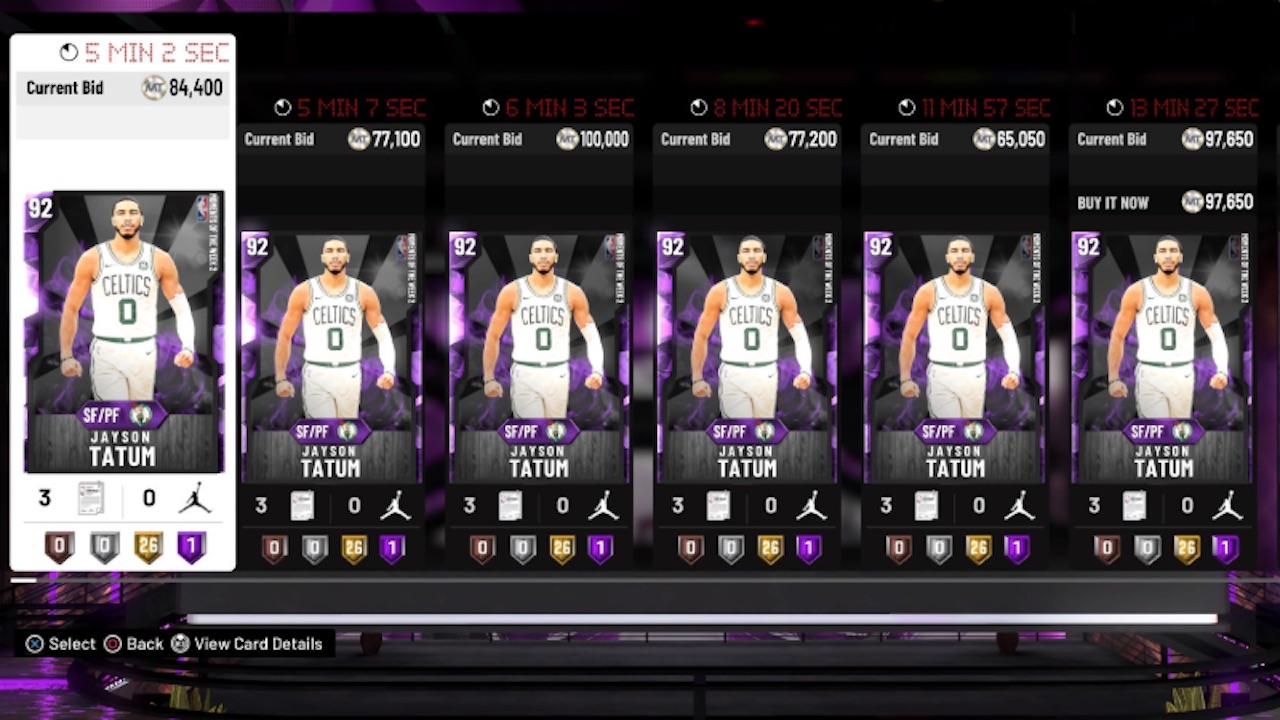 See more NBA 2K news here including MyTeam and other updates.