On Wednesday night, NBA fans finally witnessed the debut of the league's top draft pick, Zion Williamson. The heralded rookie out of Duke took the court for the New Orleans Pelicans as they hosted the San Antonio Spurs. While Williamson had a quiet first three quarters, he'd erupt with a huge scoring outburst in the fourth. With that performance, an NBA 2K20 Moments card arrived for the rookie in Pink Diamond form.
New NBA 2K20 Moments card for Zion Williamson
NBA 2K20 released new Moments of the Week 11 cards earlier this week but had to do something special for the rookie. In the January 22 game against San Antonio, Zion Williamson recorded just five points in the first three quarters due to playing limited minutes. However, he'd go on quite a streak in the fourth, as he put together a scoring performance of 17-straight points to help his team take the lead.
He also hit 4-of-4 three-pointers which was the first time a player did so in a debut. When all was said and done, his team lost a close game, but Zion's 22 points were a new record for a Pelicans rookie in their debut.
Soon after the performance, a new NBA 2K20 Moments card popped up online and was also live in the MyTeam Market.
The new Zion Williamson Pink Diamond commemorates his arrival to the league with the impressive first performance. It brings a 96 overall rating for the rookie who is rated 82 overall for the Pelicans in the game.
The card also features a 90 rating for his three-point shooting based on the debut performance, along with 100s for dunking skills. He's still a rookie and has yet to show an arsenal of moves, though, so his post ratings are rather low. Here's a comparison to former player Elton Brand.
Oh, by the way, the rookie's NBA 2K20 Moments card also has a whopping 17 HOF badges:
Catch & Shoot
Pick & Popper
Hot Start
Putback Boss
Green Machine
Lob City Finisher
Flexible Release
Chase Down Artist
Clutch Shooter
Downhill
Showtime
Giant Slayer
Fastbreak Finisher
Pogo Stick
Pick & Roller
Contact Finisher
Consistent Finisher
In the PS4 Auctions area, the card is going for over 200,000 MT as of this report. Otherwise, gamers will find it randomly in packs available at MyTeam Market.
If Zion's first game is any indication of the future, there will be more to come for the rookie in terms of NBA 2K20 Moments and items!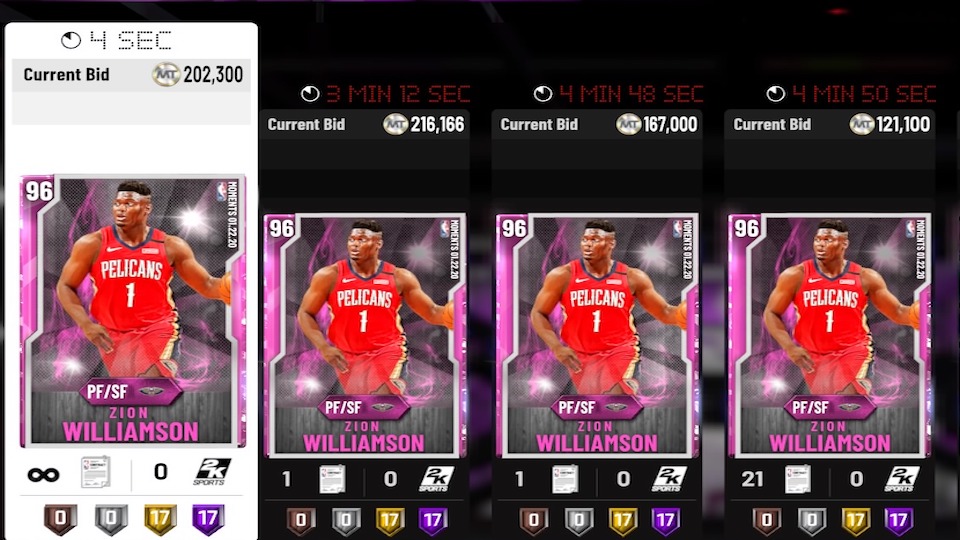 Visit VGR's NBA 2K news page to get more of the latest updates about the game.