The first details for NBA 2K20 MyTeam mode have arrived! Many fans have been waiting for this particular announcement for the upcoming NBA simulation title. 2K delivered an official NBA 2K20 MyTeam trailer, and info about updated features. Here are the latest details on MyTeam for the 2K20 title.
New NBA 2K20 MyTeam trailer arrives
We now get our first look at 2K's new MyTeam. It's the popular mode where gamers build teams consisting of players acquired in packs, through challenges, or by winning auctions. MyTeam allows gamers to customize lineups, manage player contracts, and compete against others to win prizes. Sky's the limit with NBA 2K's MyTeam and gamers are able to add legends from the past, present-day stars, and everyone else imaginable.
Check out the full NBA 2K20 MyTeam trailer below. It features the new looks for player cards and packs, as well as gameplay footage for the mode.
Now that you've taken that trailer in, let's take a look at just some of what the new NBA 2K20 MyTeam brings to the game.
New Evolution Cards, prize systems
In addition to that trailer, there are more details available through a huge 2K blog post. 2K did a lot of visual redesign aspects with new animation and looks. However, things go deeper than that with new features. Here are just some of the features that we've noticed.
In particular, the Evolution Card system is one feature they've brought in. MyTeam gamers get a special "EVO" Card of a player that they can put in their lineup and start working to upgrade. The upgrades occur by participating in certain challenges. There's also a special menu where gamers can view all of their Evolution players in one place.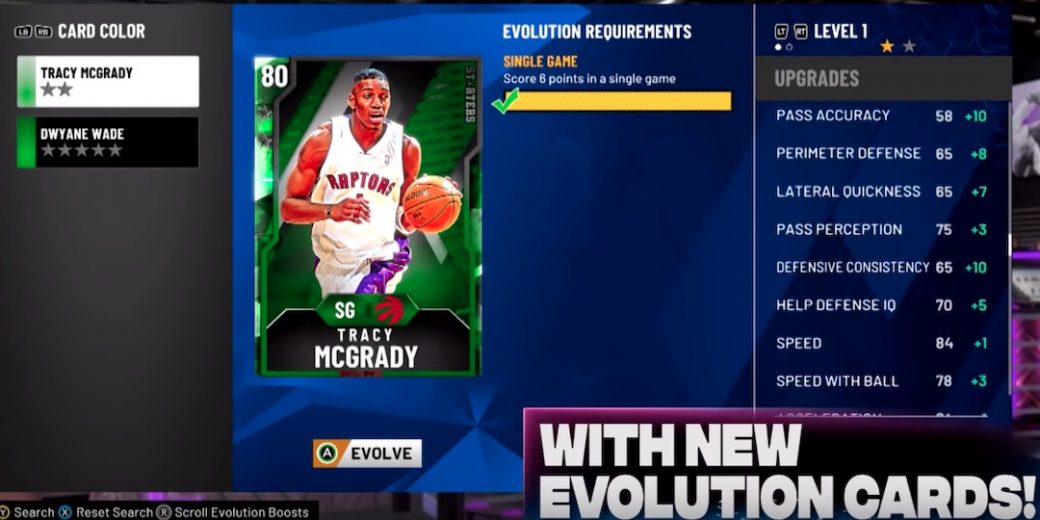 Prizes for gamers are also a big deal with MyTeam. In 2K19, there were prizes given away through the use of Locker Codes online. Gamers were able to trade these in for a "Ball Drop" to win a random prize. The Ball Drop is back again for NBA 2K20 but completely redesigned. 2K went on to say there are "10 different" ball drop layouts for the coming season, which are released at different times of the year.
They also revealed a new-look MyTeam slot machine for gamers to earn special cards. In the example below, gamers can earn a 93 OVR Cliff Hagan by matching certain gemstones. This particular Machine is part of the Triple Threat matchup system.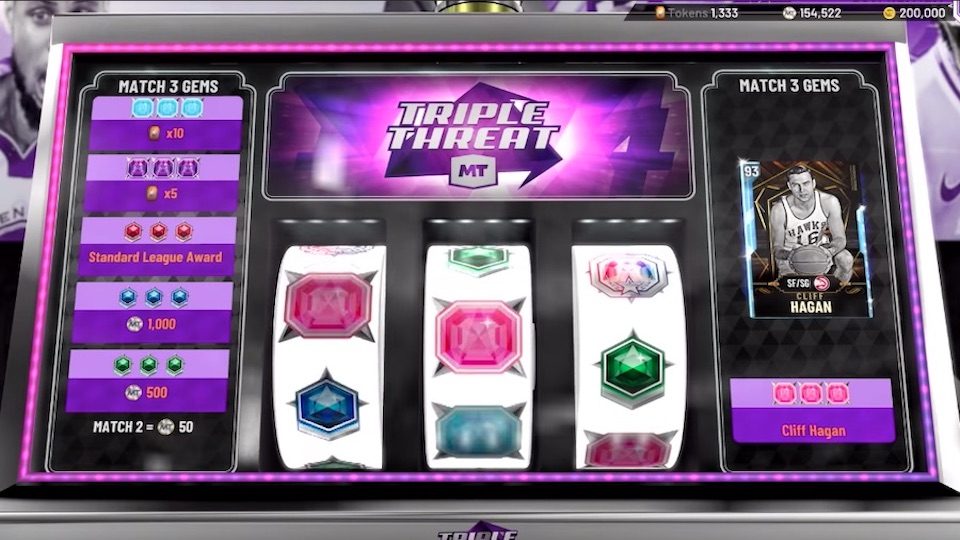 Additionally, 2K is adding daily log-in prizes for all MyTeam gamers. That's right, every day! This brings a whole new bonus for those who are devoted to MyTeam mode. It will also keep gamers active within the mode to make sure they're cashing in on the system.
New Community Hub features, restrictions on player position
The Community Hub also will be a welcome addition for MyTeam fans. With the hub, there are a number of aspects available to help the community with their MyTeam journey. They include:
Tips & Tricks Videos
Leaderboards
Ask a Developer
Community Polls
Team of the Week
Featured Pack/Theme
Dynamic Duos
Heat Check
In particular, the Team of the Week will let gamers know who the most popular over player cards other teams are using are. Tips and tricks will be from 2K folks to help out those trying to advance their team, while "Ask a developer" is a nice built-in feature to pose questions to the team.
Another welcome addition is actually a restriction. Gamers will no longer be able to put a player in the point guard position who is not considered a PG. So gamers will have to put players in their lineups based on the one or two positions they truly can play.
Overall, based on their blog post, it appears the developers really tried to innovate to keep gamers happy. Once NBA 2K20 arrives on September 6, gamers will have a much better idea if the team delivered!
See all of the details and new features in the NBA 2K blog post here.
We'll have more MyTeam as it continues. Get our NBA 2K20 news here.