The NBA 2K21 MyTeam Season 8 is set to get going as Full Throttle is on the way out. Starting on June 4, gamers will get to partake in a new theme called Trial of Champions, which has been revealed along with key details.
This one looks to feature a stats battle involving six of the game's biggest stars. Gamers will have the ability as a community to rack up player stats and earn some exciting rewards along the way to a Dark Matter card. Here are some of the latest Season 8 details.
NBA 2K21 MyTeam Season 8 Ring of Champions details
On Thursday, June 3, NBA 2K21 MyTeam tweeted out a teaser of the new Season 8 called Trial of Champions. The accompanying season imagery features a ring with six unique symbols surrounded by NBA team logos.
A new report also arrived through the 2K website detailing what's to come at the start of the season, which will have gamers getting a group of player cards to use in various games.
Player cards will feature 90 overall items for Anthony Davis (Lakers), Ben Simmons (Sixers), cover star Damian Lillard (Trail Blazers), Donovan Mitchell (Jazz), Jayson Tatum (Celtics), and Zion Williamson (Pelicans). All but five of those players were part of the NBA Playoffs. Zion is the lone player not participating in the postseason.
2K shared images of the card art below via their Season 8 Courtside Report on Thursday: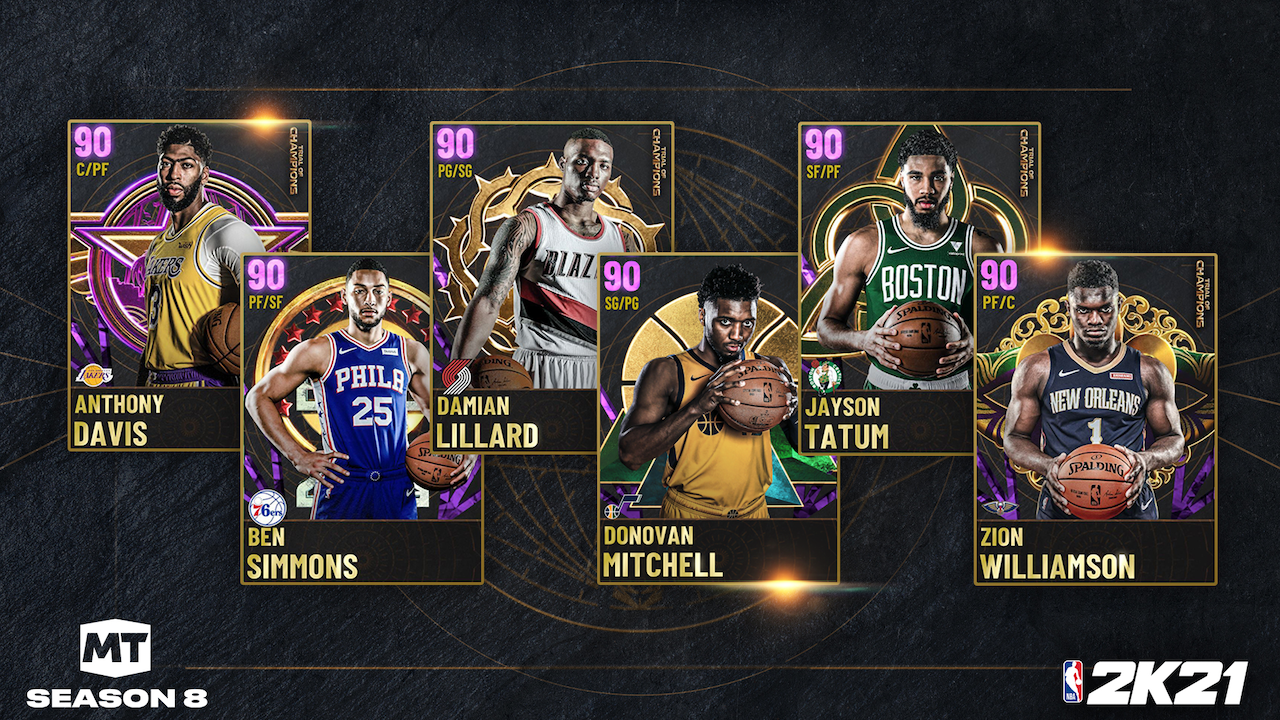 In past seasons, gamers received a Free Agent card to start off their Level 1. For Season 8, gamers receive all eight of the cards shown above. Basically, the players will be used in various games including Triple Threat. As stats accumulate from these players (across the community use), the top scoring players during the period get a "guaranteed locker code" including Galaxy Opals or a Dark Matter card.
Luka Doncic Dark Matter Invincible Reward, KD Signature Challenge
In the previous season of MyTeam content, the Full Throttle Level 40 reward was a high-rated Vince Carter card. Gamers could achieve that by racking up the XP through completing in-game agendas or various tasks, each worth different amounts of XP. It took 150,000 XP to get to that Level 40 VC card, but there were other rewards along the way, including player cards, packs, MT, and Tokens.
The NBA 2K20 MyTeam Season 8 reward at Level 40 will be a Luka Doncic Dark Matter Invincible card, which will likely become his best item in the game, if not one of them. Luka currently has Quantum, Modern Age Heroes, and Galaxy Opal Reward cards (see them here) each rated at 97 OVR with different attributes and badges.
2K also mentioned a new Signature Challenge for Kevin Durant. With this one, gamers will use a KD card to try to match his feat of 31 points and four three-pointers against the Cleveland Cavs in the 2017 NBA Finals. The reward is a Hall of Fame badge and Diamond Shoe.
2K even provided the locker code "KD-MyTEAM-SIG-CHALLENGE" to get a Free Agent KD for use in this. That code is active as of this report and gives a 95 OVR KD item.
Other Dark Matter Rewards include free Trae Young
In addition to the above details, 2K released which other Dark Matter cards will be rewards for the season. It's worth noting first that gamers who log in every day for the first seven days of Season 8 get a free Trae Young Dark Matter card as a reward. 2K indicated this will continue with a new Dark Matter card each week of the six weeks for Season 8.
Moses Malone Invincible (6 wins in Limited)
Robert Parish Dark Matter (1,750 wins Triple Threat Offline)
Tom Van Arsdale Dark Matter (Vault reward)
Dick Van Arsdale (Tier 3 wins Triple Threat Online)
Drazen Petrovic (12-0 Unlimited Galaxy Opal Tier)
Horace Grant (Ascension board prize)
Willis Reed (player card exchange)
George Gervin (Reward Market)
Remember, NBA 2K21 MyTeam Season 8 will officially begin on Friday, June 4 at 11 a.m. Eastern Time, so get on that grind to get those rewards. There should be more in the coming weeks with new packs, Locker Codes, and other surprises from 2K.
Visit VGR's NBA 2K page to stay updated on the latest Season 8 news.