The NBA 2K21 presents 2KFest online celebration is officially ready to tip off! Fans will be able to experience an entertaining and informative mix of different discussions along with musical performances. Guests will include some of the biggest players in the game of NBA and NBA 2K21 such as cover stars Anthony Davis, Damian Lillard, and Zion Williamson.
NBA 2K21 presents 2KFest lineup officially revealed
The NBA 2K21 presents 2KFest will be a 24-hour live streaming online event full of basketball, music, and more. Amongst the featured topics will be "Evolution of the Game" with Kevin Durant, Shaquille O'Neal, and Vince Carter. This particular topic delves into the history of 2K basketball.
"My NBA career started around the same time as the first NBA 2K, and it's really amazing to see how the culture has come to life and evolved within the series," said 22-year NBA legend Vince Carter.
"2KFest is a true global celebration of that lifestyle and the event is loaded with great content for everyone. I'm thrilled to help celebrate basketball's impact on culture as part of this event," Carter said
There's also "Everything is Game" about cover art, music, and fashion. This will feature 2K20 cover star Anthony Davis, current-gen cover star Damian Lillard, and next-gen cover star Zion Williamson.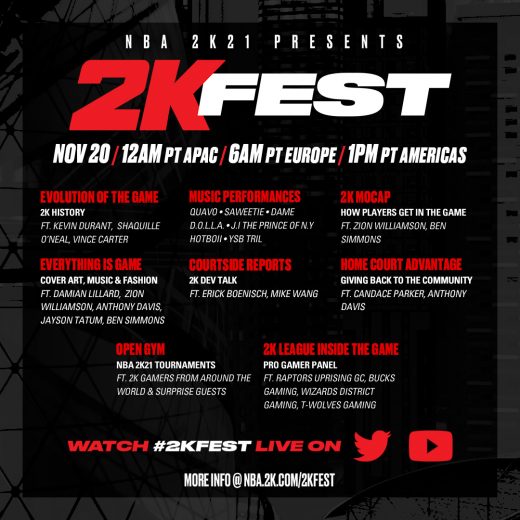 In addition to the above events, viewers get to see an in-depth exploration of 2K MoCap and a Courtside Reports Q&A with 2K's executive producer and gameplay director. That will give viewers more insight into the current and next-gen NBA 2K21 games.
Along with also the 2K topic coverage, viewers will also get some entertaining musical performances. The global lineup features artists Quavo, Saweetie, and Dame D.O.L.L.A for the Americas. Asia's Rich Brian, NIKI, CHUNG HA, and Audrey Nuna will perform. There will also be performances from UK/Europe's Captain Roshi, Aitch, and A COLORS SHOW with Nayana IZ.
The event will be hosted by sports broadcaster Ros Gold-Onwude, and FIFA World Cup Golden Glove winner and current Real Madrid goalkeeper, Thibaut Courtois, who also hosts NBA 2K Sundays.
Check out full details for the 2KFest event and lineup here.
Locker Codes going out during 2KFest viewing
The NBA 2K21 Presents 2KFest event is set to go global first in APAC, then in Europe, and then moving on to North America. The North America segment starts at 1 p.m. Pacific Time (4 p.m. Eastern Time) on November 20 and wraps up as of 11:59 p.m. PT.
NBA 2K21 Locker Codes will also go out to viewers throughout the live-streaming event. These will give gamers different rewards for use in the 2K MyTeam mode or other modes. In addition, a number of digital codes for the next-gen game on PlayStation 5 will go out during the event. See full terms for the giveaway here.
2K also mentioned that "only on November 20, players who enter The City or The Neighborhood on NBA 2K21 get a 2KFest virtual sweatshirt for their MyPLAYER."
There are several places to watch the live 2KFest event as it goes forth. Viewers can watch at the official NBA 2K Twitter page. In addition, it will be live streaming on YouTube.
Visit our NBA 2K page to get more updates about the current and next-gen game.