Details about the NBA 2K22 Season 2 launch have arrived, with the G.O.A.T. Michael Jordan featured in the theme. While Season 1 was Call to Ball, Season 2 has gamers following in the footsteps of the Bulls/NBA legend. That will bring new additions to MyTeam, MyCareer, and more including soundtrack updates and new player coach cards.
NBA 2K22 Season 2 adds Rebirth Reward to MyCareer
Based on 2K's Courtside Report, NBA 2K22 Season 2 focuses on the career path of Michael Jordan and his rise to superstardom! The season is called "Build Your Empire," similar to what the Bulls did starting in 1984 with taking MJ in the draft. That means MyCareer and MyTeam will have some exciting updates.
One example with MyCareer mode is the reveal of a special Rebirth reward. With this, gamers on the PS5/Xbox Series consoles can jump to a 90 OVR with their MyPlayer. Gamers on the PS4 or Xbox One consoles can skip 10 pre-completed MyPOINTS levels. However, this will require earning the Rebirth Reward first.
Additionally, they announced that gamers can earn a special Skeleton Mascot outfit by reaching Level 40 in MyCareer Season 2. With Season 1, gamers were able to get the coveted Go Kart vehicle.
MyTeam features MJ free agent, new Player Coach Cards
Since Michael Jordan is mentioned as part of the theme for Season 2: Build Your Empire, he'll be the Free Agent reward. Gamers will unlock the MJ 93 OVR card through the Levels/Rewards area of MyTeam. The card has a limited number of games to use MJ in. However, that should be very helpful in defeating various agendas towards Season 2 rewards.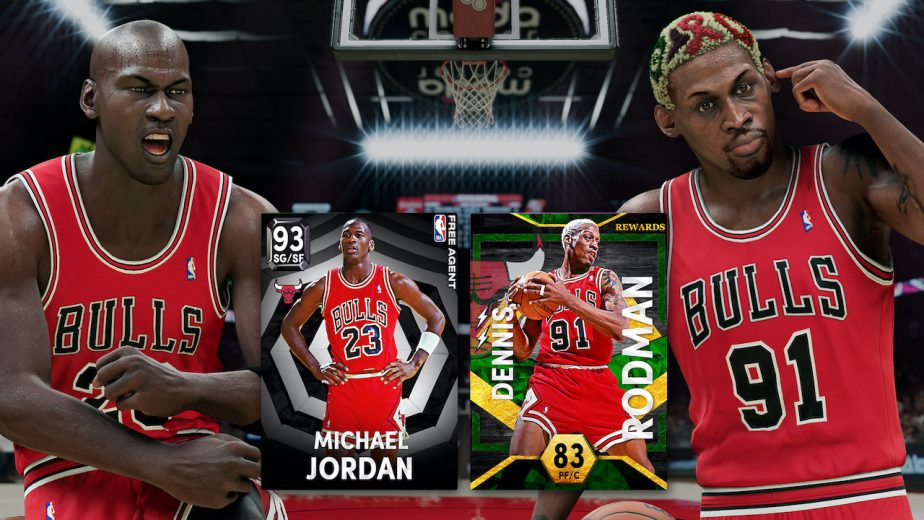 NBA 2K22 Season 2 will also bring the first Player Coach cards to 2K22 MyTeam. Gamers can earn a Ruby Player Coach card with every three stars earned in an NBA 75 Domination game. Among the coaches available are Dr. J, Showtime Kareem, Shaq, Rondo, LeBron, KD, Yao, and Zion.
There are also Diamond-level Player Coach cards available near the end of NBA 75 Domination including Dennis Rodman, Bill Russell, and Steph Curry. Gamers will need to have completed the Current and All-Time Dominations to unlock the NBA 75 tier to earn Player Coach cards.
NBA 2K22 Season 2 brings KG, other MyTeam rewards
New rewards will be released for MyTeam with Season 2. In Season 1: Call to Ball, the Level 40 reward was a 96 OVR Pink Diamond Carmelo Anthony. For Season 2, the Level 40 Reward is Pink Diamond Kevin Garnett, also a 96 OVR item.
Of course, there are other rewards along the way. 2K's report revealed the following as some additional rewards:
Ja Morant (With 6 weekly Rings in Limited mode)
Caron Butler (Grand Prize in Season Ascensions)
Gary Payton (complete Galaxy Opal Tier in Unlimited)
Amar'e Stoudemire (Get 99 Stars in NBA 75 Domination)
George Gervin in MyTEAM: Draft
Along with those are the rewards gamers earn in Triple Threat Online/Offline, as well as through the Ascension Board and by leaving up with XP!
New music coming via Columba Records
The new season also brings new music, thanks to a partnership with 2K and Columbia Records. They'll regularly add new tracks to the soundtrack for Club 2K. A reveal of some of the Columbia Records artists' songs coming to the game was announced. They'll include hitmakers Kid LAROI, Justin Bieber, Lil Nas X, and Pharrell Williams, among others.
Here are some of the upcoming additions for the game's music:
Prada" by 24kGoldn ft. Lil Tecca
"MIA" by SSGKobe
"Pocket Rocket" by Cochise
"family ties" by Baby Keem ft. Kendrick Lamar
"STAY" by The Kid LAROI ft. Justin Bieber
"Story Time" by Fivio Foreign
"THATS WHAT I WANT" by Lil Nas X
"Black Hearted" by Polo G
"Love Letter" by Scorey
"Harmony" by 347aidan
"One Punch" by Aries
"JUGGERNAUT" by Tyler, the Creator ft. Lil Uzi Vert & Pharrell Williams
Gamers will be able to start enjoying NBA 2K22 Season 2 on Friday, October 21. Until then, there's still some time left to complete Season 1 Agendas in MyTeam and MyCareer to level up and get rewards!
Check out more details about NBA 2K22 Season 2 over at 2K's Courtside Report.
We'll have more details for Season 2 as they arrive. Make sure to visit VGR's NBA 2K page for more updates about the game!