It's Sunday and that means the arrival of the NBA All-Star Game 2019 from Charlotte. LeBron James and Giannis Antetokounmpo each drafted their squads opening up quick debates of which team would prevail in Sunday night's annual game. We put Team Lebron vs. Team Giannis onto the virtual court with our NBA Live 19 simulation. Here's a look at some possible NBA All-Star Game 2019 predictions.
NBA All-Star Game 2019 simulation details
Having Kevin Durant and LeBron teamed up on one side seems just unfair, but that's how the NBA All-Star roster rules work. Team Giannis (left below) features a starting lineup of the Bucks star with Stephen Curry, Paul George, Kemba Walker, and Joel Embiid. Team LeBron (right side) included King James along with KD, James Harden, Kawhi Leonard, and Kyrie Irving.
It's going down at the #NBAAllstar Game tomorrow! #NBALIVE19 pic.twitter.com/m6WqmX5GV7

— EA SPORTS NBA LIVE (@EASPORTSNBA) February 16, 2019
In our NBA Live 19 All-Star simulation, we ran 12-minute quarters and it was the CPU battling the CPU for the two sides. To tweak the sim settings, we sped up the gameplay. We also adjusted those CPU sliders to make things like shot frequency and dunks a bit higher than a normal game, since after all, that tends to happen in an All-Star Game. Even so, it's difficult to simulate the sort of "video game" score that will happen in the real game.
NBA Live 19 simulation first half results
In the first quarter, we saw Team Giannis jump out to an early 6-0 lead after jumpers from Giannis, Curry, and Walker. Kemba would go 2-for-2 as he hit a shot from the corner that looked like it would be circus-worthy. Team James finally got on the board thanks to Kyrie Irving's three-pointer.
There were sweet three-point plays from Embiid and Harden on opposite ends, as well as a shot clock-beating three from KD. There was a nice assist from LeBron to Anthony Davis for a big slam could certainly wow Lakers fans for the future. The first quarter finished with Team Giannis up 27-26. However, Davis had eight points off the bench for Team LeBron.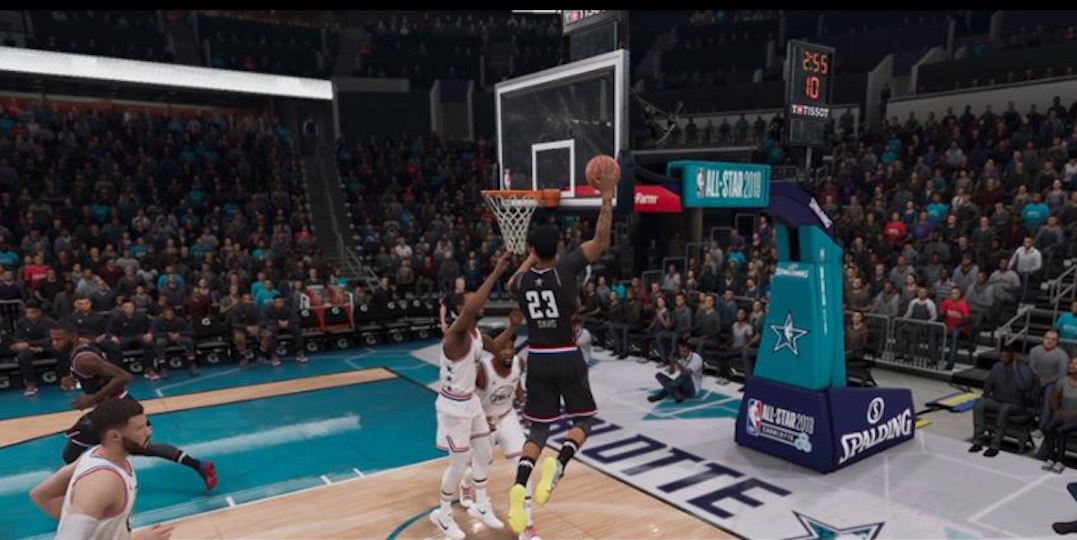 Khris Middleton opened the second quarter with a three to boost his team's lead. However, Team LeBron saw Davis matched his trifecta to bring it back to a one-point game. Westbrook connected on his fourth shot of the game to go 4-for-4 and get eight points for Giannis' side.
With about a minute left in the half, KD's slam made it a one-point lead for Team LeBron. The Greek Freak's far out jumper made it 50-49 in favor of his side to head to halftime. Embiid was Team Giannis' star for the first half with nine points and eight boards. They labeled Kawhi cold for Team LeBron, but he still had eight points for his team.
NBA All-Star Game 2019 simulation results: Winner, MVP, stats
Both teams started out the third quarter cold as they were off the mark on multiple plays. The two teams traded scorers as Leonard was able to put Team LeBron up 54-53 with over six minutes go in the quarter. It was just 65-62 in favor of Team Giannis at the end of the third after some tight defense and plenty of misses.
Team Giannis kept up their lead early in the fourth thanks to leading scorer Russell Westbrook. However, LeBron wasn't about to give up that easy as he nailed a jumper to cut it to 69-66. There was an impressive Giannis putback dunk after Walker missed on a far away three. Team Giannis boosted their lead to 80-75 with under three to go, but KD came back to cut the lead to three.
It was 80-79 Team Giannis with a minute to go. Giannis himself had another score to extend the lead to three. With 24.3 to go, Team LeBron called for the timeout to try to figure things out. LeBron failed to score on an inside layup and they were forced to put Kemba Walker at the line. He'd push Team Giannis' lead up to five. In the end, Kemba and Team Giannis won by a final of 84-79 in Charlotte.
As his team's top player, Giannis Antetokounmpo captured the NBA Live 19 All-Star MVP Award. He finished with 15 points, 15 rebounds, two assists, and two blocks. Joel Embiid had 13 points and nine boards, while Westbrook had 14 points. Kevin Durant led Team LeBron with 15 points and 14 rebounds, while Kawhi Leonard had 13 points and 13 boards.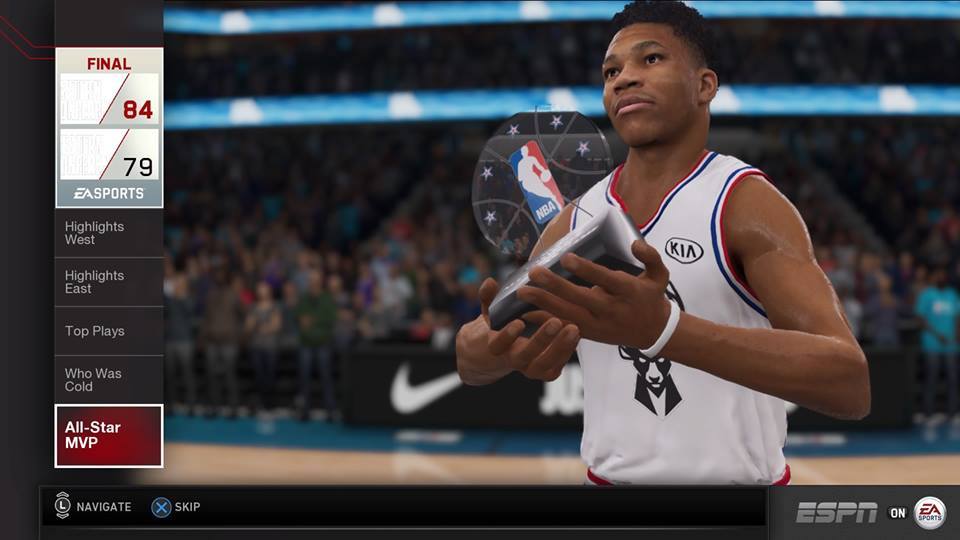 Team Giannis out-rebounded Team LeBron 46-43. Neither team hit all that many threes. There were just five treys per side, something we don't expect in the actual All-Star Game. Add about 70 points to each team's total and you may have tonight's final score.
Check out the NBA Live 19 All-Star Edition now available for select systems.
Get more of our how-to guides, information, and news at VGR's NBA Live page.