CD Projekt Red has started the latest Gwent faction challenge as the Season of the Draconid draws to a close. As usual for the end of a Gwent season, the studio is staging a major competitive event for players to take part in. This month's faction challenge pits Skellige against Nilfgaard.
The Latest Gwent Faction Challenge: Skellige vs. Nilfgaard
The faction challenge was announced in a recent update on the official Gwent website. "New Faction Challenge begins!" announces the update; "Who will emerge victorious this week – the warriors of Skellige or the knights of Nilfgaard? Choose your favorite faction and join them in battle!" The Faction Challenge features new rewards for players from both factions, including titles, frames, and kegs. The Faction Challenge begins today, and will run until the 4th of September at 12 PM CEST.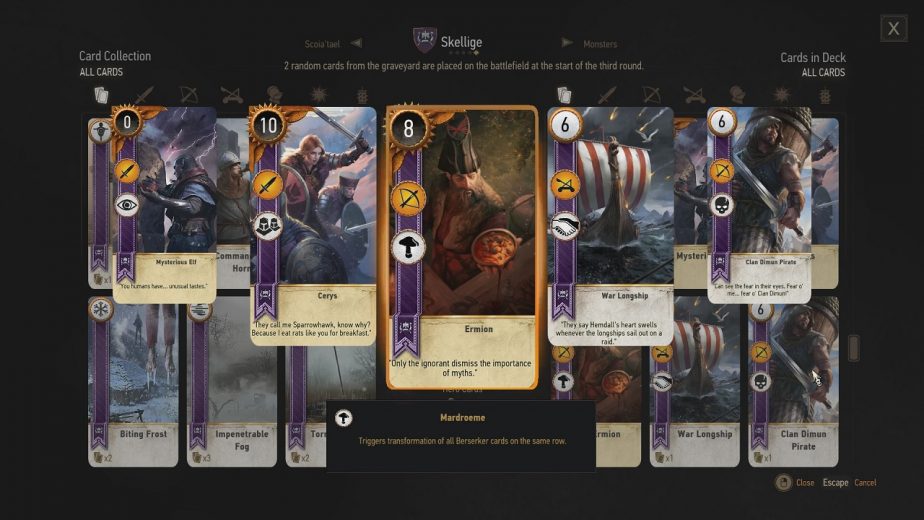 Players who want to participate in the faction challenge can go to the Faction Challenge tile in the game's News section and choose one of the two factions; Skellige or Nilfgaard. After that, players can unlock rewards by playing with that faction in Gwent's Casual, Ranked, and Pro Ladder modes. Note that you must choose a faction first before any progress will be counted. Also, you don't need to actually defeat the team opposing yours; winning any match in the associated modes will count towards progress in the faction challenge. Arena matches or matches via friend challenge will not count either.
Players who get 10 wins for their faction will get a new title; either "Pirate Captain" for Skellige or "Division Commander" for Nilfgaard. 30 wins earns players a new faction-specific frame, while 50 wins will earn participants 3 new kegs. The faction challenge will be the final event before the Season of the Draconid comes to an end. As the challenge draws to a close, the next season will begin.