Playing hard-nosed defense is a major part of the NHL 19 game just like being able to deke and score. That includes using the classic hip check move to prevent attacking players from getting past you. Defensive players commonly use the move as a way to separate an attacking player from the pick too. Before the game's release, a vicious PK Subban hip check was on display in NHL 19's "Collision Physics Trailer." Here's how to do hip checks in NHL 19 games as you may find you'll need them in specific situations.
How to do Hip Checks in NHL 19 games: Controller buttons
To perform a simple body check in NHL  19 you'll press the O button on PS4 or the B button on the Xbox One. To do the hip checks in the NHL 19 game, you'll need to master a different combination on the controller. Once you've got the hang of it, you'll be able to use a great technique during your games. Here's what you need to do in order to use hip checks to try to shut down those top NHL 19 players.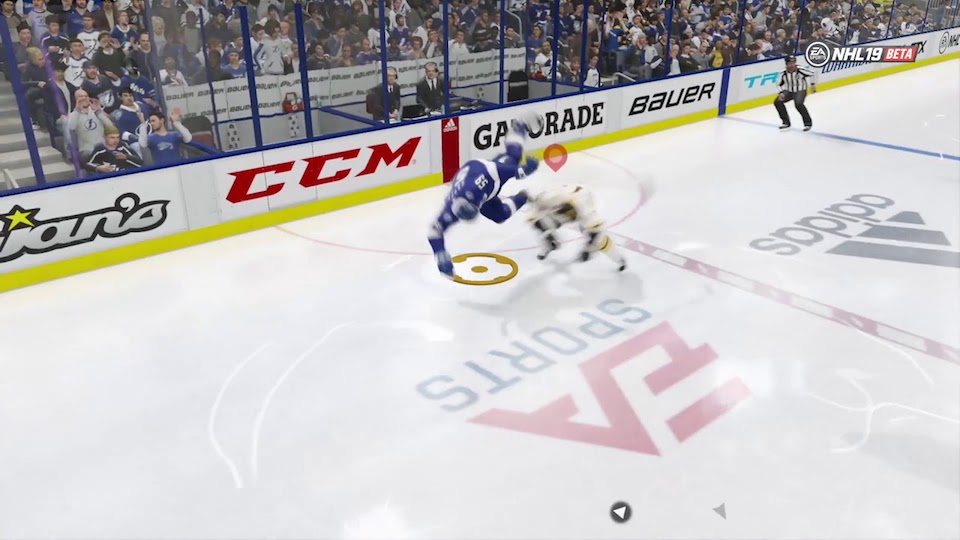 You can perform a hip check on the PlayStation 4 or Xbox One controller. For example, on the PS4 controller, hold in R3, then hold in L1. Use the left stick to aim which way you want your player to hit or check the opposing player.
To do hip checks with on PlayStation 4 controller:
Hold in R3 button.
Hold in L1 button.
Use the Left stick to aim direction your player hits (or checks) in.
To do hip checks on Xbox One controller:
Hold in the right stick.
Hold in LB (left bumper).
Use the left stick to aim direction your player hits (or checks) in.
You can see the hip check in action in the NHL 19 game video below via YouTube.
How to do Hip Checks in NHL 19: Use Practice Mode
The hip check is great to use for separating the defenseman from the puck without drawing a charging penalty. You'll want to learn which situations are best for using this technique. To practice hip checking go to the NHL 19 Practice mode. Try a 2v2 or 2v3 rush situation with the computer difficulty setting on "Pro." Once you're in the practice game, dump off the puck to allow the opposing players to have control.
The practice mode will help you get used to using the hip check for future game situations. Practice regularly and soon you'll be throwing hip checks like the best of them!
See more of our latest news for the hockey video game by visiting VGR.com's NHL news section.