Have your eye on some PS4 games, but been waiting for a good deal to come along? During the Sony Days of Play sale, you have the chance to save as much as 70% on select titles. Days of Play also includes deep discounts on consoles, accessories, PS VR, and PlayStation Plus memberships.
How Long Will the Days of Play Sale Run?
The sale started yesterday, June 7th, and will run through June 17th. That time will pass by in a flash, so take advantage of the offers while they are available.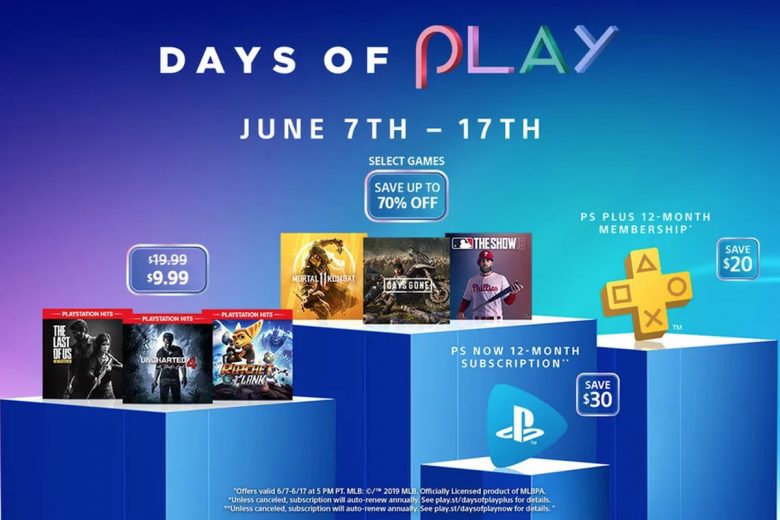 Days of Play Sale Discounts for 2019
Sony is offering massive discounts on hundreds of popular titles for PS4 during this year's Days of Play Sale. These include both physical and digital games.
Some hot deals on PS4 exclusives include:
Bloodborne Complete Edition for $17.49
Days Gone for $39.59
God of War for $19.99
Horizon Zero Dawn Complete Edition for $9.99
Marvel's Spider-Man for $19.99
Tetris Effect for $23.99
Again, these are just a few of the games which are on sale. You will need to check out the entire selection for yourself.
If you have been thinking about signing up to become a member of PS Plus, this is your chance to save $20 on a 12-month subscription.
Looking to purchase a PlayStation 4 or another PS console during the Days of Play sale? There are a number of exciting deals available for consoles. For example:
PlayStation 4 Slim 1 TB Limited Edition Console – Days of Play Bundle: $299.99
PlayStation 4 Pro 1 TB Console: $349.99
PlayStation Classic: $29.99
Different bundles and discounts are available in different regions. So customers who live in the UK may have access to deals not offered in the USA, and vice versa.
Here are some additional deals available for VR and other accessories:
PlayStation VR – Astro Bot Rescue Mission + Moss Bundle: $256.50
PlayStation VR Starter Pack: $192.32
DualShock 4 Wireless Controller (available in Gold, Jet Black, Midnight Blue, Green Camouflage, Blue Camouflage and Crystal): $39.99
PlayStation 4 Platinum Wireless Headset: $120.00
PlayStation 4 Gold Wireless Headset: $74.99
Sony PlayStation 4 Camera: $42.26
PlayStation Move Twin Pack: $99.96
Remember, these deals are not going to be here long. So take advantage of them while you can! And be sure to visit our PlayStation news area so you don't miss out on other exciting developments in the Sony world.