Gamers have more than a few big releases to look forward to during the holiday, 2018 season, but one could argue that none are bigger than the trifecta of Call of Duty: Black Ops 4, Battlefield V, and Red Dead Redemption 2. While there's no denying the hype that has driven DICE's upcoming WWII shooter and Rockstar's open-world Wild West sequel, analysts now suggest that it will actually be Black Ops 4 that ends up being the top performer in terms of sales.
The analyst group Michael J. Olson and Yung Kim recently provided estimates on how well it believes Activision (the publisher behind Black Ops 4), Electronic Arts (Battlefield V), and Take-Two Interactive (Red Dead Redemption 2) will do when it comes to holiday, 2018 game sales. According to the reports (which you can see below), Black Ops 4 will beat out both Battlefield V and Red Dead Redemption 2 by selling an average of 21.5 million copies at launch. Meanwhile, Battlefield V is expected to sell an average of 16 million copies, and Red Dead Redemption 2 an average of15.5 million.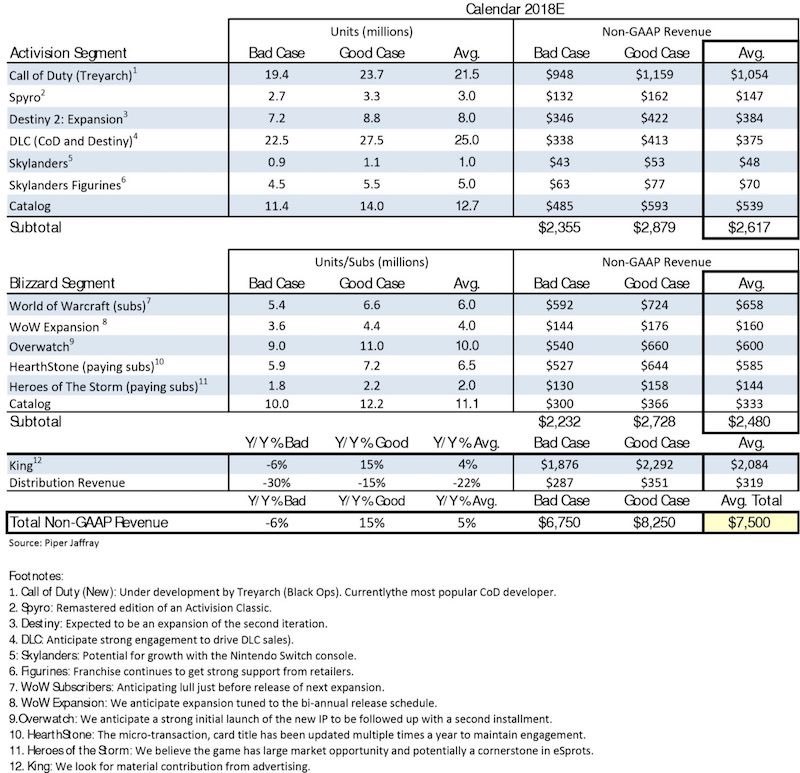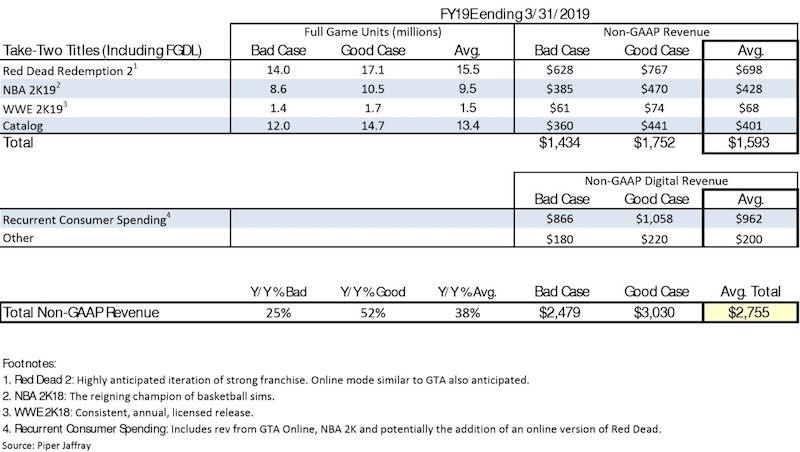 Activision is also expected to pull in a much higher average of global revenue than EA or Take-Two, though that's not surprising considering it has a much larger portfolio of holiday releases spread across its Activision in-house development, Blizzard, and King mobile sub-divisions. The Michael J. Olson and Yung Kim data also doesn't provide a complete picture of the holiday gaming trends since it doesn't account for publishers like Square Enix or Sony which means there's no data provided for how well games like Shadow of the Tomb Raider or Insomniac's Spider-Man will sell.
It should also be noted that Michael J. Olson and Yung Kim's data merely provides estimates based off of trends and market research, so the figures provided shouldn't be taken as any sort of guarantee. Red Dead Redemption 2 and/or Battlefield V could very well end up surpassing Black Ops 4 in the end, but we won't know for sure until they actually arrive on store shelves.
Meanwhile, Rockstar has announced an official strategy guide for Red Dead Redemption 2, and DICE recently talked more about how Battlefield V's companies and cosmetics will work.