The Battlefield 5 Open Beta has now drawn to a close, ending on all platforms just a few days ago on the 11th of September. In its wake, DICE has announced a number of major changes set to be made to the game before its November release. One new feature which could receive some tweaking is Battlefield 5's new fortification system; a system which has been highlighted in a Tweet from a senior developer at DICE.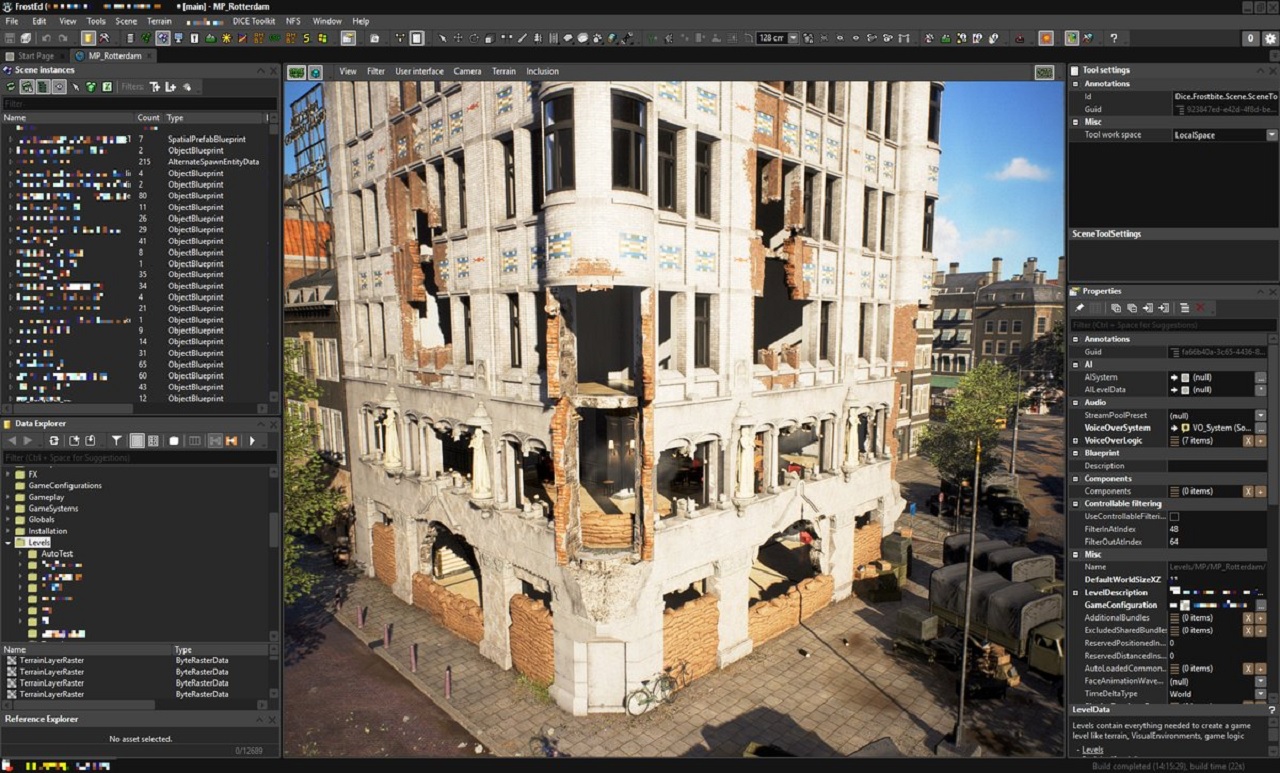 The New Fortification System in Battlefield 5
The Battlefield 5 fortification system is one of several new features coming to the Battlefield franchise with this latest entry. Essentially, the system gives players a limited ability to construct fortifications on the game's maps, building sandbag walls, barbed wire, boards for covering windows, and more. Many players got to experience this system firsthand during the Open Beta. However, it will play an even larger role in upcoming game modes like Firestorm; the Battlefield 5 battle royale game mode. Earlier today, an example of just how much modification the new system will allow in Battlefield 5 was Tweeted by Valerian Noghin, the game's Lead Multiplayer Designer. Noghin Tweeted a screenshot of Point B from the Rotterdam map. The building shown has been fully fortified in the Frostbite Engine editor.
Open Beta feedback goodness: this is what point B on Rotterdam looks like now in the @FrostbiteEngine editor, fully fortified after it's been destroyed. In addition, all windows can be boarded up and there's barbwire on the ground floor. pic.twitter.com/Yuw6hyVRZU

— Valerian (DICE) (@EA_DICE) September 13, 2018
The screenshot highlights just how much players can fortify buildings in Battlefield 5. The building appears at Rotterdam's Point B. Sandbag walls block off all of its ground-level entrances, in addition to barbed wire and other changes. Noghin also notes that players will be able to board up all of the open windows. Fans should note that the building has already taken significant damage. Certainly, players have numerous opportunities to fortify after buildings take damage; ensuring that defences can cover up holes left by tank shells or explosives. EA recently took the opportunity to highlight the system as a key element in the Firestorm game mode, where all buildings will be destructible. As a result, players can move into a derelict ruin and quickly turn it into a makeshift fortress.