Team Sonic Racing has been officially announced by SEGA for release later this year. This game marks the latest racing game in the Sonic franchise since Sonic & All-Stars Racing Transformed back in 2012 before being ported to other systems as late as 2014. The game will feature 15 recognizable characters to select from across the Sonic universe. Each of the 15 characters will specialize in one of three distinct types; Speed, Technique, and Power.
This will result in all 15 drivers feeling totally different from one another, giving players plenty of choice in choosing how they want to go about racing. With a name like Team Sonic Racing, it should come as no surprise that developer Sumo Digital has opted to focus on team racing this go around. Racing as a team will be a major focus of the game in every single mode, whether it's online or offline.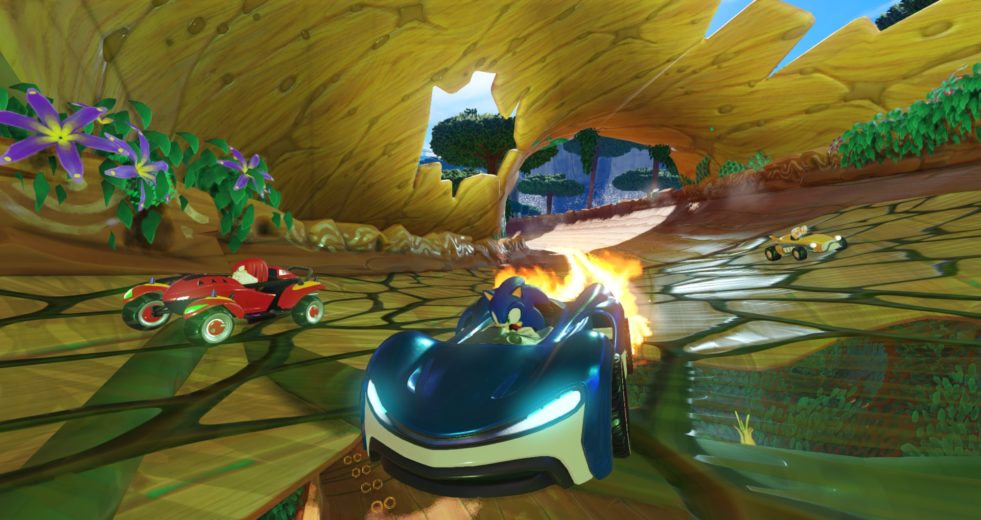 Online races will have up to 12 players duking it out across various tracks. Offline, players will be able to host up to four player splitscreen matches on every platform. Speaking of platforms, Team Sonic Racing will be available on PS4, Xbox One, PC, and yes, Nintendo Switch.
There will be a "unique story experience" called Adventure Mode in which players are introduced to the basic game features and characters. It seems like almost everything will be able to be completed as a team, as even this story mode will be available for players to tackle together in splitscreen.
Other features of Team Sonic Racing include 14 "spectacular" offensive and defensive items for battle called Wisps, the Grand Prix, Time Trials, performance and skin customizations, and even Team Ultimate moves that can be unleashed in team races. A short teaser trailer showcasing Sonic and Shadow can be seen here. Team Sonic Racing will be releasing this Winter for Nintendo Switch, PS4, PC, and Xbox One. For more on this high-octane team racing game, keep it locked right here.