Today, a new Amazon listing has been sighted for The Art of Red Dead Redemption 2, suggesting that Rockstar Games, creators of Grand Theft Auto, are planning to release a book of artwork and designs for the upcoming title Red Dead Redemption 2. The game will be a prequel to the predecessor Red Dead Redemption and focuses on Arthur Morgan, an outlaw who runs with the Van Der Linde gang in attempt to become successful in the Wild West.
Pointed out by Wario64, the Amazon listing by Random House – who have published artwork from Jurassic World and Mario – remains as 'Unknown' and with no image. However, the description states that "The Art of Red Dead Redemption 2 is the official visual companion to Rockstar Games' highly anticipated game release, and is a peek behind the curtain of Rockstar Games and its intensely guarded approach to the creation of the lush, Old West open-world gameplay."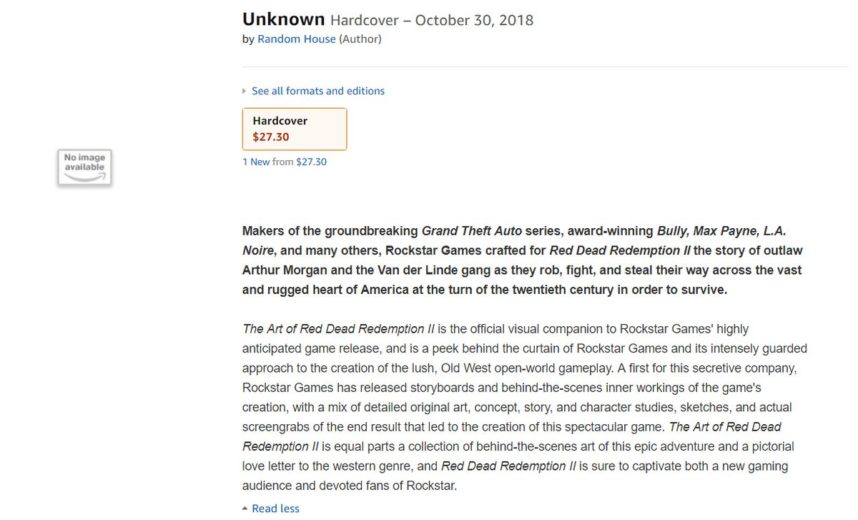 The sighting of this listing allows fans to remain hopeful that the game, which has been in a drought of news ever since January 2018, will not be delayed again and is set for the announced release date of October 26, 2018. Also, this would be the first ever artwork book to accompany a Rockstar Games title – plans were made for these kinds of books for previous titles but were cancelled years ago.
The publishers of the artwork even mention this as"[a] first for this secretive company." It seems even they know how cryptic Rockstar are. The book includes "storyboards and behind-the-scenes inner workings of the game's creation, with a mix of detailed original art, concept, story, and character studies, sketches, and actual screengrabs of the end result that led to the creation of this spectacular game." The Art of Red Dead Redemption 2 "parts a collection of behind-the-scenes art of this epic adventure and a pictorial love letter to the western genre, and Red Dead Redemption 2 is sure to captivate both a new gaming audience and devoted fans of Rockstar."
Outlet RockstarINTEL reached out to Amazon for comment, and confirmed that this is an actual product, and that the date is not a placeholder. Amazon also stated that the image would be updated shortly, so stay tuned for updates and an announcement that is most likely imminent.