Now announced by Creative Assembly, The Twisted and The Twilight will be the next major Lord Pack DLC coming for Total War: Warhammer 2, following the release of The Warden and The Paunch earlier this year. The DLC was first teased four months ago, and is set to release in around two weeks' time, on the 3rd of December.
What's Coming in The Twisted and The Twilight DLC
As we already knew, The Twisted and The Twilight DLC is a Lord Pack launching alongside a huge Old World Update for the Wood Elves; a faction which hasn't seen a major update since their release as DLC for the first Total War: Warhammer four years ago. The "Twilight" in the DLC title refers to the Twilight Sisters, Naestra & Arahan, who together will be the new Wood Elf Legendary Lord. Their rival "The Twisted" is Throt the Unclean, a new Skaven Legendary Lord and the leader of Clan Moulder; the last of the Skaven Great Clans to come to the game.
The DLC itself features both new Lords with their own factions and unique campaigns, new units for both factions, and more. However, there's a whole host of free content also coming to the game. Alongside two new Heroes – the Skaven Chieftain and Wood Elf Glade Captain (the latter of whom will be released for free on Total War Access) – players who own the original Total War: Warhammer will also be getting the big Old World Update for the Wood Elves faction. This will provide a major rework for all of the Wood Elf factions in the Mortal Empires campaign.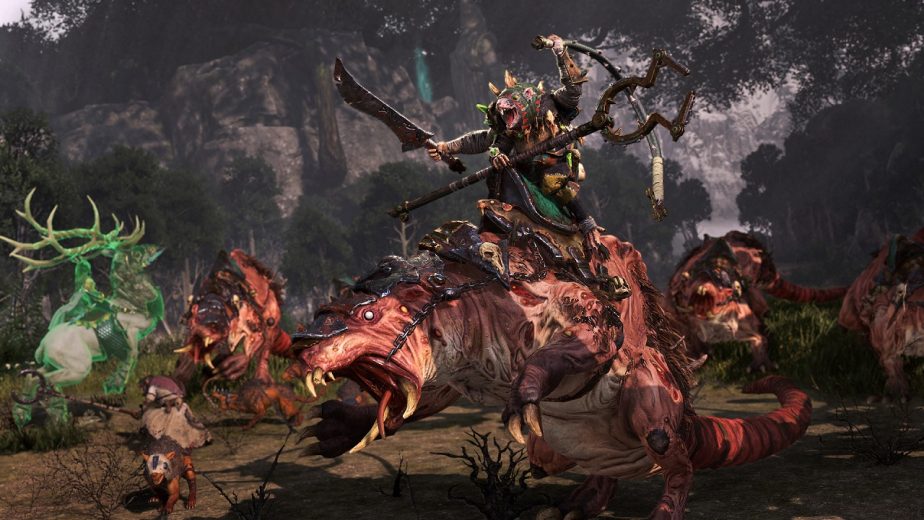 Finally, players who also own the original Realm of the Wood Elves DLC, which first brought Wood Elves to the first Total War: Warhammer, there is even more free content available. Those players will be getting a bonus Legendary Lord for the Wood Elves – Drycha – who will only be playable in Mortal Empires. They will also gain access to new units, unit variants, spell lores, and heroes, some of which will presumably be unique to Drycha's faction. The DLC is now available for pre-order on Steam, and will be launching on the 3rd of December.