The Furious Wild – the first "Expansion Pack" DLC for Total War: Three Kingdoms is now available to download and play on PC. Substantially larger than the three previous Chapter Packs, The Furious Wild introduces an entirely new playable faction; the Nanman. Alongside the DLC, Creative Assembly has also released both a major patch and the Shi Xie Free-LC.
Total War: Three Kingdoms – The Furious Wild DLC
The Furious Wild DLC is the first-ever Expansion Pack DLC for Total War: Three Kingdoms. Previously, Creative Assembly has only ever released Chapter Packs for the game. An Expansion Pack is a much larger DLC, and in this case, it brings the Nanman to the game as a playable faction for the first time; something which fans have been requesting since the game's launch last year.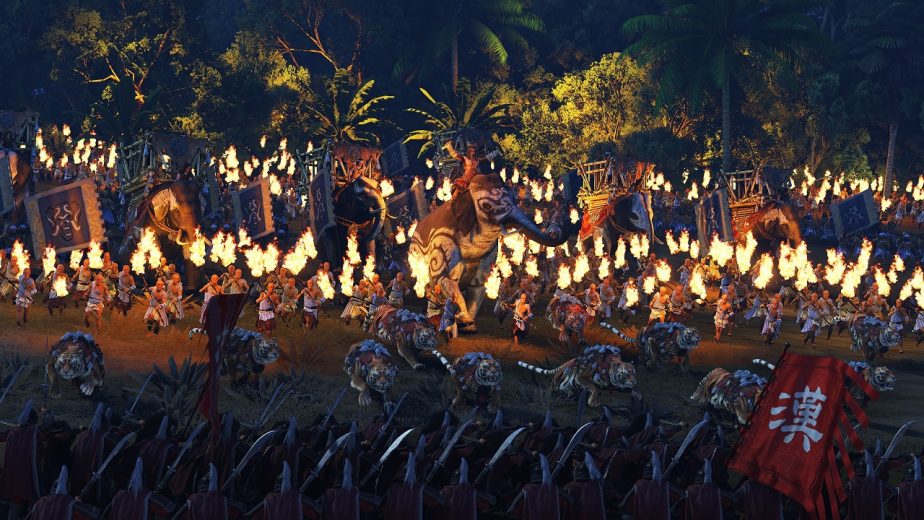 In addition to a unique roster of units and unique faction mechanics, The Furious Wild introduces four new playable Nanman heroes; King Meng Huo, King Mulu, King Shamoke, and Lady Zhurong. These four characters, along with the other Nanman factions, will appear in-game once you download today's patch, irrespective of whether you have the DLC or not. However, you will need to buy The Furious Wild in order to actually play as any of the new Nanman characters.
Alongside the DLC, Creative Assembly also rolled out a major patch today, which includes the game's first major map rework. Notably, this includes the addition of new Gate Pass settlements, as well as the expansion of several mountain ranges. Of course, the southwest portion of the map has also gotten a major expansion to provide space for the new Nanman factions. The patch includes three new Legendary heroes; Li Ru, Xun You, and Wei Yan. Additionally, a Free-LC which has launched alongside the Furious Wild adds Shi Xie as a new playable character for the Han Empire.