The long-awaited next DLC installment for Total War: Warhammer 2, details of which were first released three months ago, finally has a confirmed release window. Creative Assembly has today confirmed that the DLC will be launching sometime in December. Their statement also cites working from home as the source of development delays.
The Next Upcoming Total War: Warhammer 2 DLC
"We understand you've wanted more information on the upcoming WARHAMMER II DLC release," reads Creative Assembly's latest statement; "however, the working from home situation has made it difficult for us to keep you as updated as we would have liked. We can now confirm that the DLC will be released in December and we will look to confirm an actual date with you a little closer to the time."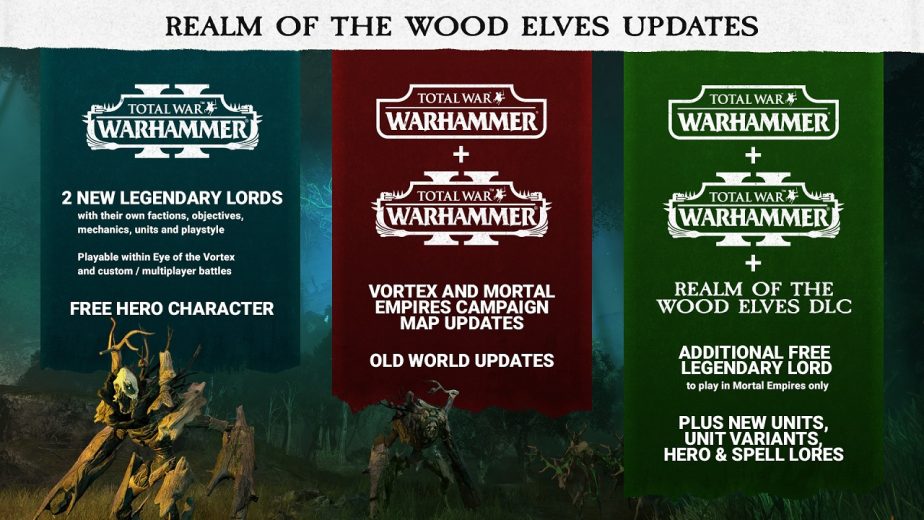 Ever since the release of The Warden & The Paunch DLC earlier this year, fans have been waiting for the next installment for Total War: Warhammer 2. In the intervening months, Total War: Three Kingdoms has received The Furious Wild DLC, while Creative Assembly also launched Total War Saga: Troy. However, despite early details being released several months ago, the studio has been silent on the next Total War: Warhammer 2 DLC. Until today, that is.
The next DLC will be another Lord Pack DLC; one which features both a core race from the second game and the Wood Elves. A DLC faction from the first game, the Wood Elves haven't received a single post-launch content update since their launch. (All the way back in December of 2016.) Alongside the core release, players will also be getting a host of free bonus content. However, access to this content will be contingent on two things; whether you own the original Total War: Warhammer and/or the original Realm of the Wood Elves DLC.
Warhammer 2: The new DLC will be available for purchase, featuring 2 new Legendary Lords. Both of these characters will be playable in the Eye of the Vortex campaign. Additionally, all players will get a free Hero character via an update.
Total War Warhammer & Warhammer 2: If you own the original game as well as the second game, you'll get access to major campaign map updates for both the Eye of Vortex and Mortal Empires campaigns. You'll also get the Wood Elves "Old World Update". These will be part of a free update launching alongside the DLC.
Realm of the Wood Elves: If you own both games and the original Wood Elves DLC, you'll get even more. Namely, you'll get access to a third Legendary Lord who will only be playable in Mortal Empires. You'll also get new units & unit variants, a new hero, and new spell lores. Presumably, those will be a part of this third Wood Elves sub-faction.