Fortnite Week 10 is upon us, and Epic Games has released the full list of Fortnite Week 10 Challenges. Most of the Challenges are pretty straightforward. One of them is literally just to "build structures"—it doesn't get easier than that. But some players are struggling with the Challenge titled, "Visit a Viking Ship, a Camel, and a Crashed Battle Bus." Having a hard time? We've got you covered.
Here is How to Complete that Viking Ship Challenge
To get you started, take a look at the map below: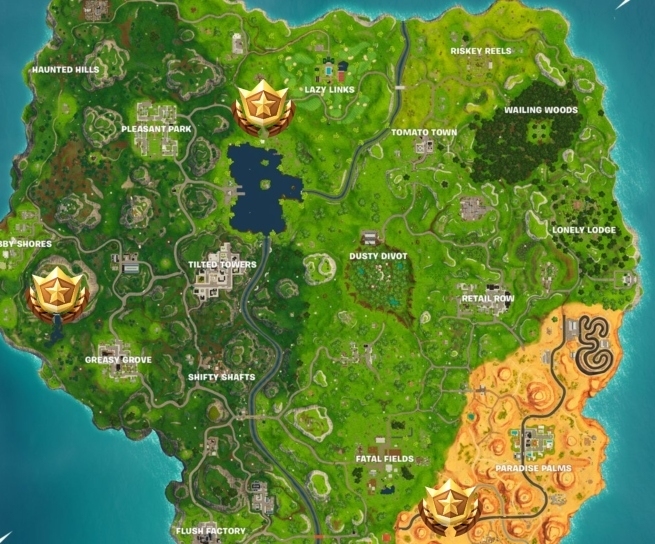 You may as well start with the Viking ship since there is a pretty good chance that you already know where it is. It is pretty eye-catching, after all. If you haven't been there before, you can head for Snobby Shores and then look up at the top of the waterfall.
You'll find the camel at the southern reaches of Paradise Palms. Right around where the sand transitions into grass, you should encounter it.
Sweet—you are now two-thirds of the way done. For the final objective, you'll need to visit a point on the map which is located north of Leaky Lake and west of Lazy Links. In the middle of an open field, there is a downed bus in a divot.
After this Challenge is complete, go ahead and tackle the rest of the Fortnite Week 10 Challenges:
Free Challenges
Build structures (250)
Visit a Viking ship, a camel, and a crashed Battle Bus (3)
Search chests at Tilted Towers or Paradise Palms (7)
Battle Pass Challenges
Place Mounted Turrets in different matches (3)
Stage 1: Land at Lazy Links (1)
Complete vehicle timed trials (3)
Stage 1: Shotgun eliminations (1)
Don't miss out on all the other cool new stuff going on in Fortnite while completing the Fortnite Week 10 Challenges. Try out the new tournament or LTM, and be sure to grab one of the new shotguns. Keep up with all our Fortnite news.