As of today, Streamlabs has released its first quarterly report on the streaming industry and its recent trends. This is both the first report of 2019 and also its first in partnership with Newzoo, which will reportedly; "provide you with a more comprehensive and complete look at the industry". The main trend which seems to have been at work in the streaming industry through Q1 of 2019 has been the rising threat of YouTube Live to Twitch; YouTube's service may still be in second place, but data in some key areas indicates that it could start to pose a serious threat of competition.
Data Shows YouTube Live Starting to Compete with Twitch in Q1 2019
One fact which remains unarguable is that Twitch is the dominant platform for the streaming industry. In Q1 of 2019 alone, Twitch achieved 2,693.1 million views. Meanwhile, YouTube Live views were just 24% of that figure at 651.1 million. Mixer remains solidly in third place with 89.4 million views (seven times less than YouTube). This was actually a strong quarterly performance for Mixer, increasing 266% year over year. However, it was also a strong quarter for Twitch, which also boasted a 33% increase year over year.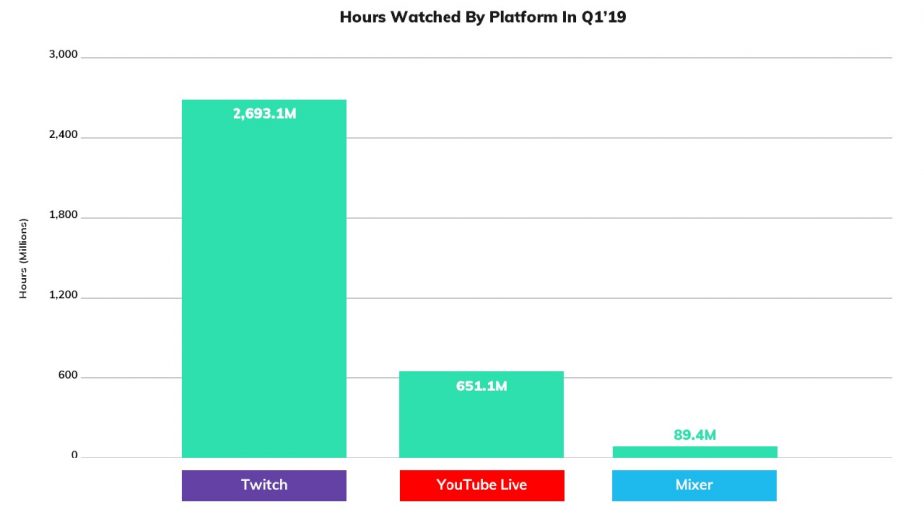 An interesting aspect of the data is that Mixer is actually only just behind YouTube Live for hours streamed. YouTube Live is far ahead for total views, of course. However, the total hours streamed on YouTube Live were 12.5 million, while Mixer was not far behind at 8.2 million. (Twitch dominated with 103.3 million hours.) While Mixer's views have seen an increase, its hours streamed figure has actually been relatively stagnant, with a 15% year over year decrease.
All of this, thus far, paints a picture of Twitch continuing to dominate the streaming industry, with no real competition. However, there is one area where YouTube Live is not just gaining on Twitch; it has completely surpassed its rival platform. This area is average viewers per livestream. On average, live streamers on YouTube Live had an extra 26 viewers per stream compared to Twitch streamers, with an average of around double that of Twitch. Twitch streamers averaged 26.1 total viewers per stream, while YouTube Live streamers averaged 52.5. Mixer streamers averaged 10.9 total viewers, which is behind both rival platforms but still a 31% increase from Q4 of 2018.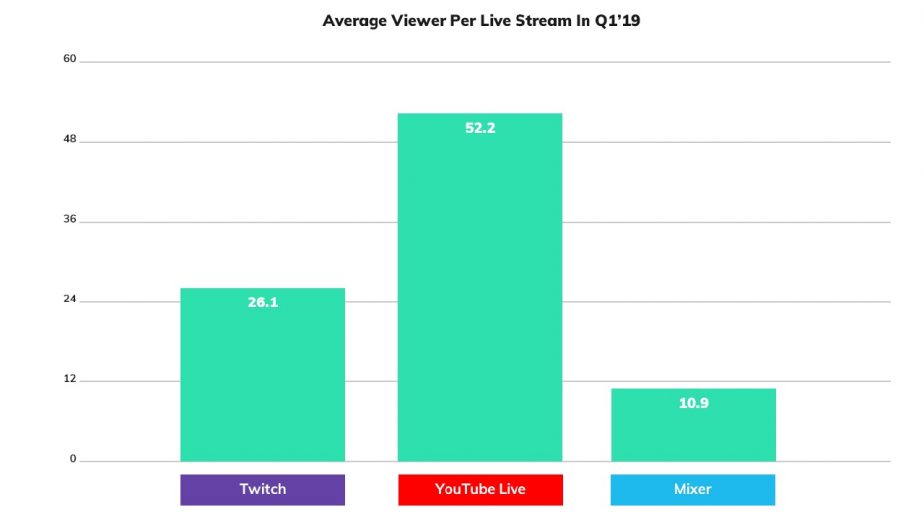 What all this shows is that yes, Twitch is still the dominant platform for the streaming industry. However, the fact that YouTube Live streamers are attracting on average twice as many viewers per stream is a major factor. Indeed, it could encourage new streamers or smaller channels to favour YouTube as a means of building their audience. After all, there are 5.71 million unique channels on Twitch, compared to only 1.23 million on YouTube Live. While it's too early to tell at this stage, we could see an exodus of lesser-known content creators from Twitch to YouTube through 2019 if this trend continues; all while larger channels continue to dominate the Twitch audience.