Wargaming recently announced the next season on the Global Map that marks the tenth Season in the row for World of Tanks. The new Season 10 will bring various significant changes to clans. It will be available starting from the latter part of September, and it will last until December. The company also announced a special event coming to the Global Map after the New Year.
The most significant change coming during Season 10 is also the most exciting one. The clans will now have to consolidate hierarchical units. Those units will be called Alliances, and each alliance will have one main clan and subordinate clans. At the same time, the subordinate clans will be allowed to have only one main clan, but the main clan can have many subordinate clans.
The Alliances will be almost mandatory for every clan. You will be able to transfer provinces from one clan to another within your Alliance. On top of that, a clan will be able to make an attack on a main clan or on a subordinate one. The coolest thing is that your clan will not have to fight this battle; instead, the allied one is obliged to do it.
If you got confused, take a look at the photo below released by Wargaming: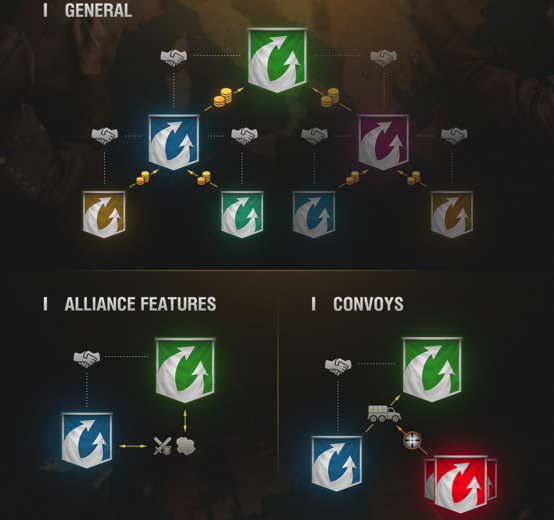 As for the Convoys, their purpose is to be the source of the resources within your Alliance. The resources cannot be sent directly to the major clan. They will have to be transferred via the Convoy. However, the Convoys have a significant 'weakness.' If another clan defeats you during a battle, they are allowed to 'steal' some of your resources kept in your Convoy. That can actually motivate your Alliance to play better during the battles.
Season 10 will be active shortly. Practice, get prepared and be ready to support your teammates. Let the best one win.