A major overhaul to the WWE 2K series of video games has been in progress for over a year, and based on recent details may be well worth the wait. A WWE 2K22 video recently revealed what fans can expect including several of the most promising features. Among them are WWE 2K22 MyGM and MyFACTION modes, along with improved controls and gameplay. Here are the latest details on the new modes the franchise has teased for fans.
WWE 2K22 MyGM mode lets fans run the show
Many professional wrestling fans are looking to run their own show, and with the WWE 2K22 MyGM mode, that's possible. Based on details revealed from 2K, gamers fully take the reigns of running a WWE show. That includes making draft selections for their roster and managing the superstars' contracts.
It'll also include setting up matches for those superstars to keep the fans interested in that brand or show. We've yet to see what sorts of matches will be available in WWE 2K22. Still, this seems like a win for fans already based on what's on display in the recent video trailer.
A video trailer that arrived ahead of WWE's Survivor Series 2021 event showed several screens for MyGM.
Here's a screenshot showing off various superstars with fictional salaries and other details as part of a WWE 2K22 MyGM Draft. As seen below, superstars have "roles" and classes including "Specialist," "Bruiser," and "Fighter." There are likely other classes in the game, yet to be revealed.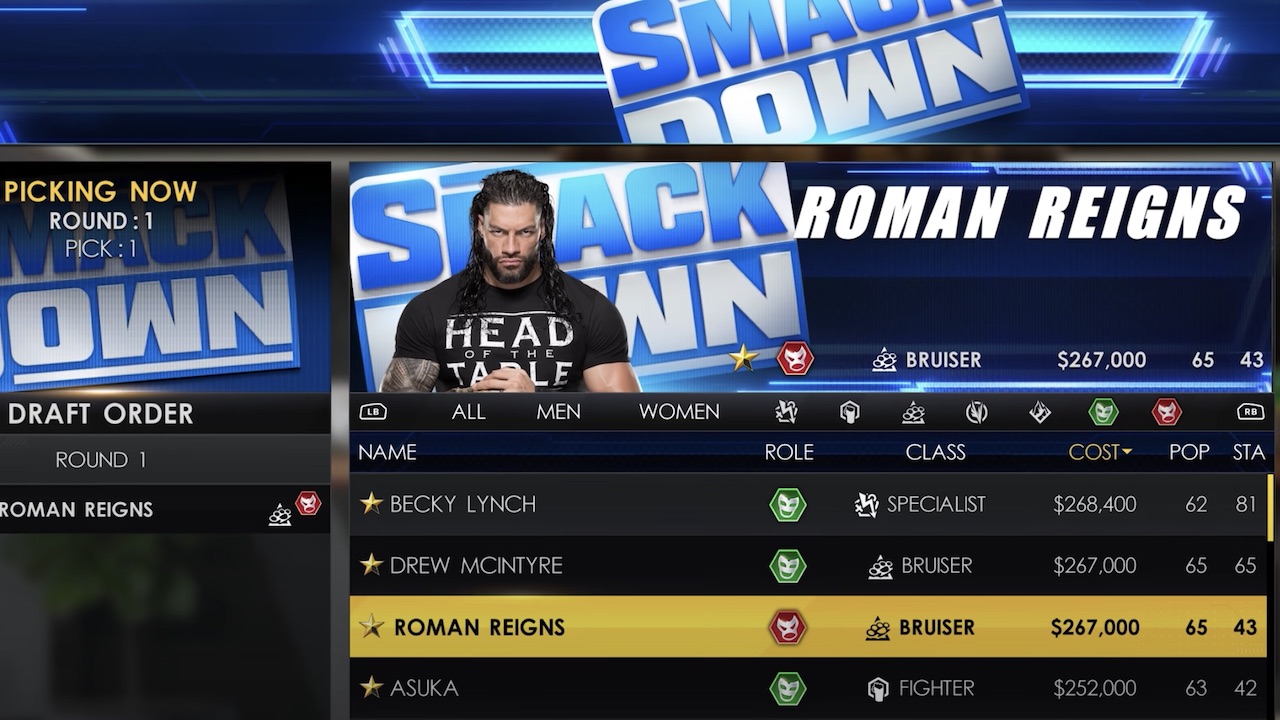 2K to also feature new MyFACTION mode
WWE 2K22 MyFACTION mode is another debut for the WWE 2K series. Based on the details 2K shared, this will allow gamers to create a stable or faction of superstars. Examples they give include D-Generation X, New World Order, and The Corporation.
According to 2K's details reveal:
"Now it's your turn to create the next legendary team. Collect, manage, and upgrade WWE Superstars and make your faction the greatest partnership in WWE history."
More details will arrive for this mode, MyGM, and other aspects of the game including Universe mode, MyRise, and more. We're also looking forward to the reveal of game rosters and match-types ahead of this highly-anticipated title!
Several scenes from the video showcase potential factions forming. In the shot below, Kevin Owens, Dolph Ziggler, Rey Mysterio, and his son Dominic, might have become a four-man faction.
Another scene in the video showed MVP, The Miz, and Drew McIntyre as a possible faction, revealing that maybe anyone can team up in this mode. It'll be interesting to see how this one works, including whether men and women can be in a faction, how managers are assigned, and if certain conditions cause factions to crumble. This could certainly be an interesting and fun addition for WWE 2K.
More WWE 2K22 details coming before release date
With the look at the new updates including WWE 2K22 MyGM and MyFaction, as well as updated graphics and controls, 2K gave fans an early tease. They'd originally mentioned it wouldn't be until January 2022, but the above video was certainly a nice surprise.
More details will still be on the way for early 2022. We'd expect they'll release something around the time of the annual Royal Rumble pay-per-view to build the hype. WWE's Royal Rumble 2022 is scheduled for Saturday, January 29.
The game itself is slated for a March release date, most likely for at least the Sony PlayStation 4, PS5, Xbox One, and Xbox Series X/S consoles. So far, there are no details for different editions of the game, costs, or additional DLC that may be part of 2K22.
Even so, the return of WWE 2K to the scene looks like it could deliver that virtual in-ring excitement fans have been craving for a while now.
Check out the recent video featuring WWE 2K22's updated features and innovations including MyGM, MyFaction, MyRISE, Universe Mode, and more!
Visit VGR's WWE page for more updates about the 2K wrestling game.