Though we aren't getting the delayed September 6 Nintendo Direct today as originally planned, leaks are reporting that Yoshi Nintendo Switch's new title is Yoshi's Crafted World. This comes the same day as the previously announced Direct so it is entirely possible that it was initially intended to be unveiled later today but that was delayed.
The leaked Yoshi's Crafted World title reportedly comes directly from the official Nintendo English website itself and not rumors like most. According to Twitter user ElectricVideoGamer, they found the title on the "you might also like…" portion of the website where the game was listed as such. We have tried to recreate it ourselves but to no avail.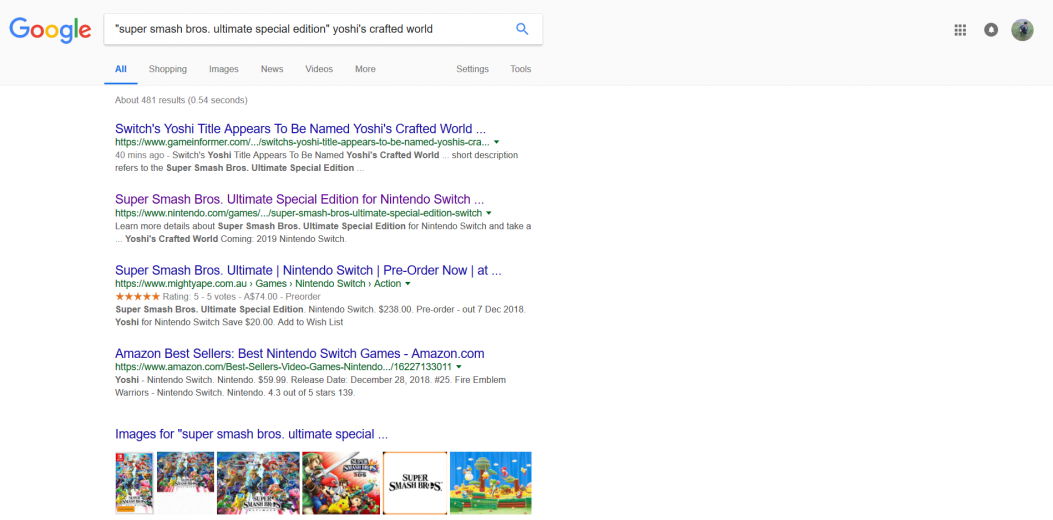 Most likely, though, Nintendo has found out and swiftly removed the leaked title. However, we were able to do our digging and found the leaked Yoshi's Crafted World title ourselves through some simple internet sleuthing. Googling the "Super Smash Bros. Ultimate Special Edition" along with the title was able to yield some revealing Google search results from the official Nintendo website that you can see for yourselves above. (Check the second result carefully.)
This certainly leads us to believe that Yoshi's Crafted World is indeed the official title for the Yoshi 2019 Nintendo Switch game. We won't have to wait too long for an official confirmation as the delayed Nintendo Direct is still set to happen sometime in the near future. Make sure to stay tuned here for that announcement.
In the meantime, while we wait, be sure to check out our official predictions and wishes for the Direct including things that haven't leaked just yet like the rumored New Super Mario Bros. U Deluxe for Nintendo Switch. Also, don't forget to keep an eye here for when we can expect to see the Direct in the future where Yoshi's Crafted World is sure to be present.