In a battle of two of the best in the game today, Arizona Diamondbacks star Zack Greinke will face off against San Diego Padres slugger Manny Machado in this week's MLB The Show 19 challenge. Greinke is once again off to a great start, but he will have his hands full against Machado this week!
Zack Greinke still one of the best
Zack Greinke didn't have the best 2018 season. However, anyone who doubted if the 35-year old had anything left in the tank, well, now you know.
Off to a 6-1 start, an ERA 2.78 and a WHIP of 0.88, Greinke looks just fine. In fact, don't be surprised if he is considered a Boss before seasons end. The hard-throwing right-hander should hit the 200-career win mark this season, which will put him among the best in the game to ever take the mound.
While Mike Trout may be the top rated player in The Show right now, don't be surprised if slugger Manny Machado starts to rise. The newest San Diego Padres star is once again off to a typical Machado type start. Manny already has 9 home runs and 25 RBI and is well on his way to another 20+/90+ season.
Weekly prizes
Once again the top 100 leaders will win prizes in this week's MLB The Show challenge.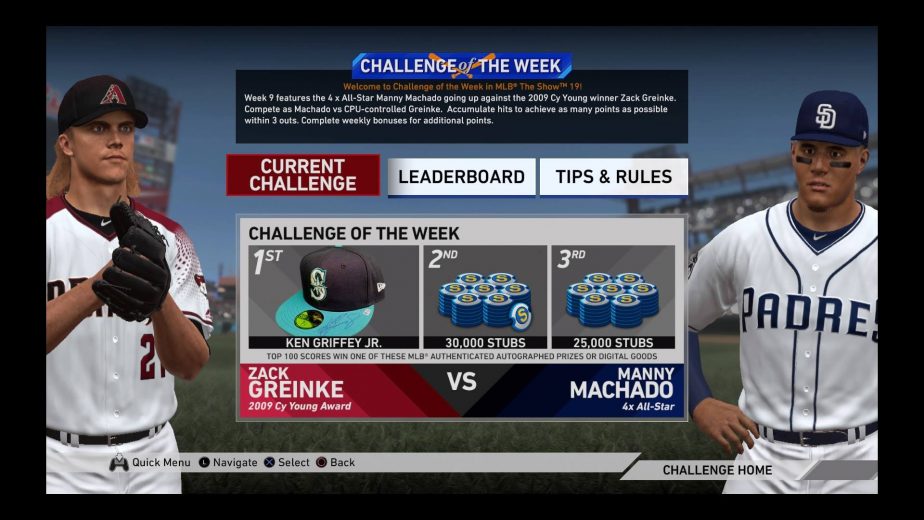 The top three winners this week will be awarded some serious MLB The Show prizes! Then again, all the prizes in this weekly challenge have been great.
The first place prize is an authentic Seattle Mariners hat autographed by Ken Griffey Jr. Second and third place will net you a ton of Stubs to spend on MLB The Show. The second place winner will collect 30,000 stubs while third place will earn 25,000.
Keep up with all the MLB The Show news by following our home page.