Battlefield 5 War in the Pacific, the fifth and largest chapter of post-launch content for the game since its release, is due to begin on the 31st of October. That date, along with a new trailer, was released by DICE earlier today. In addition to confirming the three new maps coming in the expansion, DICE also revealed that there will be eleven new War in the Pacific weapons. Plus, there will be two new Battle Pickups as well.
The Eleven Upcoming War in the Pacific Weapons
As one might expect, the new War in the Pacific weapons are generally either American or Japanese. The Type 99 Arisaka, for example, is a Japanese rifle and one of the most powerful bolt-action rifles ever made. It is one of three new main weapons. The Arisaka is available to the Recon class, while the Media gets the Type 100; a short-range Japanese SMG with superior control. Finally, the Support gets access to the M1919A6, a powerful belt-fed medium machine gun.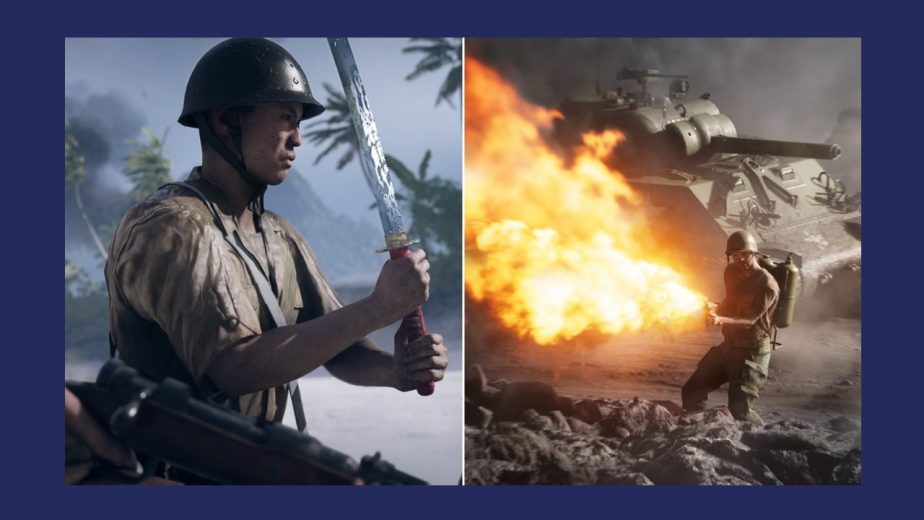 However, that is only the start of the weapons coming in Chapter 5. According to DICE; "As the Tides of War continue, Chapter 5 will bring the M3 Grease Gun, Nambu Type 2Am Type 97 LMG, and M1918A2, too". Furthermore, players will be able to claim the Jungle Carbine as a special Chapter Reward, along with the Type 94 and Moden 27 handguns. There is one final weapon, however, although it isn't a firearm. That is the Lunge Mine, a new and powerful anti-vehicle explosive gadget.
In addition to the eleven new weapons, players can also utilise two new Battle Pickups; the Katana and the M2 Flamethrower. The Katana is, of course, a powerful Japanese melee weapon. The Flamethrower, on the other hand, is a deadly incendiary weapon in close-range engagements. Of course, the Flamethrower's fuel tank might make it vulnerable to enemy fire to some degree. At least some of these new weapons will be available in Battlefield 5 when Chapter 5 launches on the 31st of October.