After months of waiting since the first confirmatory teaser, fans finally got their first proper look at what they can expect from Battlefield 5 War in the Pacific today, thanks to the release of its official trailer. War in the Pacific will be the game's fifth Chapter of Tides of War, its ongoing post-launch content seasons. It will be taking the game to the Pacific Theatre of the Second World War, introducing the U.S. and Japan as factions, and bringing plenty more to go along with that.
The Battlefield 5 War in the Pacific Trailer
The official Battlefield 5 War in the Pacific trailer was unveiled by DICE earlier today, to what seems to have been a highly positive reception from fans. (Something which is by no means guaranteed when it comes to Battlefield 5!) The trailer, which is cinematic but does offer plenty of hints at upcoming content, including vehicles and weapons, shows the conflict from both the American and Japanese points of view. This approach allows DICE to showcase plenty of potential map locations as a result.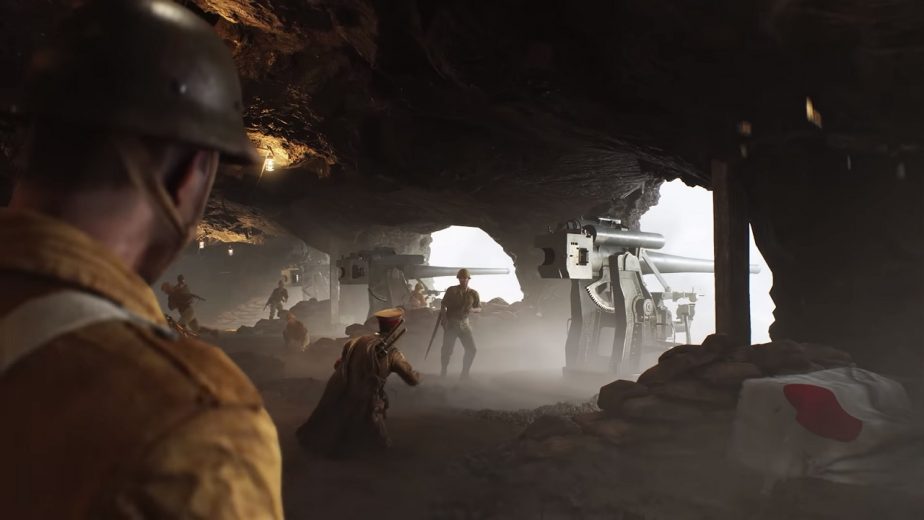 When it comes to maps, War in the Pacific will be adding at least three. Iwo Jima, Pacific Storm, and then the classic Battlefield map Wake Island, which is coming in December. There will also be three new main weapons for players to deploy with; the Recon's Type 99 Arisaka, Medic's Type 100, and Support's M1919A6. The chapter will also bring other weapons, including the M3 Grease Gun. The Jungle Carbine, Type 94, and Model 27 will also be available as Chapter Rewards.
There will also be two new Battle Pickups; the katana and the M2 Flamethrower. Each of these can be picked up by players during the fighting and used to devastating effect in skilled hands. Of course, there will also be new vehicles coming to Battlefield 5, ranging from the M4 Sherman tank to the Japanese Zero Fighter plane. All of this and more will begin to launch when Chapter 5: War in the Pacific begins on the 31st of October.