With the launch today of Assimilation – Apex Legends' 4th Season, players can also now get access to the latest new Battle Pass. Packed full of new cosmetics and rewards, the Apex Legends Season 4 Battle Pass also features a wide array of Daily and Weekly Challenges; all as per usual for the battle royale title.
The New Apex Legends Season 4 Battle Pass
The Apex Legends Season 4 Battle Pass features 100 levels, but players don't need to complete even 1 to get their first Legendary skin. Simply by purchasing the Battle Pass, players will unlock the new Zero Point R-99 Legendary Skin, along with three new Legend skins. Altogether, these include Lifeline's new 'Health Drain' Rare Skin, Crypto's 'Blue Steel' Rare Skin, and Pathfinder's 'Team Lift' Rare Skin. More skins are included as rewards throughout the Battle Pass.
Indeed, the new Battle Pass trailer specifically highlights Wraith's new 'Perfect Soldier' Legendary Skin and Wattson's 'Cyberpunked' Legendary Skin, along with the new 'Reactive Heavy Metal' Legendary Skin for the Flatline. (All of which were featured in the Season's recent launch trailer.) In keeping with the 'Assimilation' theme of Season 4, most of the new skins have a distinctly robotic aesthetic; no doubt referencing the recent involvement of Hammond Robotics in the Apex Games. Of course, in addition to the more impressive skins, the Battle Pass also includes a plethora of Gun Charms, Loading Screens, Music Packs, Skydive Emotes, and Quips. The 100 levels also include further rewards like XP Boosts, Crafting Metals, and Apex Packs.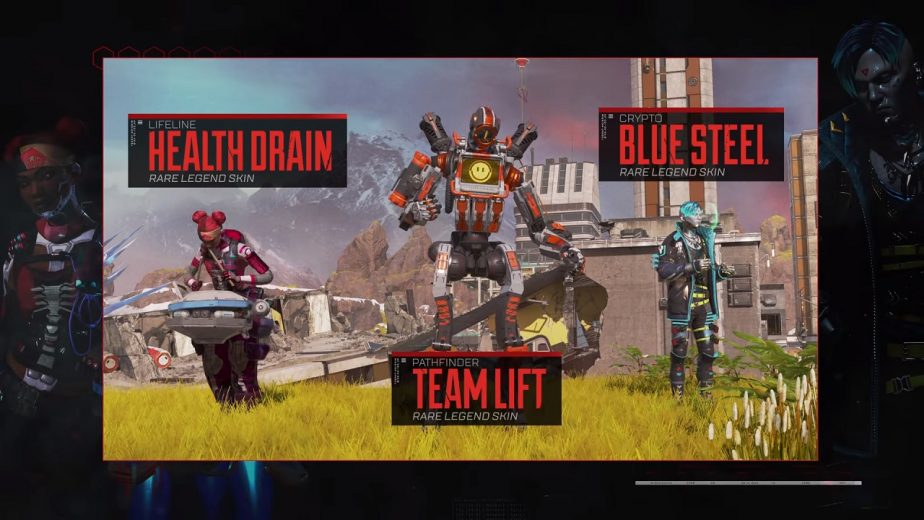 The Season 4 Battle Pass is available to unlock in-game for 950 Apex Coins. As per usual, Respawn is also offering a more expensive bundle, which costs 2,800 Apex Coins (currently down from 4,700). While it is more expensive, the Bundle does immediately unlock the first 25 levels of the Battle Pass. As a result, it actually grants players access to the Perfect Soldier Legendary Skin straight away.